« Ceará Limits Public Smoking | Home | What the Other Guy Blogs About: ISO 26000 on CSR »
By Keith R | August 26, 2009
Topics: Advertising/Promotion, Tobacco Control | No Comments »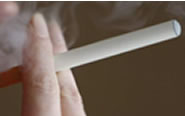 It looks like Brazilian authorities have concluded that the World Health Organization (WHO) is right about this product and its promotion.
The National Sanitary Vigilance Agency (ANVISA) just announced a ban on the trade within, and import into, Brazil of  electronic smoking devices, sometimes called e-cigarettes, e-ciggy and e-cigar, among other monikers.  The ban particularly targets those products that present themselves as alternative to tobacco cessation treatments.  Included in the ban are accessories and refills for the product. ANVISA notes that the product was never registered with health authorities for sale in Brazil, and cites lack of scientific proof regarding the safety and efficacy of the product as the basis for the ban.
ANVISA's also banning advertising, publicity and promotion of the device in Brazil, including via the internet.
_____________________
Desde a Agência Nacional de Vigilância Sanitária (Anvisa):
Anvisa proíbe comércio e importação de cigarro eletrônico

A Agência Nacional de Vigilância Sanitária (Anvisa) decidiu, nesta terça-feira (25), proibir formalmente o comércio e importação de qualquer dispositivo eletrônico de fumar, popularmente conhecidos como cigarros eletrônicos, e-cigarretes, e-ciggy e ecigar, entre outros. A proibição atinge especialmente os produtos que se apresentam como alternativa ao tratamento do tabagismo.

A medida, que será publicada no Diário Oficial da União nos próximos dias, é válida para todo o país e levou em consideração a falta de comprovação científica sobre a eficácia e segurança do produto.

O cigarro eletrônico nunca teve registro no país. Após uma consulta pública, que contou com a participação de órgãos de defesa do consumidor, a Anvisa decidiu pela proibição do produto. A medida abrange ainda acessórios e refis destinados ao uso nos dispositivos, assim como a propaganda, a publicidade e a promoção, inclusive na Internet, desses produtos.
Tags: advertising, Anvisa, ban, Brasil, Brazil, cigarros eletrônicos, e-cigarretes, e-ciggy, ecigar, electronic cigarettes, fumar, importação, imports, internet, marketing, proibição, promoção, promotion, propaganda, publicidade, smoking, smoking cessation, tabagismo, tobacco cessation, WHO
Subscribe to My Comments Feed
Leave a Reply