« Latins Recognized for Tobacco Control Efforts | Home | Protecting Andean High Plateaus from Mining »
By Keith R | March 12, 2009
Topics: Advertising/Promotion, Food/Beverage Issues | No Comments »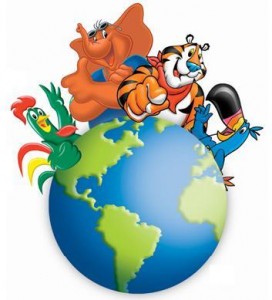 As part of its efforts to get Mexican authorities to regulate the advertising of food and beverages to children, and to hold industry accountable to its commitments under its recently adopted national code of self-regulation on the issue, the consumer group The Power of the Consumer (EPC) recently released what it calls "awards" recognizing "the best" ads that "deceive and manipulate kids." EPC says that this set of brickbats for current industry practices will become an annual event until the food/beverage industry in Mexico changes its ways.
Which firms were the focus of such unwanted attention? Bimbo, Burger King, Cadbury Adams, Kellogs and Nestlé, — all them except Burger King are signatories to the new self-regulation code.
EPC divides the "awards" into four categories, each linked to one of the promotional practices it finds objectionable. Category I, with the most "awards," involves the use of gifts to generate demand for a product by the child (the so-called "nag factor," whereby a child wanting a special toy or game or other promotional gift bothers the parent or other caregiver until they buy the associated food or beverage). The four "awards" in this category were: Kellogs Froot Loops (Fruit Loops), for its "fruti bingo" toy in the box; Burger King, for its Pink Panther games; Bimbo's Marinela snacks, which utilizes several characters from the Cartoon Network; and Nestle's Nesquik, for offering games on compact disc (CD).
The second category involves suggesting that the consumption of a product gives the consuming child some special physical quality. In this category EPC recognized Kellogs for suggesting that Coco Krispis makes one "grow big and strong," and Kellogs Zucaritas (Frosted Flakes) for saying "it gives you the energy to win."
The third category is for placing products on the side of minors and against adults or society. "Awards" here went to Nestle's Crunch for saying it makes those who bother you disappear, and Cadbury Adams' Bubbaloo gum for implying that when you chew it, nothing will happen to you.
The fourth category is trying to making consumption of a product synonymous with adventure and fun. "Awards" here went to Kellogs Coco Krispis and Bimbo's Barcel caramelized pops.
EPC also announced special "awards" to the Mexican Council of the Consumer Products Industry (Consejo Mexicano de la Industria de Productos de Consumo – ConMéxico) [which backs the self-regulation code] and the chairman of the Health Committee of the Federal Chamber of Deputies, Éctor Ramírez Barba, for blocking proposals for federal legislation to regulate the advertising of food and beverages to children.
_____________
Desde El Poder del Consumidor (EPC):
Reconocimiento a los mejores anuncios…

…que manipulan y engañan a la infancia

Kellogg's, Nestlé, Bimbo, Burger King y Cadbury Adams fueron las empresas reconocidas por El Poder del Consumidor en la I Entrega de Premios a los Mejores Anuncios que Engañan y Manipulan a la Infancia.

Los anuncios nominados fueron presentados en cuatro categorías:

I. Uso del regalo para generar la demanda ("nag factor") del producto por parte del niño. Estos anuncios promueven más el regalo que el producto.

a. Froot Loops de Kellogg´s: regalo fruti-bingo.

b. Burger King: juegos de la Pantera Rosa.

c. Marinela de Bimbo: personajes de Cartoon Networks.

d. Nesquick de Nestlé: juegos en CD.

II. Desarrollo de cualidades físicas con el consumo del producto. Sugieren que los niños al consumir el producto adquieren cualidades físicas sobresalientes.

a. Choco Krispis de Kellogg´s: "creces grande y fuerte".

b. Zucaritas de Kellogg's: "te da energía para ganar".

III. Ubicar el producto del lado del menor contra los adultos o la sociedad.

a. Crunch de Nestlé: desaparece a quien te molesta.

b. Bubbaloo de Cadbury Adams: "tranquilo, con Bubbaloo no pasa nada".

IV. Vincular el producto a la aventura. El consumo del producto se vuelve sinónimo de aventura y diversión.

a. Choco Krispis de Kellogg´s : ayuda a encontrar los Choco Krispis.

b. Karamelada Pop de Barcel- Bimbo: aventura con un vampiro.

En los códigos de autorregulación de la publicidad que las grandes procesadoras de alimentos han firmado, éstas admiten que las prácticas arriba señaladas son formas de engaño y manipulación de los niños.

Además, se otorgaron dos reconocimientos especiales: al diputado Éctor Ramírez Barba, presidente de la Comisión de Salud de la Cámara de Diputados, por negarse a legislar esta publicidad aduciendo que los malos hábitos alimentarios son responsabilidad de los padres, y al grupo empresarial ConMéxico, que agrupa a las principales procesadoras de alimentos y bebidas, por bloquear abiertamente todo tipo de legislación federal que intentara regular la publicidad de comida chatarra.

Talento manipulador

"En las 4 categorías, el jurado no pudo establecer la diferencia entre una manipulación leve y una grave, entre un engaño menor o mayor. Por ello, decidió que todos los anuncios nominados recibieran un reconocimiento por engañar y manipular a la infancia de nuestro país. Estos anuncios no son todos los que están siendo trasmitidos pero sí representan un ejemplo de la conducta no ética que desarrollan las empresas para llevar a los niños a la demanda del producto y al deterioro de sus hábitos alimentarios", señaló Alejandro Calvillo, director de El Poder del Consumidor.

"Hay que agregar que estos productos, en su mayoría, contienen altas concentraciones de una sustancia comprobadamente adictiva: el azúcar. La adicción al azúcar ha sido demostrada en estudios científicos recientes y es una de las causas principales de los mayores problemas de salud pública que se viven en México", comentó Guiomar Melgar, asesora en ingeniería de alimentos de EPC.

Los reconocimientos se otorgaron en el marco del Día Mundial de los Derechos de los Consumidores y de la campaña que realizan más de 200 organizaciones de consumidores en el mundo agrupadas en la federación Consumers International (CI) para señalar la publicidad de alimentos y bebidas dirigida a la infancia. El Poder del Consumidor, como parte de dicha federación, participó en la elaboración del código de publicidad que presentaron CI y la International Obesity Task Force a la Organización Mundial de la Salud (OMS), organismo que ha reconocido que este tipo de publicidad es uno de los elementos que han alterado los hábitos alimentarios de la infancia. Las organizaciones de consumidores de todo el mundo están demandando la prohibición de la publicidad de alimentos y bebidas dirigida a la infancia.
Tags: advertising, alimentos, anuncios, bebidas, Bimbo, breakfast cereals, Bubbaloo, bubble gum, Burger King, Cadbury Adams, candy, Cartoon Network, Choco Krispis, código de autorregulación, comida chatarra, ConMéxico, Consumers International, EPC, food, Fruit Loops, International Obesity Task Force, junk food, Karamelada Pop, Kellogs, marketing, Mexico, nag factor, Nesquick, Nestle, OMS, Pantera Rosa, Pink Panther, promotion, publicidad, Zucaritas
Subscribe to My Comments Feed
Leave a Reply