« Expertos dicen que la calidad de las grasas importa más que la cantidad | Home | Argentina Deepens Restrictions on Alcohol »
By Keith R | March 3, 2009
Topics: Advertising/Promotion, Food/Beverage Issues | 1 Comment »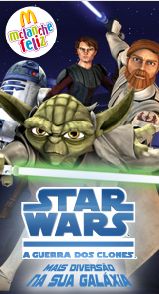 The Federal Public Ministry (MPF) in São Paulo (PRSP) yesterday called for the Burger King, McDonald's and Bob's fast food chains to suspend the sale of promotional toys in their restaurants. He gave the companies ten days to meet the "recommendation." The MPF also called for the National Health Surveillance Agency (ANVISA) to take a stance on the subject.
Burger King, Bob's and McDonald's sell children's toys or other children's collectibles through their Lanche Bkids ("Bkids Meal"), Trikids and McLanche Feliz ("Happy Meal") promotions respectively, which accompany a sandwich, soda and French fries.  These deals targeting child consumers generally seek to link cartoon characters with fast food meals.
Federal Prosecutor Marcio Schusterschitz da Silva Araújo, author of the recommendation, argues that the sales and marketing methods of the fast food chains are too aggressive and lead children into unhealthy eating habits that stick with them over their lifetime. "The toy or product purchased in association with the food will be lost sooner or later, but the diet or the consequences of consuming food with excess fat or sugar, tend to persist," said Schusterschitz.
Brazil's Consumer Defense Code  (Código de Defesa do Consumidor – CDC) prohibits that advertising "se aproveite da deficiência de julgamento e experiência da criança" ("takes advantage of the deficiency in judgment and experience of the child"), which Schusterschitz feels such promotions are doing.
He also interprets the CDC as saying that the decision what food to consume should be based on the quality of the diet and not be overshadowed by the impulse or desire for owning a toy or object with child appeal.  "Children's attraction to toys and products that appeal to children fundamentally undercut critical evaluations of what to eat and why eat."
The 1990 Statute on Children and Adolescents also provides that private initiatives on children must necessarily be compatible with their physical, mental, moral, spiritual and social development, in conditions of freedom and dignity. "Children have limited ability to understand the persuasive intent of sales promotions targeted at them," says Schusterschitz.
In 2006, McDonald's signed an Adjustment of Conduct Agreement with the MPF under which the toys that accompany the McLanche Feliz are also sold separately. The purpose of the TAC was to prevent tying the obtaining the toys with buying a meal, and to allow parents to complete the toy collections of their children, whether they purchase meals or not.

________________
Desde a Procuradoria da República no Estado de S. Paulo (PRSP):
MPF quer que redes suspendam venda de brinquedos em lanchonetes

Procuradoria considera que venda de brinquedos no McDonald's, Burger King e Bob's estimula a criança a se alimentar de forma não saudável.

O Ministério Público Federal em São Paulo recomendou ontem que as redes de fast food Burger King, Bob's e McDonald's suspendam a venda promocional de brinquedos em suas lanchonetes. As empresas tem dez dias para responder a recomendação.  O MPF também pediu que a Agência Nacional de Vigilância Sanitária (Anvisa) se manifeste sobre o tema.

Os grupos Burger King, Bob's e McDonald´s vendem brinquedos ou outros objetos infantis colecionáveis mediante a compra das promoções "Lanche Bkids", "Trikids" e "McLanche Feliz", respectivamente, que têm como acompanhamento lanche, batata e refrigerante.  Ambas promoções têm como público-alvo os consumidores infantis e associam, de modo geral, personagens de desenhos animados ao lanche.

Para o procurador da República Marcio Schusterschitz da Silva Araújo, autor da recomendação, os métodos de venda e promoção das lanchonetes são agressivos e fazem a criança adotar um hábito alimentar que não é saudável e que pode ser mantido pela vida inteira.

"O brinquedo ou produto adquirido em associação com a comida, mais cedo ou mais tarde, se perderá, mas os hábitos alimentares ou as conseqüências do consumo de comida, com excesso de gordura ou açúcares, tendem a persistir", afirmou Schusterschitz.

O Código de Defesa do Consumidor (CDC) proíbe o uso profissional e calculado da fraqueza ou da ignorância do consumidor infantil, que, de acordo com Schusterschitz, é um público que não completou sua formação crítica e não tem capacidade de distinção e de identificação do intuito lucrativo a apelativo da promoção.

Além disso, o CDC reitera que a decisão sobre o consumo de alimentos deve ser observada sob a ótica da qualidade da dieta e não pode ser ofuscada pelo impulso ou desejo de apropriação de um brinquedo ou objeto com apelo infantil.

"A atração do consumidor infantil pela alavanca de brinquedos e produtos com apelo para as crianças retira fundamentalmente o aspecto crítico ou avaliativo sobre o que comer e por que comer", disse o procurador.

O Estatuto da Criança e do Adolescente também estabelece que as iniciativas particulares sobre as crianças devem necessariamente ser compatíveis com seu desenvolvimento físico, mental, moral, espiritual e social, em condições de liberdade e dignidade. "As crianças tem limitada capacidade de entendimento sobre o intento persuasivo das promoções de vendas a elas dirigidas", ressaltou Schusterschitz.

Em 2006, o McDonald's firmou um Termo de Ajustamento de Conduta com o MPF para que os brinquedos que acompanham o McLanche Feliz sejam também vendidos separadamente. O objetivo do TAC era impedir a venda casada dos brinquedos com o lanche e permitir aos pais que completassem as coleções dos filhos, independentemente da compra de lanches ou não levar os brinquedos, caso não os desejassem.

Com preocupação na saúde da criança, na sua formação e na incompleta condição de seu entendimento, a recomendação atual do MPF busca a retirada dos brinquedos como forma de alavancagem para a venda de alimentos de baixo valor nutritivo. Para Schusterschitz, a condição peculiar de pessoa em desenvolvimento e o estado de imaturidade e incompletude da formação crítica da criança devem impor acanhamento e sobriedade ao atrair consumidores infantis.
Tags: alimentos, Anvisa, Bob's, Brasil, Brazil, brinquedos, Burger King, CDC, fast food, Lanche Bkids, lanchonetes, McDonald's, McLanche Feliz, MPF, PRSP, TAC, Trikids, venda promocional
One Response to "Federal Prosecutor Pressures Fast-Food Chains to Suspend Offering Toys with Meals"
Ebony Robenson Says:
March 30th, 2017 at 23:03

You have brought up a very superb points , thankyou for the post.
Leave a Reply