« Inside the "Casa do Bem" | Home | More on the Solar Water Heater Made of PET Bottles »
By Keith R | October 8, 2007
Topics: Consumer Protection | No Comments »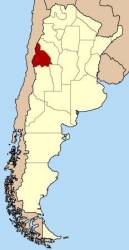 Synopsis in English: The province of San Juan has launched what is believed to be Argentina's first "consumer and users defense school." The school was created by the Production and Economic Development Ministry's Directorate of Consumer Defense in cooperation with the Education Ministry's Planning Directorate, with support from the College of Magistrates, the Office of the Public Defender, and provincial Chamber of Deputies. The school is training 150 teachers and professors in the basics of consumer law and consumer/user rights and the tools consumer can use to protect those rights. They in turn will provide instruction in consumer rights to the public and private school kids of all levels across the province. The School's curriculum was put together with the aid of the National University of San Juan (UNSJ) and the Union of Users and Consumers (Unión de Usuarios y Consumidores – UCC).
______________________________
Desde el Gobierno de la Provincia de San Juan:
INAUGURAN UNA ESCUELA PARA CONSUMIDORES Y USUARIOS

El vicegobernador de la Provincia, en ejercicio del Poder Ejecutivo, doctor Marcelo Lima, presidió esta mañana en la sala "Rogelio Cerdera" la firma de convenio marco entre la Dirección de Defensa al Consumidor dependiente del Ministerio de la Producción y la Dirección de Planeamiento dependiente del ministerio de Educación, el Colegio de Magistrados y la Cámara de Diputados de nuestra Provincia, en el marco del Programa Provincial de Educación la Consumidor.
Esta nueva escuela de Defensa de Consumidores y Usuarios de San Juan tiene como objetivo educar a los consumidores y usuarios en sus derechos como tal y la mejor manera de ejercerlos, brindando al pequeño consumidor, actual y futuro las herramientas y conociendo para que su consumo sea naturalmente consciente.
Estuvieron presentes el de la Producción y Desarrollo Económico, Antonio Salvador Giménez; el diputado Daniel Tomas; el Director de Defensa al Consumidor, Pedro González; el Defensor del Pueblo; Julio César Orihuela; autoridades de las universidades Católica de Cuyo y de la UNSJ, la coordinadora de Planeamiento del ministerio de Educación, lic Graciela Sánchez.

Por su parte Pedro González manifestó "valió la pena esperar con este proyecto que veníamos analizando y que hoy encaminado" como es la "Escuela de los Consumidores", que será la primera dentro de este marco implementado en nuestra provincia. Y apuntó que este es un gran logro para los consumidores.

A su turno Giménez, agradeció por este nuevo proyecto que se implementará en los establecimientos educativos que se vino estudiando desde el año 2005. Además añadió que todos tienen derechos a defender sus derechos en situaciones y no sabemos donde concurrir y a quien asesorarnos para evitar un gran desequilibrio, hace cuatro años que Defensa al consumidor viene trabajando para lograr como y donde dirigirnos a la hora de consultar una duda.

Finalmente Lima dijo "es un orgullo que San Juan tenga implementado este proyecto en los distintos establecimientos educativos ya que el objetivo de esta escuela es educar a los consumidores en sus derechos como tal y la manera de ejercerlos para brindar en un futuro al pequeño consumidor las herramientas y el conocimiento necesario a la hora de actuar, concluyó.
Tags: Argentina, consumer law, Consumer Protection, defensa del consumidor, defesa do consumidor, Education Ministry, San Juan, UNSJ
Subscribe to My Comments Feed
Leave a Reply