« Giving LAC's First Plastic Packaging Law Teeth | Home | CNPq to Invest R$22 million in Biofuel Research »
By Keith R | November 4, 2007
Topics: Advertising/Promotion, Consumer Protection | No Comments »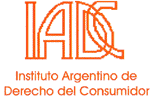 Next week the Argentine Institute of Consumer Law (Instituto Argentino de Derecho del Consumidor – IADC) and the Judiciary Power of the province of Rio Negro (RN) will co-host next week (Mon.-Tues. 12-13 November) the tenth national congress on consumer law in the RN capital of Viedma.
On Monday evening (at 18:00 hours) the congress will open with discussion of "Access to Justice and Consumer Defense." On Tuesday panels will examine "Defense of the Consumer in Civil and Process Law" and "Contracting and Consumer Defense" (focusing particularly on information, advertising and abusive clauses). Tuesday afternoon a commission will examine "Solving Consumer Conflicts," looking at consumer defense organizations, municipal ofices, administrative procedures, intermediary entities and collective judicial actions.
The Congress will close with a presentation by the President of the College of Lawyers of Viedma on "Responsibility for Damage to Consumers and Users."
You can view the entire agenda at http://www.jusrionegro.gov.ar/jor_dercon/index.htm
Tags: abusive contract clauses, access to justice, advertising, Argentina, civil liability, class action, consumer conflicts, Consumer Protection, defensa del consumidor, defesa do consumidor, derecho del consumidor, IADC, propaganda comercial, Rio Negro, Viedma
Subscribe to My Comments Feed
Leave a Reply