« Fighting Neglected Diseases in LAC / La lucha contra enfermedades infecciosas desatendidas en ALC | Home | "Cereal Offenses" in LAC »
By Keith R | December 28, 2008
Topics: Consumer Protection, Energy & the Environment, Motor Vehicles | No Comments »
Latin America, it seems, is becoming more interested in fuel economy.  I wrote in an August post about Chile's proposal for a fuel efficiency/greenhouse gas emission label for cars, and more recently about Mexico's new government website for consumers to use in shopping for fuel-efficient vehicles.  Now it's Brazil's turn.  In November its National Institute of Metrology, Standardization and Industrial Quality (Inmetro) implemented a new labeling system for cars that will inform consumers about the fuel efficiency of the new vehicles they are might purchase.
Parece que América Latina está cada vez mais interessado na economia de combustível nos automóveis. Eu escrevi em agosto um post sobre a proposta do Chile para rótulo para automóveis sobre eficiência energética e emissão de gases com efeito estufa, e mais recentemente sobre o site do governo mexicano para os consumidores a utilizar nas compras de veículos eficientes em termos de combustível. Agora é turno do Brasil. Em novembro o Inmetro implementou um novo sistema de rotulagem para os carros que irão informar os consumidores sobre a eficiência energética dos novos veículos que contemplam comprar.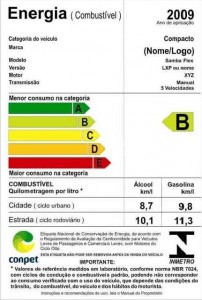 For now the labels are voluntary, but Brazilian authorities hope that enough automobile companies will place them on their new cars — either on their own initiative (whether to be socially responsible or simply for bragging rights) or under pressure from consumers and consumer activists — that it will become a de facto standard.   There's also the chance that, once consumers, dealers and the marketplace in general grow accustomed to the labels, their use will be made mandatory (Inmetro has transitioned energy use labels for other goods from voluntary to mandatory, so it's not unheard of).
Neste momento os rótulos são voluntárias, mas as autoridades brasileiras esperam que bastantes fabicantes dos automóveis irão colocá-los em seus carros novos — quer por iniciativa própria (por responsabildade socioambiental, ou para dizer que seus carros são melhores) ou sob a pressão dos consumidores e dos defensores dos consumidores — que torna-se um padrão de facto. Há também a chance de que, quando os consumidores, distribuidores e o mercado acostumam aos rótulos, o seu uso será feito obrigatórios (uma coisa que o Inmetro tem feito com outra routalgem no passado, portanto, não é inédito).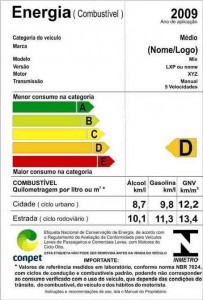 Currently labels only apply to cars using gasoline, ethanol, flex-fuel (gasoline/ethanol) or tri-fuel engines (gasoline, ethanol or vehicular natural gas).   The labels cannot be used on sport vehicles, cargo vehicles derived from passenger vehicles, or vehicles developed specially for off-road uses.
Atualmente os rótulos são disponiveis para carros com motores de gasolina, álcool, flex-fuel (gasolina / etanol) ou tri-combustível (gasolina, álcool ou gás natural veicular). Os rótulos não podem ser utilizados em veículos esportivos, veículos de carga derivados de veículos de passageiros, ou veículos desenvolvidos especialmente para uso fora-de-estrada.
The label's format is based roughly on the energy efficiency labels Brazil uses for electrical and electronic equipment, which in turn is modeled after European Union labels for the same purpose.  The label provides a bar graph with an indicator of where the vehicle falls along the efficiency spectrum — the closer to the green at top, the better the fuel mileage, the further down toward the red, the worse.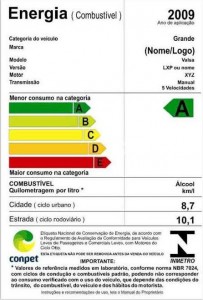 O formato do rótulo baseia-se mais ou menos nas etiquetas de eficiência energética que o Brasil utiliza para equipamentos eléctricos e electrónicos, que, por sua vez, é modelado depois de rótulos da União Europeia para a mesma finalidade. O marcador fornece um gráfico de barras com um indicador de que o veículo se enquadra, ao longo do espectro de eficiência — o mais perto do verde na parte superior, melhor na eficiência no consumo combustível, o mais baixo em direção ao vermelho, a pior.
Each label also provides separate estimates for average mileage (km/l) under city and open road conditions.  In the case of flex- or tri-fuel models, the label provides separate estimates for each type of fuel that might be used.
Cada etiqueta também fornece estimativas separadas para a quilometragem média (km / l) do veículo, em condições da cidade e da estrada. No caso dos modelos flex- ou tri-combustível, a etiqueta fornece estimativas separadas para cada tipo de combustível que poderão ser utilizados.
Tags: automobiles, automoveis, Brasil, Brazil, carros, cars, eco-etiquetado, ecolabeling, etanol, ethanol, flex-fuel, fuel economy, fuel efficiency, INMETRO, labeling, motor vehicles, vehicular natural gas, vehículos flex fuel
Subscribe to My Comments Feed
Leave a Reply