« Brazilian Fuel Economy Labels for Cars | Home | Brazil to Release GHG Inventory for Waste & Sanitation Sectors / Brasil vai divulgar dados sobre a emissão de gases de efeito estufa do setor de resíduos sólidos e efluentes »
By Keith R | December 28, 2008
Topics: Advertising/Promotion, Consumer Protection, Food/Beverage Issues | No Comments »
If you have kids and read the labels of foods you shop for or buy, you probably know well the struggle to avoid buying breakfast cereals that are not loaded with sugar and/or sodium (salt).  Sometimes even when you avoid the obvious culprits (after all, if the name is "frosted," most of us can guess!), you can be fooled by the amount of sugar or salt in the seemingly blander cereals if you don't scrutinize the labels.
As someone who lived in a Latin American/Caribbean (LAC) nation for several years and has shopped for food in many others over the last three decades, I can attest that this problem is not unique to the US, Canada or Europe.
Now come two studies that confirm that the problem is pervasive.  The first was released in October by the London-based consumer coalition, Consumers International (CI), the second was released earlier this month by a network of Central American consumer groups (all of them affiliated with CI) known as the Central American and Caribbean Consumers in Action Network (Red Consumidores en Acción de Centroamérica y el Caribe – ConSuAcción).
What they found about the content of breakfast cereals is disturbing, and about their marketing interesting.  I am not fully convinced that many of the marketing practices they complain about are so serious — is it really so nefarious to use Tony the Tiger or the Quik Bunny as your brand symbol?   And, free toys inside the box have been around since I was a kid 40 years ago — why are they such a concern now?   I don't agree with all of their demands, but I think they make a case for normative action that many health officials will find hard to shrug off.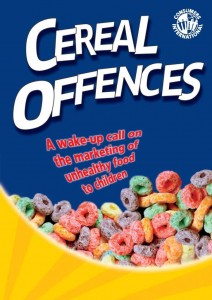 "Cereal Offences"
The CI study, "Cereal Offences," was carried out by 32 member organizations around the world (including Argentina, Brazil, Chile and Peru) looked at 13 varieties of breakfast cereals marketed to children in markets around the world.  All of them are manufactured by the multinationals Kellogg's and Nestlé, but CI insists that the tactics highlighted in the report are representative of those used by most cereal manufacturers.
The results paint a very different picture to the one created by the companies' marketing campaigns, says CI.  Popular cereal varieties manufactured by Kellogg's and Nestlé and marketed to children routinely contain excessive amounts of added salt or added sugar (click on bar graphs to view larger version regarding sugar in Nesquik cereal and salt found in Rice Krispies). Several popular cereal products were found to have higher levels of salt than is found in potato snacks or salted nuts, some were even as salty as seawater. Other varieties contained so much added sugar that they were found to be sweeter than cookies or iced doughnuts.

By promoting products that are high in salt and sugar to children, food companies are establishing patterns of consumption that fuel the obesity pandemic. Not only are they giving children unhelpful messages about what it is good to eat, they are simultaneously undermining efforts by governments and civil society to promote healthier diets.

Although companies have started to respond to consumer pressure by announcing a number of policies and pledges, CI argues that they have been half-hearted in their coverage. Even the pledges made by Kellogg's and Nestlé only cover children up to the age of 12 and for the youngest children exclude marketing techniques, such as the use of their own brand cartoon characters.
CI insists that it is not against the marketing of food, but simply believes that the marketing of energy-dense, nutrient-poor foods that are high in fat, sugar and salt to children is irresponsible.  They call on companies to reformulate their products and compete to market healthier options, and call for the World Health Organization (WHO) to support their proposal for an international code on marketing foods and beverages to children.
They particularly call for an end to the following marketing techniques in promoting food high in fat, sugar and/or salt:
Advertising or promotion that directly appeals to children, including the:

Use of celebrities
Use of cartoon characters, including brand owned and licensed
Inclusion of free gifts, toys or collectible items
Inclusion of competitions, vouchers or games
Shape or novelty value of the food or food packaging
Advertising or promotion in places children visit frequently, which includes:

Nurseries, preschool centers, schools and school grounds
Children's clubs, centers, playgrounds and sports halls
Family and child clinics and pediatric services
Advertising (including indirect) that targets parents or other adults caring for children such as other family members, child carers, teachers, health workers. This includes suggesting that a parent or adult who purchases such a food or beverage for a child is a better, more intelligent or a more generous parent or adult than one who does not do so, or that their child when fed these products will be more intelligent and gifted.
They call on national governments to support to the development of a WHO code and to pass and implement national legislation based on its precepts.  They also want governments to monitor misleading labeling and implement a mandatory, coherent and transparent labeling system such as the UK's "traffic light" system.
Last but not least, CI wants multinational food and beverage companies to
voluntarily comply with all the provisions in the CI Code;
adopt "a consistent global approach and ensure that all internal policies on advertising and nutrition are implemented to the same standard in all countries";
"use their creativity and breadth of marketing techniques to encourage children to make healthy food choices."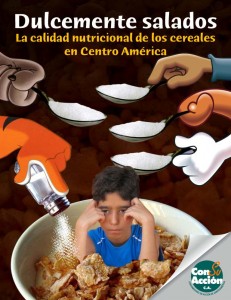 "Dulcemente Salados"
The Red ConSuAcción study, "Dulcemente Salados" (Sweetly Salted"), covers 12 breakfast cereal brands — six apiece for Nestle and Kellogs — sold and marketed in Costa Rica, El Salvador, Guatemala, Honduras, Nicaragua and Panama [Temas Note: Wonder why they left out Belize?] They tested the cereals and compared them against the UK's "traffic light" standards, where green represents "low" levels prefered by health experts (such as under 0.3 gm per 100 gm for salt, or 5 gm per 100 for sugar), orange represents "medium," and red "high."
Some of the study's findings:
10 of the 12 samples of cereals have a high sugar content (click on pink bar graph at right to see larger image).
4 of 12 samples at high salt content, 7 medium and one low (click on blue bar graph to see larger image).
3 of 4 samples with high salt content are made by Kellogg's brand.
Kellogg's Choco Zucaritas bought from Costa Rica has, overall, high levels of salt and sugar, making it the least healthy of all.
Several cereals had a greater amount of salt than that reported in the label: Kellog's Rice Krispis purchased in Honduras had 41% more, Kellog's Zucaritas purchased in Panama had 86.6% and Kellog's Choco Zucaritas from Costa Rica had 109% more salt in comparison to what was stated on the label.
What remedies does ConSuAcción advocate (besides adoption of a WHO code, of course) public health authorities take?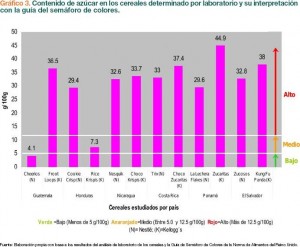 Labeling legislation, perhaps patterned after the UK traffic light scheme, so that consumers have information to enable them to decide on food consumption based on its nutritional quality.
The promulgation of a regulation establishing a reduction in salt and sugar in processed foods, and an investigation of companies for breaching nutritional labeling.
A regulation (or tougher regulation) on nutrition labeling that includes necessary warnings when regular consumption of some products might pose health risks, especially to children.
Education campaigns, information and communication to consumers about healthy eating and principles on the use and reading appropriate nutrition labeling, and thus, prevent chronic disease of the population
http://www.youtube.com/watch?v=Iy3sCFAE25I
Tags: advertising, alimentos, América Central, azúcar, breakfast cereals, cartoon characters, Central America, cereales, children, colegios, collectibles, ConSuAcción, Consumers International, Costa Rica, El Salvador, escuelas, food, gifts, Guatemala, Honduras, juguetes, Kellogs, labeling, marketing, Nestle, Nicaragua, nutrition labeling, obesidad, obesity, OMS, Panama, pediatric services, playgrounds, promotion, sal, salt, schools, sobrepeso, sódio, sugar, toys, WHO, Zucaritas
Subscribe to My Comments Feed
Leave a Reply