« Aid for Biodiversity in Espírito Santo / Doação para Biodiversidade no Espírito Santo | Home | LAC Water Center Created / Crean Centro del Agua para ALC »
By Keith R | November 23, 2008
Topics: Climate Change, Consumer Protection, Energy & the Environment, Environmental Protection, Motor Vehicles | No Comments »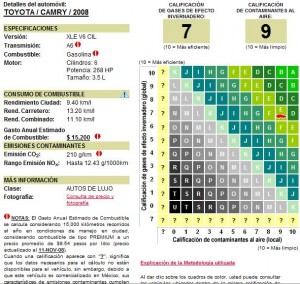 Recently Mexico launched an initiative to promote consumer purchases of vehicles with better fuel efficiency and lower greenhouse gas (GHG) emissions that is, as far as I can tell, unique to Latin America and the Caribbean (LAC).  The Environment Secretariat (SEMARNAT), via the National Ecology Institute (INE), the Office of the Federal Consumer Prosecutor (Profeco) and the National Energy Savings Commission (CONAE) jointly have created a special website that allows consumers to check on data and ratings for fuel efficiency and emissions (including CO2) for every type of car sold on the Mexican market.
The website is inspired and roughly modeled after the US Environmental Protection Agency's (EPA) Green Vehicle Guide.  Visitors to the website can call up data sheets (click on image at right to view an example involving a Toyota Camry) either by make and model, class of automobile (compact, luxury, sports, etc.), average annual fuel consumption, or range of emissions. You can also call up a side-by-side comparison of different car models and makes.
The data utilized to compose the sheets, charts and ratings were drawn from CONAE, the Office of the Federal Environment Prosecutor (Profepa), EPA's Green Vehicle Guide and the UK's Vehicle Certification Agency (VCA).
The differences between the Mexican and American versions of the online guide are mostly minor.  Both use a scale of ten to qualify a car's emissions — the US simply uses a hoizontal bar line, whereas the Mexicans utilize a numbered block (those two numbers in brown rectangles in the top righthand corner in the example shown here).  Mexico adds the GHG vs. local pollutants (primarily NOx) matrix so that consumers can better weigh the possible trade-offs (essentially, the greener the zone, the better, with moving toward the upper righthand corner optimal).
A cool concept, and I applaud the Mexican authorities for undertaking the project.
However, I do have some questions/reservations about this exercise, some of which should probably be borne in mind for other LAC nations (such as Argentina, Brazil, Chile and Colombia) that might (and should) consider creating similar websites.
First off, just how much promotion to the general public has been given to this new site?    Was it just limited to press releases on the websites of the sponsoring agencies, or has there been a linked print, radio and TV campaign?  Have car dealerships, car rental agencies, and petrol stations been asked to promote it?  Without such exposure, the good information will have little impact because few will access it.  How many of you knew that the USEPA had the Green Vehicle Guide?  I bet many didn't, and the American general public is considered far more environmentally conscious and informed than Mexico's.
Second, is a website for this information the best route to reach the largest Mexican audience?  Isn't much more needed, such as label that all cars must bear when they are offerred for sale in Mexico?  Only about one quarter of Mexico's population yet use the internet, and many of those do not own their own computer.  How many will be using internet searches to narrow their purchase decisions?  And of that pool, how many will be looking for emissions and fuel economy stats?
Third, I have to wonder a bit about the underlying data for this site.  Is any of it based on Mexican market data — i.e., on fuel grades, emissions equipment and road/traffic/maintenance conditions prevelant in the Mexican market, vs. those in the US or UK markets?
Fourth, while I think all the data provided is useful, I have to wonder if the data sheet design is too visually confusing, if not overwhelming.  The Ecovehiculos website does provides a user guide in PDF to walk users through the site's functions and layouts, which is nice, but I suspect that many consumers will not spend the time to go through it and sort through the clutter of data on the sheets.  I think the sheet design probably needs to be simplified, and site navigation made a bit more intuitive and user-friendly.
______________________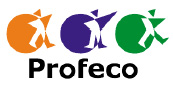 Desde la Procuraduría Federal del Consumidor (Profeco):
SE PRESENTA EL PORTAL ECOVEHICULO

Trabajo conjunto con la SEMARNAT, participa activamente la Profeco
Herramienta de orientación a compradores de vehículos nuevos para consumo inteligente: Morales de la Peña

El día de hoy, el maestro Juan Rafael Elvira Quezada, Secretario de Medio Ambiente y Recursos Naturales, el titular de la Procuraduría Federal del Consumidor, Lic. Antonio Morales de la Peña, y el Director general de la Comisión de Ahorro de Energía, Lic. Emiliano Pedraza, inauguraron el sitio web Ecovehículos, donde pondrán a disposición del público en general la información ambiental y de eficiencia energética de los modelos de vehículos nuevos disponibles en el mercado. El objetivo es que la gente tenga esta información ambiental para que puedan guiar sus decisiones de compra hacia mayor sustentabilidad y mayor ahorro de energía.

El lanzamiento del Portal de Indicadores de Eficiencia Energética y Emisiones Vehiculares (Portal de Ecovehículos: www.ecovehiculos.gob.mx) es el resultado de un trabajo conjunto entre el Instituto Nacional de Ecología, la Procuraduría Federal del Consumidor y la Comisión Nacional de Ahorro de Energía. Tomaron la información del desempeño ambiental de cada modelo de vehículo, y la organizaron de tal forma que se pudiera comparar entre modelos, usando una escala de cero a 10, donde obtienen cero los vehículos que justo apenas pasan la norma de emisiones, y obtienen 10 los vehículos menos contaminantes en el mercado. En cuanto ahorro de energía y generación de gases de efecto invernadero, obtienen 10 los modelos que rinden más kilómetros por litro de gasolina usado, y cero los que menos kilómetros por litro dan en todo el mercado. Estos dos ejes, ahorro de gasolina y reducción de emisiones contaminantes, se combinan para que los consumidores tengan una visión ambiental completa del auto que desean comprar.

Juan Rafael Elvira Quesada presentó al Portal Ecovehículos como "una innovadora herramienta de política ambiental que empodera a los consumidores. Será de la mayor utilidad para todos aquellos hogares, empresas e instituciones que desean mostrar su creciente conciencia ambiental en sus decisiones de compra".

El Secretario de SEMARNAT resaltó: "Los hogares mexicanos ya pueden comparar el precio, capacidad, seguridad y estilo de los autos que piensan adquirir; ahora, gracias al Portal de Ecovehículos, les daremos la posibilidad de que comparen también el ahorro en combustible y la tecnología de reducción de contaminantes de los diferentes modelos disponibles." "Tendrán toda la información para poder optar, de acuerdo a sus intereses y necesidades, por la opción más sustentable del tipo de vehículo que están buscando. Esto moverá a todo México hacia mayor sustentabilidad, mayor ahorro de gasolina para las familias, y menores emisiones de gases de efecto invernadero para el planeta. Tendremos beneficios locales, para que las familias mexicanas vivan mejor, y beneficios globales, para que así nuestro país ayude solidariamente a mitigar el problema de Cambio Climático Global. "

Por su parte, el titular de la Conae resaltó la participación de esa institución en la creación de este Portal al proporcionar los valores de rendimiento de combustible de las marcas socias a la Asociación Mexicana de la Industria Automotriz y otras empresas automotrices que se obtienen desde el año 2002, a partir de la firma de un Convenio de Concertación para la Eficiencia Energética entre el gobierno federal y la propia industria automotriz nacional.

"En la actualidad es primordial ofrecer información sobre la eficiencia energética al consumidor. Sin mejor información no hay mejores decisiones. Sólo imaginemos cuánto podríamos resolver en el tema si las millones de decisiones se inclinaran por el ahorro de energía".

Por su parte el Procurador Federal del Consumidor, Antonio Morales de la Peña, mencionó que para la Profeco el portal Ecovehículos es una valiosa herramienta para que los consumidores interesados en adquirir un vehículo nuevo puedan ejercer un consumo inteligente al hacer una compra informada, consciente, sustentable y solidaria con el medio ambiente, a través de la elección de un auto que permita un eficiente consumo de energía.

Comentó el titular de Profeco: "Ecovehículos permitirá un consumo informado porque podremos saber de una forma clara cuál es el gasto anual en gasolina que representa un vehículo en particular, así como qué tan contaminante resulta, y compararlo con otro producto para saber cuál comprar". Dijo además: "Esa compra se traduce en un consumo conciente y sustentable, al elegir la opción que menos daña no sólo al bolsillo, sino al medio ambiente, en beneficio de ésta y las futuras generaciones, tanto de México como del resto del mundo".

Por su parte, Elvira Quesada se refirió: "La virtud del Portal de Ecovehículos, es que integra la información que actualmente se genera en diversas instancias del Gobierno Federal, y la utiliza para orientar las decisiones de los consumidores, para que de manera voluntaria incorporen en éstas la vertiente de la sustentabilidad ambiental. Esta herramienta no origina nuevas obligaciones a las empresas automotrices, sin embargo, ellas podrán utilizar la información que se derive del Portal para que la incorporación de tecnologías más limpias y más eficientes en los automóviles que fabriquen o importen sea reconocida por el mercado, sea premiada por los consumidores."

Agregó: "Los méritos que hagan por arriba de la norma obligatoria se convertirán en ahorros para los consumidores e incentivos de mercado para las empresas, las cuales pondrán a competir sus vehículos ahora bajo un nueve eje de competencia: la competitividad ambiental".

Adrián Fernández, presidente del Instituto Nacional de Ecología, cuyo equipo de economistas ambientales y expertos en contaminación urbana y global trabajó en el desarrollo del portal, resaltó los aportes que hicieron las diferentes instituciones que trabajaron juntas: "PROFECO aportó su conocimiento sobre cómo mejor comunicarle a los consumidores la comparación entre modelos, CONAE aportó su conocimiento de años sobre eficiencia energética vehicular, PROFEPA aportó sus bases de datos sobre las emisiones de contaminantes criterio de los modelos certificados y autorizados para ser vendidos en México. Trabajamos todos juntos para darle a los ciudadanos, a los consumidores, una herramienta más para ahorrar y ayudar al planeta en el camino."
Tags: cambio climático, cars, Climate Change, CO2, CONAE, consumo consciente, ecolabeling, eficiencia energética, EPA, fuel economy, fuel efficiency, Green Vehicle Guide, greenhouse gases, Mexico, motor vehicles, mudanças climáticas, NOx, Profeco, Profepa, SEMARNAT, sustainable consumption, vehicle emissions
Subscribe to My Comments Feed
Leave a Reply