« US & Mexico Increase Cooperation on Climate Change & Clean Energy | Home | Paraná Adopts Take-Back Law for Mercury-Containing Products »
By Keith R | April 17, 2009
Topics: Consumer Protection, Energy & the Environment, Motor Vehicles | No Comments »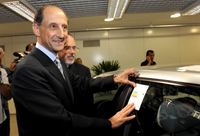 Brazil today presented the first vehicles that will bear the new fuel efficiency labels developed by the National Institute of Metrology, Standardization and Industrial Quality (INMETRO). Brazil was the first to develop a fuel efficiency label for cars, although Chile is also headed in that direction. At the ceremony five manufacturers — Fiat, GM (Chevrolet), Honda, Kia and Volkswagen — announced cars representing 50% of Brazilian car sales — would bear the labels when they leave the assembly line this month.
Desde a Federação das Indústrias do Estado de São Paulo (FIESP):
Na Fiesp, Petrobras e Inmetro lançam Etiqueta Nacional de Conservação de Energia

Presidente da Fiesp, Paulo Skaf, frisou que todos ganham com a etiquetagem veicular: o meio ambiente, a indústria e as pessoas

A Petrobras e o Instituto Nacional de Metrologia, Normalização e Qualidade Industrial (Inmetro) apresentaram nesta sexta-feira (17), na Federação das Indústrias do Estado de São Paulo (Fiesp), os primeiros veículos que receberam a Etiqueta Nacional de Conservação de Energia (Ence).

O gerente executivo de Desenvolvimento Energético da área de Gás e Energia da Petrobras, Mozart Schmitt de Queiroz, afirmou que contar com carros menos poluentes tem dois vetores positivos: é mais saudável e reduz custos. A etiqueta será um aliado na hora da compra do veículo novo, enfatizou João Jornada, presidente do Inmetro.

A etiquetagem significa o comprometimento da indústria com o programa e incluirá o Brasil na lista dos países que desenvolvem programas de eficiência energética e de uso racional de combustíveis em veículos.

Carlos Cavalcanti, diretor de Energia do Departamento de Infraestrutura da Fiesp, destacou o Brasil como um dos países que mais utilizam energia limpa, no mundo.

Cinco fabricantes – representando 50% das vendas do mercado brasileiro – já aderiram espontaneamente ao programa (Fiat, GM com a marca Chevrolet, Honda, Kia e Volkswagen) e seus veículos poderão sair das fábricas etiquetados já este mês. Os dados de consumo de pelo menos metade dos modelos à venda serão declarados anualmente.

Também participaram da cerimônia, representantes dos Ministérios de Minas e Energia e do Meio Ambiente, da Associação Nacional dos Fabricantes de Veículos Automotores (Anfavea) e da Associação Brasileira de Empresas Importadoras de Veículos Automotivos (Abeiva).
Tags: ABEIVA, ANFAVEA, Brasil, Brazil, carros, Chevrolet, ecoetiquetado, FIAT, FIESP, General Motors, Honda, INMETRO, Kia, motor vehicles, Petrobras, Volkswagen
Subscribe to My Comments Feed
Leave a Reply