« A Water and Sanitation Atlas for Brazil | Home | Recycling Used Motor Oil Packaging in Brazil »
By Keith R | December 25, 2008
Topics: Consumer Protection, Food/Beverage Issues | No Comments »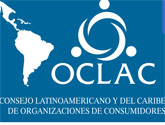 In my earlier post about the Mexican industry code on advertising of food and beverages directed to children, I discussed efforts in Latin America (here, here, here, here, here and here) to get high-calorie and/or high-fat and/or high-sugar and/or salty foods out of schools and the push by consumer groups, led by Consumer International (CI), for an International Code on Marketing of Food and Non-Alcoholic Beverages to Children (English; Spanish) that particularly targets such foods.
Here's another step in that direction: a declaration by consumer groups in the region rejecting so-called "junk food" and calling on the Pan American Health Organization (PAHO) and the Ministries of Health and Education in the region to take steps to get them out of schools and promote greater consumption of fresh fruits and vegetables, whole grains and water.  The declaration by the Latin American and Caribbean Council of Consumer Organization (Consejo Latinoamericano y Del Caribe de Organizaciones de Consumidores – OCLAC), a grouping created in 2007 of 31 consumer associations from 16 LAC nations, calls for regulations on school cafeterias that:
Impede the sale of food high in sugar, salt, saturated fats and trans fats (hydrogenated fats);
Ban the sale of beverages with added caffeine, taurine, glucuronolactone or any substance which acts as a stimulant through its effects on the nervous system;
Ban the sale of sports drinks;
Ensure the provision of potable water for direct consumption in all schools;
Education centers offer fresh fruit and vegetables and whole grains;
All school curricula include food and nutrition education.

Loading ...
___________________
Desde Fundación por los Derechos del Consumidor (FUNDECOM) de la Republica Dominicana:
Consumidores rechazan alimentos chatarra

En el día mundial de la Alimentación proponen regla alimentos en las escuelas.

FUNDECOM y El Consejo Latinoamericano y Del Caribe de Organizaciones de Consumidores OCLAC, que agrupa a 31 asociaciones de consumidores de 16 países del continente, propone una alimentación saludable en las escuelas, para lo cual ha presentado una propuesta a las autoridades de la Organización Panamericana de la Salud, el Ministerio de Educación y el Ministerio de Salud. El objetivo de esta campaña es que se reduzca el consumo de alimentos y bebidas con elevadas cantidades de azúcar, sodio, grasas saturadas y grasas TRANS de las escuelas, y por el contrario, se fomente el consumo de frutas y verduras, cereales integrales y agua potable.

La preocupación fundamental se basa en que la Organización Mundial de la Salud admite una epidemia global de sobrepeso y obesidad, lo que se ha constituido rápidamente en el mayor problema de salud pública en gran parte del mundo. Este problema está íntimamente relacionado al aumento de enfermedades crónicas como la diabetes mellitus, dolencias cardiovasculares, hipertensión y ciertos tipos de cáncer.

Se debe prestar mucha atención al hecho de que durante la primera década de vida se forman los hábitos alimenticios que pueden permanecer a lo largo de la vida, siendo la escuela un espacio privilegiado para la educación nutricional.

La propuesta de los consumidores contiene los siguientes puntos:

1.  Reglamentarse el expendio de alimentos en las cafeterías escolares para impedir que se expendan alimentos chatarra con alto contenido de azúcar, sal, grasas saturadas y grasas trans (grasas hidrogenadas).

2.  Debe prohibirse en las escuelas el expendio de:

* Bebidas adicionadas de cafeína, taurina, glocoronalactona o cualquier sustancia que actúe como estimulante por sus efectos en el sistema nervioso.

* Bebidas diseñadas para deportistas de alto rendimiento, por su alto contenido de sales.

3.- Debe asegurarse a la comunidad escolar el acceso gratuito a agua debidamente potabilizada para su consumo directo.

4.- Los centros educativos deben ofrecer y promover el consumo de frutas, verduras y cereales integrales entre los escolares

5.-  La educación alimentaria y nutricional deben ser incorporada como parte de la currícula escolar.

La salud de las personas depende de una buena alimentación, no podemos dejar ésta solo en manos de la industria alimentaria y de su publicidad comercial, que muchas veces ha distorsionado el verdadero sentido de la alimentación.  Los Estados tienen que intervenir en este problema antes que siga causando más estragos.
Tags: advertising, agua potable, alimentos, alimentos chatarra, azúcar, bebidas, beverages, cafeína, cafeterías escolares, caffeine, cereales integrales, Consumer Protection, defensa del consumidor, energy drinks, food, fresh fruit, fresh vegetables, frutas, FUNDECOM, glocoronalactona, glucuronolactone, grasas saturadas, grasas trans, junk food, OCLAC, OMS, OPS, PAHO, potable water, publicidad, sal, saturated fats, sódio, sports drinks, sugar, taurina, taurine, trans-fat, verduras, whole grains
Subscribe to My Comments Feed
Leave a Reply