« BNDES Finances Small Hydropower Expansion | Home | Rio's Commitment to Tackle Sewage and Trash »
By Keith R | December 26, 2008
Topics: Advertising/Promotion, Consumer Protection | No Comments »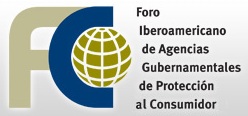 When I wrote my Overview of Consumer Law in LAC and Overview of Consumer Authorities in LAC, I somehow overlooked any mention of regional efforts to get the consumer protection authorities (where they exist) to work together.  Let me rectify that first with this post here, and then with appropriate amendments to those two standalone pages.
From FLAGC to FIAGC
During the Euro-Latin American Consumers Dialogue for Development and Democracy convened by Consumers International (CI) in Cartagena, Colombia in 2001, it was agreed that Latin American government agencies in charge of consumer protection should meet annually to exchange information and experiences in enforcing consumer law.  Thus the Latin American Forum of Government Consumer Protection Agencies (Foro Latinoamericano de Agencias Gubernamentales de Protección al Consumidor – FLAGC) was born.
Each of the annual meetings was entrusted to a different host agency, starting with Chile's National Consumer Service (SERNAC) in 2002, followed by Panama's Competition and Consumer Affairs Commission (CLICAC, now the Authority on Consumer Protection and Defense of Competition – APCDC) (2003), Brazil's Consumer Protection and Defense Directorate (DPDC) (2004), Argentina's Consumer Defense Subsecretariat (2005) and El Salvador's Consumer Defender (2006).  To ensure some continuity between meetings, the regional office of CI in Santiago was named the nominal "technical secretariat" of the Forum.
At the 2006 meeting it was decided to invite Portugal and Spain to be full members and to change the name to Ibero-American Forum of Governmental Consumer Protection Agencies (Foro Iberoamericano de Agencias Gubernamentales de Protección al Consumidor – FIAGC).  [Temas Note: Why have the consumer authorities from English- and Dutch-speaking Caribbean been excluded from this cooperation effort from its inception?]
At the first session as FIAGC in 2007, hosted by Peru's National Institute for Competition Defense and Intellectual Property Protection (Instituto Nacional de Defensa de la Competencia y de la Propiedad Intelectual – Indecopi), it was decided to formalize FIAGC's structure by drafting and adopting statutes.  The statutes were approved at the 2008 meeting recently hosted by Mexico's Federal Consumer Prosecutor (Profeco).
Today FIAGC has 21 "member" nations — 18 LAC nations, plus Portugal, Spain and Puerto Rico — but four (Bolivia, Cuba, Puerto Rico, Venezuela) have not yet designated authorities to participate.  Representatives from the US sometimes participate as observers.
Colombia will host the next Forum in 2009.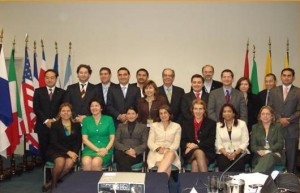 What FIAGC Is Currently Working On
The most recent FIAGC had presentations and roundtable discussions on advertising that looked at
advertising on the internet;
advertising and obesity;
advertising and functional foods;
misleading advertising;
the importance of education and information to the consumer in combating deceptive advertising.
Also held were sessions of working groups on
citizen participation;
collective and diffuse interests;
air transport;
consumer education;
credit cards.
At the end the Forum adopted the "Mexico City Declaration" (click here for text in Spanish) in which they agreed to:
foment and develop common efforts that aid the strengthening of consumer protection policies;
create a working group on misleading advertising coordinated by Mexico, with the participation of Argentina, Costa Rica, Portugal, Peru and Spain, along with the US in its capacity as observer.  The group will propose lines of action at the next Forum.  Members also agreed to coordinate efforts with other fora working on this question.
create a working group that will present projects to protect consumers in the Iberoamerican nations regarding payment media.  The group will be coordinated by Argentina, with the participation of Brazil, Colombia, El Salvador, Guatemala, Mexico and Peru, along with CI and the US as observers.
intensify collaboration to create lines of action to correct the problems of "economic damage caused by abusive practices" and "information asymmetries that affect consumers" in the air transport sector.
strenghen information exchange on actions regarding collective interests (perhaps by creating an alert mechanism on transfrontier cases and/or cases with multinational impact).  The FIACG members also committed to strengthening their use of this tool to protect consumer interests.
strengthen relations with consumer organizations to improve their capacities and promote their participation.
________________
Desde la Procuraduría Federal del Consumidor (Profeco):
FINALIZA CON ÉXITO EL II FORO IBEROAMERICANO DE AGENCIAS GUBERNAMENTALES DE PROTECCIÓN AL CONSUMIDOR

Orientar a los consumidores para realizar consumos inteligentes fue uno de los temas principales
Intercambiar experiencias para mejorar las políticas de protección al consumidor
Combatir la publicidad engañosa

En el marco de las actividades finales del Foro Iberoamericano de Agencias Gubernamentales de Protección al Consumidor, el titular de la Procuraduría Federal del Consumidor (Profeco) y anfitrión del evento, Antonio Morales de la Peña, expresó que: "En estos momentos de incertidumbre económica que se vive a nivel mundial, resulta oportuno que los responsables de proteger los intereses del consumidor se reúnan para intercambiar experiencias y tomar decisiones, a fin de combatir un fenómeno que a todos nos afecta: el abuso en contra del consumidor".

Lo anterior, fue señalado en conferencia de prensa para dar a conocer las conclusiones del evento y luego de recibir la presidencia Pro-Témpore del organismo que integra a 21 países de Iberoamérica. Dijo que: "Los efectos de una crisis como la que se vive en el mundo obliga a los consumidores a ser más cautelosos a la hora de comprar. Los representantes de los países aquí reunidos -agregó- entendemos el momento difícil que vivimos y coincidimos en que nuestra tarea fundamental es orientar a la población para que realice compras inteligentes, con pleno cuidado del gasto familiar"

Posteriormente, se emitió la Declaración de la Ciudad de México en la que los miembros del FIAGC acordaron:

Continuar impulsando diversas acciones y esfuerzos de coordinación en materia de promoción y defensa de los intereses y derechos de los consumidores en Iberoamérica.
Fomentar y desarrollar esfuerzos comunes que coadyuven al fortalecimiento de políticas de Estado de protección al consumidor.
Establecer un grupo de trabajo sobre publicidad engañosa coordinado por México.
Presentar proyectos para proteger a los consumidores en el uso de medios de pago.
Intensificar la colaboración para crear lineamientos que corrijan la problemática del transporte aéreo.
Intercambiar información sobre acciones en el ámbito de los intereses colectivos.
Fortalecer relaciones con organizaciones de consumidores para capacitar y promover su capacitación.
Editar las memorias sobre los resultados sobre este foro.

Al concluir la reunión, los participantes expresaron su reconocimiento a la Profeco, y en especial a su titular, Antonio Morales de la Peña, por la excelente hospitalidad y facilidades que brindó para la realización de esos trabajos.
Tags: advertising, air transport, Argentina, Brasil, Brazil, Cartagena, Chile, CI, citizen participation, CLICAC, Colombia, consumer education, Consumer Protection, Costa Rica, credit cards, deceptive advertising, defensa del consumidor, defesa do consumidor, DPDC, educação do consumidor, educación al consumidor, El Salvador, España, FIAGC, FLAGC, Guatemala, INDECOPI, intereses colectivo, internet, medios de pago, Mexico, misleading advertising, obesidad, obesity, Panama, Peru, Portugal, Profeco, propaganda comercial, propaganda enganosa, publicidad engañosa, Puerto Rico, Santiago, SERNAC, Spain, tarjetas de crédito, transporte aéreo
Subscribe to My Comments Feed
Leave a Reply