« A Sad Day for Barbados | Home | Energy Efficiency Loan to Brazil's Largest Flat Steelmaker / Empréstimo para financiar eficiência energética em siderúrgica brasileira »
By Keith R | November 7, 2008
Topics: Consumer Protection | No Comments »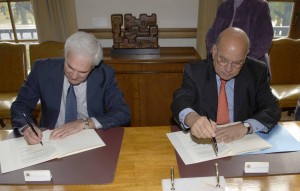 Synopsis in English: On Wednesday the Organization of American States (OAS) and Consumers International (CI) signed a cooperation agreement to undertake joint actions to promote and protect consumer rights in Latin America and the Caribbean (LAC).  Both parties emphasized the impact transborder transactions are having on LAC consumers and the need to develop and promote international instruments that strengthen consumer protection.
CI is no stranger to working with LAC regional organizations to promote the development of consumer law in the region.  As noted in my overview on LAC consumer law, CI worked with United Nations agencies in promoting the Consumer Protection Guidelines (English, Spanish, French) in the region as a model for national laws, and CI has served as technical secretariat for the Latin American Parliament  ("Parlatino") in its consumer law work.  CI also has served a secretariat role for the newer forum of consumer protection agencies, the Ibero-American Forum of Governmental Consumer Protection Agencies (Foro Iberoamericano de Agencias Gubernamentales de Protección al Consumidor – FIAGC).  An upcoming Temas Blog post will look at FIAGC's work.
____________________
Desde la Organización de los Estados Americanos (OEA):
LA OEA Y CONSUMERS INTERNATIONAL SUSCRIBEN ACUERDO DE PARA FORTALECER LAS LEYES DE PROTECCIÓN AL CONSUMIDOR EN LAS AMÉRICAS

El Secretario General de la Organización de los Estados Americanos (OEA), José Miguel Insulza, y el Director General Interino de la organización Consumers International, Gene Kimmelman, firmaron hoy un acuerdo de cooperación que propone acciones conjuntas encaminadas a la promoción y protección de los derechos de los consumidores en la región.

Dicho acuerdo destaca la importancia de la cooperación transfronteriza para lograr una mayor protección a los consumidores en el continente americano, y fomenta el desarrollo de instrumentos internacionales sobre protección al consumidor de conformidad con los estándares locales e internacionales existentes.

El Secretario General destacó la importancia del acuerdo resaltando que "la OEA tiene una política de dar amplia participación a organizaciones no gubernamentales en los temas de discusión dentro la Organización, ya que son estas las que poseen la experiencia e independencia necesaria para evaluar la calidad de las políticas que los gobiernos implementan en lo relacionado con la protección de los consumidores", dijo.

El Secretario explicó además que "en los últimos años el número de transacciones transfronterizas entre consumidores se ha incrementado", y que la OEA tiene un importante historial de trabajo en la búsqueda de un balance de interdependencia en los temas de comercio internacional, desarrollo social e intercambio comercial justo.

Por su parte, el representante de Consumers International, Gene Kimmelman expresó que este acuerdo "significa el fortalecimiento de una importante relación existente entre las organizaciones de consumidores y las organizaciones intergubernamentales e instituciones que comparten los mismos principios y valores en materia de protección de los derechos de las personas".

Asimismo, el señor Kimmelman señaló que "el trabajo conjunto con la OEA permitirá desarrollar leyes relativas a la protección de los derechos de los consumidores en America Latina, lo cual tendrá un impacto positivo para los consumidores en el resto del mundo, quienes enfrentan hoy por hoy grandes retos en áreas financieras, crediticias, de comercio electrónico, alimentos, salud y servicios básicos", sostuvo.

Ambos representantes coincidieron en que el convenio firmado es un paso adelante en la promoción de los derechos e intereses de los consumidores, la educación para el consumo, y el fortalecimiento de las normas técnicas existentes.
Tags: Consumer Protection, consumer rights, Consumers International, defensa del consumidor, defesa do consumidor, FIAGC, OAS, OEA, Parlatino, transborder transactions, UN Consumer Protection Guidelines
Subscribe to My Comments Feed
Leave a Reply