« Uruguay Launches Campaign Against Plastic Bags | Home | ACODECO "Declares War on Junk Food" »
By Keith R | March 10, 2009
Topics: Consumer Protection | No Comments »

Recently Brazil's Justice Ministry (MJ) warned firms that they better get fully into compliance with the customer service decree ("SAC Decree" or "call center decree") and its related portarias.  Now the consumer protection authority (PROCON) of Brazil's economic powerhouse, São Paulo (SP), reports on where compliance stands after the Ministry warning and its efforts to check on that compliance.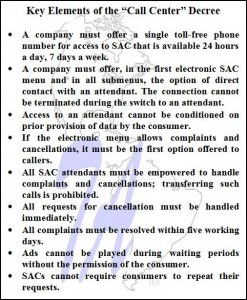 PROCON-SP audited 69 companies during February, 11 of whom had been previously audited in December (when the decree first took effect).  PROCON-SP inspectors monitored, recorded and timed more than 2,000 telephone calls to customer service centers during the 13-19 February period.  Among other things, the inspectors were checking accessibility, whether the customer service line was toll-free, the time callers had to wait before speaking with a representative, the adequacy of the electronic menu, and whether clear and objective information was offered.
41 of the 69 audited firms were found to have violations.  The sector that appears to have improved its performance best was banking: 14 were cited for violations in December, whereas only four were in February.  The sector with the most problems was fixed and mobile telephony: all four of the firms audited (Claro, TIM, Embratel, Telesp-Telefonica) had multiple (5-6) violations.  Also of concern were the road (bus) and air passenger transport firms: of the 12 audited, only one was not cited for violations.
In addition to their direct audits, inspectors also examined consumer responses to an internet questionnaire on the subject and consumer complaints directly called in to, or filed with, PROCON-SP.
Depending on the gravity and number of infractions, the economic condition of the offending firm and whether or not it is a repeat offender, fines for the citations can range from R$212 to R$3,192,300 (at current exchange rates, about US$90 to US$1.35 million).  In addition, PROCON-SP forwards information on violations to the sectoral regulatory agencies overseeing the appropriate sector for possible further enforcement action.
____________________
Desde PROCON-SP:
Procon – SP divulga balanço de fiscalização

A Fundação Procon-SP divulga a segunda operação de fiscalização nos Serviços de Atendimento ao Consumidor (SAC), com base no Decreto 6.523/08, que disciplina o serviço prestado pelas empresas reguladas pelo poder público federal. Nesta fiscalização, 11 empresas autuadas na operação realizada em dezembro de 2008, quando da entrada da legislação, serão autuadas novamente por apresentarem novas infrações e/ou reincidência.

O objetivo do trabalho do Procon-SP foi verificar se essas empresas estavam seguindo as novas regras, principalmente em relação às questões de acessibilidade, tais como informação clara e objetiva do n° do SAC (inclusive para deficientes), gratuidade das ligações, disponibilidade do serviço, tempo de espera para contato com os atendentes, adequação do menu eletrônico dos call centers, etc.

Foram fiscalizadas 69 empresas, das quais 41 apresentaram irregularidades (ver quadro anexo). Os fiscais do Procon-SP realizaram, entre os dias 13 e 19 de fevereiro, mais de 2.000 ligações telefônicas, gravadas e cronometradas.

O segmento bancário foi o que apresentou uma sensível melhora em relação ao balanço anterior: em dezembro foram autuados 14 bancos e, no atual, quatro. Já os setores que menos se adequaram ao decreto foram o de telefonia fixa e móvel. Outros setores que também causaram muita preocupação ao Procon-SP foram o rodoviário e o aéreo: de 12 empresas fiscalizadas apenas uma não foi autuada.

Além das constatações, os fiscais desta fundação também analisaram as respostas dos consumidores ao questionário da internet ( www.procon.sp.gov.br), bem como as reclamações formalizadas pessoalmente e pelo telefone, incluindo-as, quando possível, no resultado da operação. O Procon-SP continuará o trabalho de fiscalização dos SACs mediante a apuração de denúncias de consumidores, podendo realizar novas operações.

É fundamental que o cidadão, ao se sentir lesado pelo SAC de qualquer empresa sujeita às regras do Decreto 6.523/08, faça sua reclamação em um órgão de defesa do consumidor, para que sejam apurados os fatos. É seu direito receber o n° de protocolo da chamada e exigir que lhe seja enviada cópia do conteúdo da gravação.

As empresas constatadas serão autuadas e responderão a processo administrativo na Fundação Procon-SP. As multas variam de acordo com a gravidade e quantidade de infrações cometidas e a condição econômica do infrator, ficando entre R$ 212,00 e R$ 3.192.300,00.

Não obstante, as agências reguladoras competentes serão oficiadas pelo órgão, com cópia de todo material produzido, para que tomem as providências necessárias na sua esfera de atuação.
Tags: air transport, bancos, banks, Brasil, Brazil, bus lines, call centers, Claro, Consumer Protection, defesa do consumidor, Embratel, fiscalização, mobile telephony, PROCON, SACs, São Paulo, telefonia fixa, telefonia móvel, Telefónica, TIM
Subscribe to My Comments Feed
Leave a Reply