« New Alliance to Promote Corporate Social Responsibility in LAC | Home | Colombia Sets Zero Tariffs on Electric Cars, Studies Doing Same for Other "Clean" Vehicles »
By Keith R | November 1, 2008
Topics: Consumer Protection | No Comments »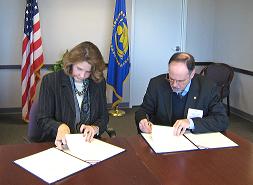 Last week an interesting memorandum of understanding (MOU) on product safety cooperation was signed between Brazil's National Institute of Metrology, Standardization and Industrial Quality (Instituto Nacional de Metrologia, Normalização e Qualidade Industrial – Inmetro) and the US Consumer Product Safety Commission (CPSC).
Inmetro is the Brazilian federal institution responsible for the development and implementation of technical regulations for industrial and consumer products, including accreditation, conformity assessment procedures and metrology.  It is also the official point of contact for inquiries under the World Trade Organization's (WTO) Technical Barriers to Trade Agreement (TBT).
The text of the MOU itself is a bit vague and broad, but that appears to be designed to keep the scope and depth of cooperation flexible.  Among the areas for cooperation envisioned are:
rapid exchange of information about emerging product safety issues, such as in case of products needing recalls;
cross-training on product safety issues;
CPSC help to Brazil to expand and improve its recently created Consumer Accident Monitoring System, which provides statistics to regulators, manufacturers, service providers and consumer protection entities about accidents involving goods and services offered in the Brazilian market.
MOUs are not new to Inmetro — it has dozens already with a wide range of countries, including China, India, and many Latin American and European nations.  But to my knowledge, the other Inmetro MOUs focus on matters such as product certification, laboratory accreditation, and TBT — this one is the first that focuses exclusively on the consumer protection side.  Hopefully it will not be the last.
____________________
Desde o Instituto Nacional de Metrologia, Normalização e Qualidade Industrial (Inmetro):
Inmetro e Comissão de Segurança de Produtos de Consumo assinam Memorando de Entendimento

O objetivo desta parceria é reforçar a conformidade dos produtos que são regulamentados no Brasil e nos EUA, aperfeiçoando os mecanismos de acompanhamento desses produtos no mercado e, conseqüentemente, reduzir o número de acidentes de consumo nos dois países.

Ações como a troca rápida de informações relacionadas à segurança de produtos, como nos casos que envolvem a necessidade de recalls; a realização de eventos para discussão do assunto, bem como o intercâmbio de profissionais para programas específicos de cooperação, como treinamentos, por exemplo, são ações previstas no Memorando.

Além disso, a CPSC auxiliará o Inmetro a desenvolver uma base de dados sobre acidentes de consumo, a exemplo da que existe nos EUA, ampliando a abrangência do Sistema de Monitoramento de Acidentes de Consumo, criado pelo Instituto, em 2006, que fornecerá informações importantes para todos os segmentos da sociedade, ou seja, regulamentadores, fornecedores de produtos e serviços e entidades de defesa dos consumidores se beneficiarão cada um a sua maneira, com as estatísticas que poderão ser encontradas nesse Sistema.

A Consumer Product Safety Commission (CPSC), ou Comissão de Segurança de Produtos de Consumo, é uma agência federal norte-americana, que atua na regulamentação de produtos voltados para o consumo, com o objetivo de proteger a segurança e a saúde do consumidor. De acordo com a Comissão, fatalidades, ferimentos e danos à propriedade provocados por acidentes com produtos de consumo custam aos cofres dos EUA mais de 800 bilhões de dólares anualmente.
Tags: acidentes de consumo, Brasil, Brazil, consumer accidents, Consumer Protection, CPSC, danos à propriedade, defesa do consumidor, MOU, product recalls, product safety, property damages, segurança de produtos
Subscribe to My Comments Feed
Leave a Reply