« Peru Proposes Bill on Environmental Services | Home | LAC Projects Receive 2009 SEED Award »
By Keith R | May 12, 2009
Topics: Corporate Social Responsibility | No Comments »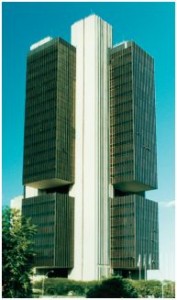 At a ceremony today in which Brazil's Central Bank joined public and private banks in signing the "Green Protocol" of environmental commitments, Environment Minister Carlos Minc announced that an upcoming meeting with public banks and the Brazilian Federation of Banks (Febraban) will the rules for reporting how banks are meeting their Protocol commitments.  Proper reporting, says Minc, is crucial for ensuring that the Protocol is not a commitment on paper only.  The public should be able to track the bank's commitments to socio-environmental responsibility.
Minc said that the Environment Ministry (MMA) will be seeking similar accountability from the environmental agreements it has reached with the soya, lumber and mining sectors, as well as its partnership accord with the country's most powerful state industry association, the Federation of Industries of São Paulo (FIESP).


At today's ceremony from some banks touted their recent actions.  Banco do Brasil (BB) related how they donated used operable computers rather than dispose of them in order to avoid creating electronic waste.  Caixa Econômica Federal (CEF, popularly known among Brazilians as simply "Caixa"), said that it had made sustainability a top priority in its lending, so much so that it has lost clients because the client could not demonstrate to bank that it had a valid environmental license.
________________
Desde o Ministerio de Meio Ambiente (MMA):
MMA quer saber se bancos estão cumprindo Protocolo Verde

O Banco Central aderiu nesta terça-feira (12) ao Protocolo Verde, acordo firmado com bancos públicos e privados para a implementação de um pacote de medidas socioambientais no setor. A carta de intenções prevê, inclusive, que os bancos públicos deixem de financiar projetos e empreeendimentos que apresentem problemas ambientais.

No encontro ficou acertada uma nova reunião, desta vez incluindo a Febraban, Federação dos Bancos do Brasil, organização que representa as instituições financeiras privadas, onde serão definidas as regras de acompanhamento dos primeiros resultados. As instituições vão produzir relatórios sobre as medidas sustentáveis que vêm adotando, de acordo com proposta que será analisada na próxima reunião.

O ministro Carlos Minc disse que o acompanhamento pelo Ministério serve como cumpra-se, para assegurar que o acordo não fique apenas no papel. Para Minc, o setor precisa avançar nas suas políticas socioambientais e a sociedade deve acompanhar essa evolução para os resultados aparecerem. Ele citou outros acordos como os pactos da soja, da madeira e do minério, além de parcerias com a Fiesp e bancos privados, que também serão acompanhados pelo MMA.

Os representantes dos bancos apresentaram algumas ações socioambientais já implementadas. Para evitar lixo eletrônico, o Banco do Brasil está doando computadores obsoletos. Já o representante da Caixa disse que o banco colocou a sustentabilidade em primeiro plano e afirmou que já até perdeu antigos clientes por não terem a Licença Ambiental de Funcionamento.

O Protocolo Verde foi criado em 1995 e revisado em agosto do ano passado. A revisão contou com a participação de representantes do Banco do Brasil, Caixa Econômica Federal, Banco Nacional de Desenvolvimento Econômico e Social, Banco da Amazônia, Banco do Nordeste e representantes do governo federal (Ministérios da Fazenda, Agricultura, Integração Nacional, Meio Ambiente e Desenvolvimento Social).

No protocolo, que funciona como uma carta de intenções, os bancos se comprometem a empreender políticas e práticas bancárias que sejam precursoras, multiplicadoras, demonstrativas ou exemplares em termos de responsabilidade socioambiental. E que também estejam em harmonia com o objetivo de promover um desenvolvimento que não comprometa as necessidades das gerações futuras.
Tags: Banco Central, Banco da Amazônia, Banco do Brasil, Banco do Nordeste, bancos, banks, BNB, BNDES, Brasil, Brazil, Caixa Econômica Federal, Carlos Minc, CEF, Central Bank, Corporate Social Responsibility, e-waste, electronic scrap, Febraban, FIESP, financial institutions, Green Protocol, instituições financeiras, lixo eletrônico, madeira, Ministério da Fazenda, MMA, Protocolo Verde, RAEE, responsabilidade socioambiental, soja, soya, WEEE
Subscribe to My Comments Feed
Leave a Reply