« Now Renewables Have Their Own International Agency | Home | Brazil's Poor Advance Less in Health MDGs / Pobres avançam menos em ODM de saúde »
By Keith R | February 1, 2009
Topics: Corporate Social Responsibility, Extractive Sectors | No Comments »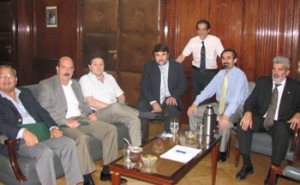 Argentina's Secretary of Environmental Policy and Sustainable Development (SAyDS), Homero Bibiloni, recently met with the Mining Secretary, Jorge Mayoral, to discuss joint efforts to make mining in that country more environmentally sustainable.
As well they should: in recent months the environmental reputation of the nation's mining sector has taken a pounding.  Recently the provinces of Chubut, Córdoba, La Pampa, Mendoza, Rio Negro and Tucumán have passed laws banning open-pit mining and/or the use in mining of chemicals such as cyanide, mercury and sulfuric acid, all but shutting down gold and uranium mining in Argentina.  Local protests have stalled several mining projects.  And President Fernandez recently vetoed a popular bill to protect the nation's glaciers, in large part because it would block mining projects close to the glaciers.
________________
Desde la Secretaría de Ambiente y Desarrollo Sustentable (SAyDS):
Bibiloni y Mayoral acordaron acciones para un desarrollo minero sustentable

Homero Bibiloni se reunió con el Secretario de Minería de la Nación, Jorge Mayoral a fin de acordar acciones conjuntas que propicien oportunidades de desarrollo minero en un marco de sustentabilidad ambiental.

Dentro de la lista de temas de la reunión, que ambos funcionarios mantuvieron en la sede de la cartera ambiental, se avanzó en la definición de aspectos que hacen a la Responsabilidad Social Empresaria y se dialogó acerca de la necesidad de identificar los distintos niveles de compromiso de los sectores productivos y sus prácticas de producción sostenibles.

En otro orden, y con el propósito de construir escenarios de participación y consenso de todos los actores del sector, Bibiloni ofreció a Mayoral la participación de su cartera en el Programa de Trabajo y Desarrollo Sustentable que la Secretaría de Ambiente lleva adelante para capacitar al conjunto de los trabajadores a través de sus Organizaciones de Base.

Por último, ambos titulares de las carteras ambiental y minera acordaron la integración entre el Consejo Federal de Medio Ambiente (COFEMA) y el Consejo Federal de Minería (COFIM) para inaugurar un espacio institucional desde donde abordar los problemas y las soluciones que deriven de una práctica productiva minera, amigable con el ambiente y capaz de generar inclusión social y fuentes de trabajo en distintas regiones del territorio nacional.
Tags: ácido sulfúrico, Argentina, Chubut, COFEMA, COFIM, Córdoba, Corporate Social Responsibility, glaciers, gold, Homero Bibiloni, Jorge Mayoral, La Pampa, Mendoza, mercurio, mercury, minería, mining, open pit mines, oro, responsabilidad social empresarial, Rio Negro, SAyDS, sulfuric acid, Tucumán, uranium
Subscribe to My Comments Feed
Leave a Reply