« Modificar la Norma Andina sobre Plaguicidas | Home | What the Other Guy Blogs About: EPR for WEEE in LAC »
By Keith R | September 1, 2009
Topics: Corporate Social Responsibility | No Comments »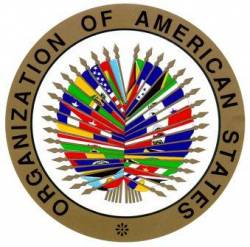 From the Organization of American States (OAS):
EXPERTS AGREE CORPORATE SOCIAL RESPONSIBILITY MAKES SOUND BUSINESS SENSE

Corporate social responsibility is inherent to an individual's responsibility as a citizen, but also makes sound business sense since those businesses that fail to pay attention to the social and environmental realities of their consumers run the risk of becoming irrelevant. That seemed to be the consensus among a panel of experts during the XVII Policy Round Table of the Organization of American States that took place yesterday in OAS headquarters.

Titled, "Corporate Social Responsibility in a Time of Crisis" and organized by the Department of International Affairs of the OAS, the event was moderated by Italo Pizzolante, an expert in strategic communications with a distinguished career as an author, consultant and lecturer on subjects like corporate identity, image engineering and corporate responsibility.

During the event it was also emphasized that respect for the law, payment of taxes, sustainable development, social and economic development of local communities and local hiring are some of the foundations on which corporate social responsibility may be built in the Americas.

Albert Ramdin, Assistant Secretary General of the OAS, gave welcoming remarks and called the subject of corporate social responsibility of great importance to the Western Hemisphere, referring also to two decisions taken by the OAS to promote corporate social responsibility at the highest political levels: one, during the Summit of the Americas in 2001 when it recognized the central role that businesses of all sizes play in creating prosperity in the hemisphere; and two, this year, when the General Assembly of the OAS urged governments to promote corporate social responsibility.

Through the promotion of an informed dialogue, the OAS Policy Round Table seeks to bring together the best in political thought to the actions of the OAS in its Permanent Council and General Secretariat, highlighting issues of concern in the inter-American agenda on development, security, human rights and democracy. On this occasion, the speakers were Andrés Peñate, Director of Sustainable Development for Grupo Bavaria, S.A.; Rodrigo Jiménez, Vice President of Corporative Affairs for Barrick South America; and José Miguel Torrebiarte, Vice President of Grupo Progreso, a company dedicated mainly to the cement industry and the promotion of construction materials in Central America.

"Capitalism is being challenged in our region," said Peñate, of Colombia, citing a survey in which half of Colombian people said capitalism was not the best system for acquiring and distributing wealth, but rather socialism. "But what if we present them with a more developed and less savage capitalism?" he asked.

Corporate social responsibility, which isn't philanthropy but an analysis of a company's external impacts to reduce or eliminate social and environmental harm and contribute to a common wellbeing, may be conducive to a better form of capitalism for countries in the Americas, the experts suggested.

The event was planned jointly with the Secretariat for Integral Development in the framework of the Promotion of Corporate Social Responsibility (CSR) Program. The Round Table concluded with a question-and-answer session during which the public interacted with the speakers.
_____________________
Desde la Organización de los Estados Americanos (OEA):
EXPERTOS COINCIDEN EN QUE LA RESPONSABILIDAD SOCIAL CORPORATIVA ES BUEN SENTIDO EMPRESARIAL

La responsabilidad social corporativa es inherente a la responsabilidad del individuo como ciudadano, pero además pertenece al buen sentido empresarial ya que aquellas empresas que no se fijen en las realidades sociales y ambientales de sus consumidores corren el riesgo de volverse irrelevantes. Así lo destacó un panel de expertos durante la XVII Mesa Redonda de Políticas de la Organización de los Estados Americanos (OEA), que se llevó a cabo hoy en la sede del organismo hemisférico en Washington DC.

Titulado, "La Responsabilidad Social Corporativa en Tiempos de Crisis" y organizado por el Departamento de Asuntos Internacionales de la OEA, el evento fue moderado por Italo Pizzolante, un experto en comunicaciones estratégicas con una carrera distinguida como autor, consultor y profesor en temas como identidad corporativa, ingeniería de imagen y responsabilidad corporativa.

Durante el evento también se enfatizó que el respeto por la ley, el pago de impuestos, el desarrollo sustentable, el desarrollo social y económico de las comunidades locales y la contratación local son algunas de las bases sobre las cuales se debe construir la responsabilidad social corporativa en las Américas.

Albert Ramdin, Secretario General Adjunto de la OEA, dio la bienvenida y calificó al tema de la responsabilidad social corporativa de gran importancia para el hemisferio occidental, refiriéndose además a dos decisiones tomadas por la OEA para promover la responsabilidad social corporativa en los más altos niveles políticos: una, durante la Cumbre de las Américas en abril del 2001 al reconocer que las empresas de todos los tamaños juegan un papel central en crear prosperidad en el hemisferio; y dos, este año, cuando la Asamblea General de la OEA instó a los gobiernos a promover la responsabilidad social corporativa.

A través de la promoción de un diálogo informado, La Mesa Redonda de Políticas de la OEA busca unir lo mejor del pensamiento político a las acciones de la OEA en su Consejo Permanente y Secretaría General, destacando temas de importancia en la agenda interamericana sobre desarrollo, seguridad, derechos humanos y democracia. En esta ocasión, los ponentes fueron Andrés Peñate, Director de Desarrollo Sostenible para el Grupo Bavaria, S.A.; Rodrigo Jiménez, Vicepresidente de Asuntos Corporativos para Barrick South America; y José Miguel Torrebiarte, Vicepresidente de Grupo Progreso, una compañía dedicada principalmente a la industria del cemento y la promoción de materiales de construcción en Centroamérica.

"El capitalismo está bajo desafío en nuestra región," señaló Peñate, de Colombia, citando una encuesta en que la mitad del público colombiano opina que el capitalismo no es el mejor sistema para adquirir riqueza y repartirla, sino el socialismo. "Pero qué tal si se le presenta un capitalismo más desarrollado y menos salvaje?",sostuvo.

Hacia un mejor capitalismo puede conducir la responsabilidad social corporativa, que no es filantropía sino un análisis de las externalidades de una empresa para reducir o eliminar los daños sociales y ambientales y contribuir al bienestar común, según los expertos.

El evento fue organizado en colaboración con la Secretaría de Desarrollo Integral en el marco del Programa de Promoción de Responsabilidad Social Corporativa (CSR). La Mesa Redonda concluyó con una sesión de preguntas y respuestas durante la cual el público presente interactuó con los expositores del panel.
Tags: Barrick, cement, cemento, Central America, Centroamérica, Colombia, construction materials, Corporate Social Responsibility, CSR, Cumbre de las Américas, desarrollo sustentable, Grupo Bavaria, Grupo Progreso, Italo Pizzolante, materiales de construcción, mesa redonda, OAS, OEA, responsabilidad social corporativa, responsabilidad social empresarial, roundtable, RSE, Summit of the Americas, sustainable development
Subscribe to My Comments Feed
Leave a Reply