« Mexico Launches Massive Refrigerator, Air Conditioner Exchange Program | Home | Colombia Offers 2 Draft Rules on Detergents for Public Comment »
By Keith R | January 12, 2009
Topics: Corporate Social Responsibility, Electronic/Electrical Equipment, Waste & Recycling | No Comments »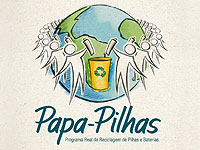 If you thought the title of this post refered to one of the battery manufacturers or a major retail chain such as Wal-Mart or Carrefour, think again.
It's a bank.
Banco Real, part of the Santander Group, collected 127 metric tons (mT) in 2008 — 70 mT in just São Paulo (SP) state itself.  Banco Real, which bills itself as one of the world's most sustainable banks, started its "Papa-Pilhas" ("Save Batteries") program in December 2006 at its branches in just three Brazilian cities.  They have since expanded to all branches throughout Brazil, and have partnered with 200 other organizations — hospitals, universities, government offices, etc. — to now provide over 2,000 battery drop-off points across the country.
The program has grown quickly, and not just in terms of drop-off points: the 2008 total tonnage collected is three times that of 2007.
The program accepts piles (pilhas) of all chemistries and sizes up to 5×8 centimeters (cm), as well as battery chargers. The collected batteries are delivered by a logistics company, ADS Logística, to Suzaquim Indústrias Químicas Ltda, a waste processing company located in Suzano, SP licensed to recycle batteries. Suzaquim breaks the batteries down into metallic oxides that it sells to glass, paint and ceramic manufacturers.
Tags: ADS Logística, Banco Real, batteries, Brasil, Grupo Santander, metallic oxides, Papa-Pilhas, pilhas, reciclagem, recycling, residuos, São Paulo, Suzano, Suzaquim, waste
Subscribe to My Comments Feed
Leave a Reply