« Motorola Launches Cell Phone Take-Back Program in Latin America | Home | Guyana Joins Ranks of LAC Nations Ratifying POPs Convention »
By Keith R | July 29, 2007
Topics: Corporate Social Responsibility, Waste & Recycling | No Comments »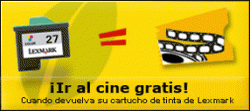 Colombia's Environment Ministry (MAVDT) recently heralded a new program launched in that country by Lexmark International, the global company that makes printers and toner and ink cartridges, to give people a free ticket for any movie showing at the Cine Colombia chain in exchange for turning in a used printer cartridge.
Lexmark also extended to Colombia its program of free onsite collection of used cartridges for those firms which register on its "Planeta Lexmark" webpage. Large companies (presumably large consumers of Lexmark cartridges) can even negotiate collection agreements that provide them discounts on new Lexmark deliveries in exchange for the used cartridges they turn in.
Lexmark has similar programs underway in Argentina, Brazil, Chile, Mexico and Puerto Rico. I look forward to seeing them extend it to the rest of Latin America and the Caribbean (LAC).
And I just have to ask: Are other major cartridge manufacturers being as aggressive in cartridge take-back in LAC?
_____________________________________
Desde el Ministerio de Ambiente, Vivienda y Desarrollo Territorial (MAVDT):
CARTUCHOS DE IMPRESORA SE PODRÁN CAMBIAR POR BOLETAS PARA CINE

Minambiente y Lexmark presentan campaña ambiental

Desde hoy cualquier persona que tenga un cartucho de impresora Lexmark podrá cambiarlo por una boleta para ver la película que desee en cualquier sala de Cine Colombia.

Con esta campaña, el Ministerio de Ambiente, Vivienda y Desarrollo Territorial, y la multinacional Lexmark, buscan crear conciencia en los consumidores frente al impacto ambiental que genera en el planeta un cartucho de impresión que no tiene una disposición final adecuada.

"Queremos aplaudir y reconocer el esfuerzo de Lexmark en alianza con Cine Colombia y con el Ministerio para recoger los cartuchos de las impresoras con el fin de que no queden rondando por ahí causándole daño potencial al medio ambiente", dijo el jefe de la Cartera Ambiental, Juan Lozano Ramírez.

Según explicó el Ministro la compañía internacional asume toda la responsabilidad ambiental de recoger, tratar, disponer y reexportar estos residuos. Los cartuchos devueltos se reciben y almacenan en las bodegas de la compañía en Colombia y de allí se empacan correctamente para enviarlos a las plantas de separación y reciclaje en sus diversos materiales y componentes.

La campaña también contempla una estrategia empresarial en la que cualquier empresa sólo debe inscribirse a la página de planetalexmark para una firma especializada recoja los cartuchos vacíos a domicilio sin costo alguno.

Durante la presentación de la campaña en la que estuvo presente el Vicepresidente de Lexmark Internacional, Ronaldo Foresti, el jefe de la cartera ambiental calificó como un ejemplo la iniciativa de esta compañía y dijo que desde el Ministerio se avanza en un compromiso de política pública ambiental para que todos los sectores entren en el ejercicio de la responsabilidad post consumo.

Según el vicepresidente de la compañía, para compañías grandes que hayan formado un acuerdo previo de recolección de cartuchos se aplican importantes descuentos en la compra de suministros Lexmark.

Este programa pretende evitar la contaminación del suelo que es ocasionada por el largo proceso de degradación de plásticos, tintas y toner remanentes en los cartuchos usados, mediante un adecuado reciclaje y reutilización, generando un estímulo al consumidor.

Para el ministro Lozano, este es todo el capítulo de responsabilidad post consumo dentro de un espíritu de sector privado pujante ambientalmente que busca que las empresas que producen, comercializan y venden productos que potencialmente pueden generar daño al medio ambiente o a la salud sean recogidos.

Aunque el programa ya está funcionando en el país, en esta ocasión se busca darle mayor fuerza a la campaña con el apoyo del Ministerio y el beneficio al consumidor a través de la entrada a cine.

A través de este programa en Colombia se han recolectado alrededor de 200.555 kilogramos de plástico y otros materiales para su reutilización, recuperación y reciclaje, además de la reducción de su impacto sobre el ambiente.

Según la compañía, este programa ambiental evita la acumulación de más de 400 mil toneladas de plástico en la superficie del planeta, los cuales tardarían más de mil años en descomponerse.

"Lo más importante de este esfuerzo de Lexmark, es que la responsabilidad post consumo se ejerce de manera proactiva por una empresa que busca recuperar y recoger esos cartuchos que quedan por ahí acusándole daño al medio ambiente", dijo el ministro Lozano.

El funcionario recordó que la política del Gobierno Nacional es lograr acuerdos voluntarios, como éste, pero que si no se cumplen en algunos sectores la definición es adoptar unas medidas para que las empresas procedan a cumplir con sus responsabilidades ambientales.
Tags: Brasil, Brazil, cartuchos, Chile, Cine Colombia, cinema, Colombia, impresoras, Juan Lozano, Lexmark, MAVDT, Mexico, MinAmbiente, movies, Planeta Lexmark, plastic, plástico, post-consumer responsibility, printer cartridges, printers, Puerto Rico, reciclagem, reciclaje, recovery, recuperación, recycling, residuos, responsabilidad post consumo, reuse, reutilización, take-back, waste
Subscribe to My Comments Feed
Leave a Reply