« Minas Moves to Improve Air Quality | Home | Putting a Value on Belize's Reefs and Mangroves »
By Keith R | December 23, 2008
Topics: Corporate Social Responsibility, Energy & the Environment, Waste & Recycling | No Comments »
Recently Colombia's Environment Minister, Juan Lozano Ramírez, lauded an industry initiative in that country to collect and environmentally manage used motor oil and lubricants known as the Used Oil Fund (Fondo de Aceites Usados – FAU).  "This process is progressing successfully, " declared Lozano, "because the trend now is, without a doubt, business strengthening that goes hand in hand with environmental responsibility."
FAU was set up by the principal manufacturers of motor oil sold in Colombia (Brío, Castrol, Chevron, ExxonMobil, Petrobrás, Shell and Terpel) with help from the Colombian Petroleum Association (Asociación Colombiana de Petróleo – ACP) in 2002 — not coincidentally right about the time that the environmental authority in the capital, Bogotá, was drafting a newer, tougher regulation on used oil that it later issued in 2003.  [The Bogotá metropolitan region represents about one-third of Colombia's motor oil consumption.]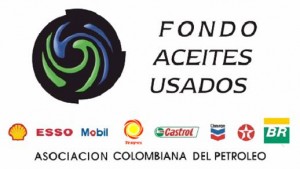 The Environment Ministry (MAVDT) has said that, as of October, the FAU program is recovering an average of 34% for Colombia's largest cities (Bogotá, Medellín, Cali, Barranquilla, Bucaramanga).   [This is measuring the gallons recovered by FAU facilities versus estimates by the Ministry of Mines and Energy's Planning Unit (UPME) of the amount of used oil generated.]
As of last July, the recovery rate by FAU for Bogotá was 34% (up from 31% in January-February 2008).  The recovery rate by FAU for the entire country as of July was 31%, and for Bucaramanga 35% (down from 45% in January-February), Cali 33% (down from 35% in January-February), Barranquilla 28% (just started this year) and Medellín 18% (up from 7% in January-February).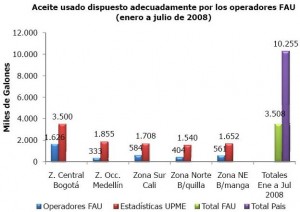 This is impressive in its own right in a developing country — it equals the national rate for Brazil, which has been working on the same problem far longer (since the 1990's).  [By comparison, collection rates in the European Union average over 80%.]  It's worth noting, though, that in Bogotá, the only major city with its own legislation on the issue and where FAU started in 2002, total used oil recovery is around 46%, only 2/3 of which is handled by facilities participating in FAU.
According to ACP, the FAU has trained over 5,000 persons in proper management of used oil, checked out some 7,000 sources (not only petrol service stations and vehicle repair shops, but also industry sources), and 14 operators (processors and transporters) have been audited and approved.
The FAU is now working on extending the system to mid-sized cities such as Manizalez and Neiva.
What Happens to the Recovered Lubricants?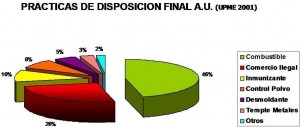 Simply collecting the used oil and storing it properly is better than the improper use and disposal. In a study done by the UPME of used oil destinations in 2001 before the collection program was launched (see pie graph at right), 46% went to fuel for industrial furnaces, 26% had unknown ends (probably most tossed into drains and sewer systems or on the ground, some sent to landfills or dumps, and perhaps some sold illegally as regular motor oil), 10% was used to treat wood, 8% was put onto dirt roads to control dust, 5% as an anti-mold agent, 3% to temper metals, and 2% "other."
[By way of comparison, used oil is burned as fuel 38%, 42% and 33% in Argentina, Ecuador and Mexico, respectively, with "unknown ends" being 62%, 38% and 67% in each, respectively.]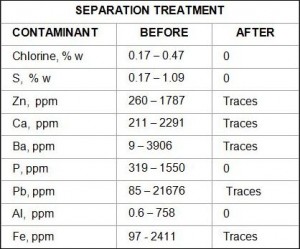 Most of these practices may entail significant environmental damage.  During its use, motor oil picks up toxic chemicals, carcinogens and heavy metals.  When burned as fuel, untreated oil can release these serious contaminants into the air.  Used oil tossed down drains and into sewer systems either harms the functioning of water treatment systems or ends up in bays, lakes, streams and rivers, contaminating the water and threatening aquatic life.  Oil applied as a dust suppressant leaves the road surface on dust particles or in rain runoff, eventually ending up in waterways.
So what happens to the used oil collected by FAU participants?  ACP is careful to call what the FAU does as "processing" rather than "re-refining."  There is a difference.  Under the former, the used oil is filtered to remove dirt and other particles and bring the presence of various contaminants to levels permitted under the 1998 regulation on burning used oil (as amended in 2005).  As such, under Colombian law they can only be used as industrial fuel or as inputs in the production of certain industrial products (primarily rubbers and plastics).
Why Not Re-Refine?
Re-refining goes a step further.  The used lube oil is further distilled and oil molecules reformed to produce new base oils that have the same performance characteristics as virgin base oils made from crude oil.  With additive packages added, the oil can be used once again in vehicles, with a net savings in crude oil consumption: it takes about 42 gallons of high quality crude to yield 2.5 quarts of refined motor oil, but only one gallon of used oil to do so.
Re-refining is not a pipe dream.  California successfully promotes it and uses re-refined motor oil in its state vehicle fleet, as does the US Postal Service (USPS), United Parcel Service (UPS), Coca-Cola and Frito-Lay.  Most of the major car manufacturers accept the use of re-refined motor oil as long as it meets American Petroleum Institute (API) or equivalent standards.  Brazil has made re-refining the priority in its used oil collection rules.
Why not Colombia as well?  It does have refinery complexes, both owned by the state firm, Ecopetrol.  Is it a technology question, or a production capacity question?  Or just a question of political will?
Tags: aceites usados, ACP, autogestión ambiental, Barranquilla, Bogotá, Brío, Bucaramanga, Cali, Castrol, cauchos, Chevron, Colombia, Ecopetrol, environment, environmental self-regulation, ExxonMobil, hazardous waste, hidrocarburos, hydrocarbons, lubricantes, lubricants, Manizalez, MAVDT, Medellín, medio ambiente, Neiva, oleos lubrificantes, Petrobras, petroleo, petroleum, plásticos, plastics, re-refining, reciclaje, recycling, reprocessing, residuos, responsabilidad ambiental, rubber, Shell, Terpel, used oil, waste, waste oil
Subscribe to My Comments Feed
Leave a Reply