« Parana to Tetra-Pak: Fulfill Your Commitments | Home | US$1.3 Billion to Support Brazil's Environmental & Climate Change Agenda / US$1,3 bilhão para apoiar a agenda ambiental e de mudanças climáticas do Brasil »
By Keith R | March 4, 2009
Topics: Corporate Social Responsibility, Waste & Recycling | No Comments »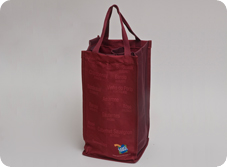 Watching Wal-Mart take steps to implement its pledge to reduce plastic shopping bag use (or "carry bags" as my British friends call it) in its Latin American stores by 50% by 2013 has been a fascinating study of applying marketing savvy to a corporate social responsibility commitment.
They started by supplying low-cost cotton carry bags in all stores in Brazil and reusable carry bags made of recycled PET in their Central American stores (they even pass out the bags free to the first few thousands customers at new store openings).  They tested in their Bompreço chain in northern Brazil an arrangement whereby customers get a discount for bringing in reusable bags, cardboard boxes or folding shopping carts for their items instead of using plastic bags.
Now in their 22 Sam's Club stores in Brazil they are introducing smart-looking (see photo above) special carry bags made of organic cotton designed for four bottles of wines.  The prices for the four models of the wine bags vary from R$5.48 to R$10.98 (about US$2.28-4.57 at current exchange rates).
Why wine bags?  Sam's Clubs says that wine is a frequent purchase — 30% of their customers purchase wines (the stores offer 400 different labels).  The bottles are heavy but fragile — good candidates for cloth bags rather than the weaker LDPE bags commonly used at check-out.  Many check-out attendants would double-bag wine bottles if utilizing plastic bags, so by getting wine drinkers to switch to one reusable cloth bag that carries four bottles, Sam's Club may quickly cut out the use of as many as eight plastic bags every time that shopper visits the store.
______________________
Desde Wal-Mart Brasil:
Sam's Club lança sacola retornável para vinhos

Mais uma novidade chega às 22 lojas do Sam's Club de todo o Brasil: sacolas retornáveis oferecidas aos clientes da seção de vinho. São quatro modelos confeccionados em algodão cru e em microfibra, com capacidade para transportar de uma a quatro garrafas. Os preços variam entre R$ 5,48 e R$ 10,98.

Segundo o gerente de Produto do Sam's Club, Marcos Auada, cerca de 30% dos clientes procuram o setor de vinho, onde estão expostos mais de 400 rótulos nacionais e internacionais. "A embalagem retornável é uma forma de contribuir para disseminar a necessidade de proteger o meio ambiente", completou.

Esta e outras ações desenvolvidas pelo grupo Wal-Mart Brasil têm como objetivo diminuir em 50% o uso das sacolas plásticas no país. A expectativa é atingir a meta até 2013. Para isso, a rede de supermercados atua em vários projetos de incentivo aos clientes, entre os quais a oferta de desconto ao consumidor que dispensar a embalagem plástica. Mais de 1 milhão de sacolas retornáveis estão em circulação graças às ações desenvolvidas pelo Wal-Mart Brasil desde maio do ano passado.
Tags: algodão cru, embalagem retornável, garrafas, sacolas plásticas, sacolas retornáveis, Sam's Club, vinhos, Wal-Mart, wines
Subscribe to My Comments Feed
Leave a Reply