« EPA Forces San Juan to Educate Other Cities on Proper Management of Used Oil and Fluorescents | Home | Supreme Court: Producers Decide Which Third-Party Organizations Will Handle Their Waste Obligations »
By Keith R | February 25, 2009
Topics: Corporate Social Responsibility, Hazardous Substances | No Comments »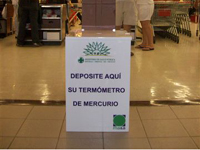 Last year I posted about Health Care Without Harm's (Coalición Salud Sin Daño) campaign to get the health care sector in Latin America and the Caribbean (LAC) to get mercury-containing medical instruments [primarily thermometers and sphygmomanometers (blood pressure monitors)] out of hospitals, clinics and homes.  At that time, they were primarily having success in Argentina.
This year, Uruguay's Public Health Ministry (MSP) has joined the effort, with the help of the Tienda Inglesa hypermarket chain.  MSP is urging consumers to drop off their old mercury thermometers in special bins (designed to keep the thermometers from breaking when dropped in) either at the state-run health centers or any of the 10 Tienda Inglesa stores (as pictured).  Tienda Inglesa also has donated 5,000 digital thermometers to the public health centers and hospitals, and offers consumers a reduced-cost digital thermometer for purchase.
_______________________
Desde el Ministerio de Salud Pública (MSP):
Campaña: Termometros de mercurio pueden depositarse en urnas destinadas a tal fin en locales de Tienda Inglesa

Como se informó oportunamente, desde el Ministerio de Salud Pública viene desarrollando una campaña de erradicación del termómetro de mercurio tradicional, debido al comprobado efecto nocivo que produce ese metal a nivel neurológico.

Los tradicionales termómetros de mercurio se pueden entregar en todos los centros de salud del Estado y también en los locales de Tienda Inglesa, que ha dispuesto urnas especiales para su depósito, ya que no es conveniente romperlos o tirarlos en "el tacho de la basura" y con la colaboración de esta cadena de supermercados se logrará una correcta disposición final de estos residuos peligrosos.

Con esta iniciativa, el Ministerio de Salud Pública apunta a concientizar a la población sobre el efecto nocivo del termómetro de mercurio y a promover su erradicación de los hogares, suplantándolos por termómetros digitales.

Es oportuno recordar que en este contexto, a fines del mes de enero el MSP recibió una donación de 5 mil termómetros digitales por parte de la red de supermercados Tienda Inglesa, que fueron entregados a los centros asistenciales de ASSE con el objetivo de desestimular el uso del termómetro tradicional de mercurio

También esta cadena ha puesto a la venta una importación de termómetros digitales de costo reducido para que la población tenga acceso a los mismos.
Tags: Hazardous Substances, mercurio, mercury, metales pesados, MSP, residuos peligrosos, sphygmomanometers, supermarkets, supermercados, termómetro, thermometers, Tienda Inglesa, Uruguay
Subscribe to My Comments Feed
Leave a Reply