« What the Other Guy Blogs About: Wind Energy in Central America | Home | Using Community Mapping to Combat Deforestation / Utilizando mapeamento participativo para combatir o desmatamento »
By Keith R | January 19, 2009
Topics: Corporate Social Responsibility, Energy & the Environment, Renewable Sources | No Comments »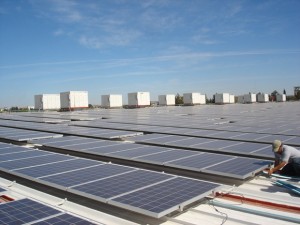 From Wal-Mart:
Wal-Mart Mexico Inaugurates Largest Sun-Operated Photovoltaic Installation in Latin America

1,056 solar panels were installed on the roof of Bodega Aurrera Aguascalientes
140 tons of CO2 emissions will be eliminated
Solar panels will generate 20% of the store's energy requirements for a full year

Wal-Mart Mexico successfully concluded the installation of a photovoltaic complex that will generate 20% of the energy used by Bodega Aurrera Aguascalientes. Over 1,056 solar panels that were set up on the roof of the store will transform sun energy into electricity. The project, with 174 kW installed, is the largest photovoltaic complex in Latin America, according to ANES (the Mexican Solar Energy Association), and will eliminate the emission of some 140 tons of CO2. ANES gave an award to Wal-Mart Mexico as recognition for this project.

"This is the first large-scale project to generate energy using photovoltaic panels, not only for Wal-Mart Mexico, but for Wal-Mart International. This puts Mexico at the head of the energy field. The project reinforces our commitment to obtain all the energy the company requires from renewable sources by 2025", said Raul Arguelles, Senior Vice President for Corporate Affairs and People Division at Wal-Mart Mexico.

The 1,056 solar or photovoltaic panels were installed in 2,173.5 square meters, the equivalent of half the roof of Bodega Aurrera Convencion in Aguascalientes.

Gustavo Tellez Giron, CEO for Water Capital, a company with whom Wal-Mart Mexico worked to install the photovoltaic complex said, "this is a one-of-a-kind project, and its success will allow this technology to be used in many similar situations. The project will result in significant energy savings and environmental benefits. We are pleased to work with Wal-Mart Mexico and show the advantages of this type of energy for Mexico.

"Today the use of solar energy is the most important potential resource to provide energy in the long run. The sun is the Earth's largest energy source. According to estimates, a single hour of solar radiation would be enough to cover the world's annual energy needs. However, this huge potential is untapped and represents a great opportunity to generate energy without a negative impact on the environment through the use of solar panels, which are devices that turn solar energy into electricity," explained Federico Llamas, Director of the Environment University.
___________________
Desde Wal-Mart de Mexico:
Wal-Mart de México coloca la instalación solar fotovoltaica más grande de América Latina

1,056 paneles solares ocupan el techo de Bodega Aurrerá Aguascalientes.
Se evitará la emisión de 140 toneladas de CO2 al ambiente.
Generarán 20% de la energía que la tienda requiere en un año.

Wal-Mart de México concluyó exitosamente la instalación de un parque fotovoltaico que generará el 20% de la energía que consume su Bodega Aurrerá ubicada en Convención en la Ciudad de Aguascalientes, tienda en la cual se colocaron 1,056 paneles solares que transformarán la energía generada por el Sol en energía eléctrica. Este proyecto fotovoltaico evitará la emisión al ambiente de 140 toneladas de CO2 anualmente y es el más grande de América Latina con 174kW instalados, de acuerdo con datos de la Asociación Nacional de Energía Solar (ANES), por parte de quien la compañía recibió un reconocimiento.

"Este es el primer proyecto a gran escala en el tema de autogeneración de energía con paneles fotovoltaicos, no sólo de Wal-Mart de México, sino de Wal-Mart International, lo que pone a nuestro país a la vanguardia en la materia. Este proyecto refrenda nuestro compromiso de obtener, a través de fuentes renovables, el 100% de la energía que requiere la empresa para el año 2025" señaló Raúl Argüelles, Vicepresidente Senior de Asuntos Corporativos y Recursos Humanos de Wal-Mart de México. .

Los 1056 paneles solares o fotovoltaicos se colocaron en 2 mil 173.5 m2 correspondientes a una mitad de la superficie del techo de la Bodega Aurrerá Convención en Aguascalientes.

Gustavo Téllez Girón, Director General de Water Capital, empresa con la que Wal-Mart de México estableció una asociación para llevar a cabo la instalación del parque fotovoltaico, señaló "este es un proyecto único en su clase y su éxito permitirá que esta tecnología sea aplicada a muchas otras instalaciones similares, permitiendo importantes ahorros de energía y beneficios para el medio ambiente. Nos da gusto poder asociarnos con Wal-Mart de México y mostrar las ventajas de este tipo de energía para el país".

Durante el evento de inauguración, estuvieron presentes el Ing. Luis Armando Reynoso Femat, Gobernador Constitucional del Estado de Aguascalientes; el Diputado Federal David Maldonado González, Presidente de la Comisión de Energía de la Cámara de Diputados; el Senador César Leal Angulo, integrante de la Comisión de Energía de la Cámara de Senadores; el Dr. Armando Jiménez San Vicente, Secretario de Desarrollo Económico del Estado, y la Dra. Ernestina Torres Reyes, Presidenta de la Asociación Nacional de Energía Solar, entre otros invitados especiales.

"El aprovechamiento de la energía solar es hoy el mayor recurso potencial de suministro de energía a largo plazo. El Sol es la principal fuente de energía de la Tierra. Se estima que con sólo una hora de radiación solar se cubriría el consumo anual de energía en el mundo entero. No obstante, en la actualidad, ese enorme potencial está prácticamente inexplorado y representa una gran oportunidad para la generación de energía sin dañar el medio ambiente, a través del uso de paneles solares, que son dispositivos que convierten la energía solar en electricidad", explicó Federico Llamas, Director de la Universidad del Medio Ambiente.

Como parte de sus iniciativas en materia de sustentabilidad, Wal-Mart de México se comprometió desde el 2005 a:

Abastecerse al 100% de energía renovable para el año 2025.
Cero descargas de agua para el año 2025.
Aumentar en 25% su catálogo de productos amigables con le medio ambiente para el 2012.
Cero residuos para el año 2025.
Tags: Aguascalientes, ANES, Bodega Aurrerá, energía renovable, energía solar, Mexico, paneles fotovoltaicos, parque fotovoltaico, photovoltaics, renewable energy, solar energy, solar panels, solar power, Wal-Mart, Water Capital
Subscribe to My Comments Feed
Leave a Reply