« Colombia Imposes Take-Back for Expired Medicines | Home | What the Other Guy Blogs About: Why Isn't Brazil a Solar Power? »
By Keith R | March 2, 2009
Topics: Environmental Protection, Waste & Recycling, Water Issues | No Comments »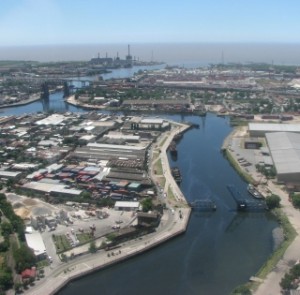 Argentina's Secretary of Environment and Sustainable Development (SAyDS), Bibiloni Homer, just signed agreements with the mayors of municipalities located in the Matanza-Riachuelo Basin, through which federal authorities will provide around 30 million pesos for the establishment of cooperative efforts to clean up trash dumps around the Basin as well as the Basin's feed-in streams.
The Long-Suffering Matanza-Riachuelo
The Matanza-Riachuelo Basin has been heavily polluted for a long time, and several federal administrations have come and gone promising to clean it up.  It took a class action case filed in the Supreme Court in 2004 by communities in the Basin before things finally got moving. The communities demanded environmental damages for the responsibilities of the federal government, the governments of Buenos Aires Province and the Autonomous City of Buenos Aires, and 44 businesses in polluting the Basin.
In November 2006 the national congress passed a law creating the Matanza-Riachuelo Basin Authority (ACUMAR) to manage the task.  But It took a Supreme Court judgment in July 2008 determined the responsibility for clean-up actions and the deadlines to complete them before the clean-up resources became available. [Among other things, the Court left open the possibility of levying fines on ACUMAR if Court orders are not followed.]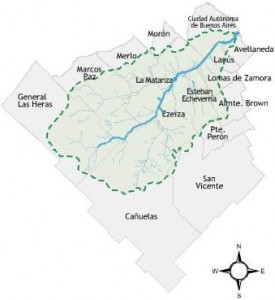 The Clean-Up Agreements
The letters of intent were signed with the presence of the mayors or environment officials from the municipalities of Almirante Brown, Avellaneda, Cañuelas, Esteban Echeverría, Ezeiza, General Las Heras, La Matanza, Lanús, Lomas de Zamora, Marcos Paz, Merlo, Morón, President Perón and San Vicente.
25 million pesos will be dedicated to the formation of work cooperatives to clean and maintain streams and their margins, which will generate 750 jobs and improve the health and the environment of about 260,000 inhabitants of the upper and middle Matanza-Riachuelo Basin.  4.133 million pesos are dedicated to dump clean-up, which will be distributed to the work of labor cooperatives operating in Almirante Brown (6 cooperatives), Avellaneda (3); Esteban Echeverría (3) La Matanza (10) Lanús (10), Lomas de Zamora (6), Merlo (2) and Morón (1).
The meeting also suggested to the municipal leaders a change to the rules of operation of the Municipal Council of the Matanza-Riachuelo Basin Authority (ACUMAR), to enable the integration of two new bodies: a policy body involving the mayors, and a technical body bringing together specialists appointed by each municipality.
Attending the meeting, Esteban Echeverría mayor Fernando Gray stressed the importance of "creating real jobs. Jobs that, in this case are given through cooperative work primarily aimed at vulnerable sections of society who have no formal employment at present. So with this we improve the living conditions of many neighbors, and at the same time generate employment in a very complicated social time."
_________________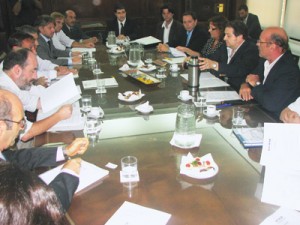 Desde la Secretaria de Ambiente y Desarrollo Sustentable (SAyDS):
Ambiente invertirá casi 30 millones de pesos en saneamiento de basurales y limpieza de arroyos

Bibiloni e intendentes firmaron acuerdos para trabajos en el Riachuelo

El Secretario de Ambiente y Desarrollo Sustentable de la Nación, Homero Bibiloni, suscribió esta tarde diversos acuerdos con intendentes de municipios asentados en la Cuenca Matanza Riachuelo, a través de las cuales la cartera ambiental de la Nación girará casi 30 millones de pesos para la constitución de cooperativas de trabajo que se abocarán al saneamiento de basurales y a la limpieza de arroyos.

Las firmas de las cartas de intención tuvieron lugar esta tarde en la sede de la Secretaría de Ambiente, con las presencias de los intendentes de Esteban Echeverría, Fernando Gray; de Marcos Paz, Ricardo Curutchet; de San Vicente, Antonio Di Sabatino y de Cañuelas, Gustavo Arrieta.

Del encuentro tomaron parte también funcionarios de las áreas ambientales de los municipios de Almirante Brown, Avellaneda, Ezeiza, General Las Heras, La Matanza, Lanús, Lomas de Zamora, Merlo, Morón, Presidente Perón y San Vicente. En cuanto al acuerdo para la formación de cooperativas de trabajo que limpiarán y mantendrán arroyos y sus márgenes, la suma comprometida ascienda a 25 millones de pesos, lo que permitirá generar 750 puestos laborales e impactar sobre la salud y el ambiente de unos 260 mil habitantes de la cuenca alta y media del Matanza Riachuelo. Respecto al saneamiento de micro basurales, la suma comprometida asciende a los 4.133.333 pesos, los que se distribuirán para las labores que efectuarán cooperativas de trabajo que operarán en Almirante Brown (6 cooperativas); Avellaneda (3); Esteban Echeverría (3); La Matanza (10); Lanús (10); Lomas de Zamora (6); Merlo (2) y Morón (1).

Durante el encuentro, también se puso a consideración de los jefes comunales una modificación al reglamento de funcionamiento del Consejo Municipal de la Autoridad de Cuenca Matanza Riachuelo (ACUMAR), para posibilitar la integración de dos nuevas instancias: una política, de la que participarán los intendentes, y una técnica, a la que se incorporarán los especialistas que cada municipio designe. Al respecto, Bibiloni señaló que "estamos cumpliendo con el primer cometido político jerarquizando el rol de los municipios en el ámbito de la ACUMAR".

En tanto, el intendente de Esteban Echeverría, Fernando Gray destacó la importancia de "generar puestos de trabajo genuinos. Puestos de trabajo que, en este caso, están dados a través de cooperativas de trabajo que fundamentalmente apuntan a sectores vulnerables de la sociedad que no tienen empleo formal en la actualidad. Así que con esto mejoramos las condiciones habitacionales de muchos vecinos, y al mismo tiempo generamos empleo en un momento social muy complicado".

Ricardo Curuchet, intendente de Marcos Paz, señaló respecto a la limpieza de arroyos, que "tenemos la particularidad o la desgracia de que nuestro basural municipal, que estábamos próximos a remediar y a trasladar, está a la vera del arroyo. Es una tarea que se multiplica, por mucho en los beneficios. Así que el compromiso y el desafío está en tomar la posta y cumplir satisfactoriamente los requerimientos que, tanto Nación, provincia, municipios, la Corte con la causa Mendoza nos ponen como objetivo".
Tags: ACUMAR, Almirante Brown, Argentina, arroyos, Avellaneda, basurales, Cañuelas, environment, Esteban Echeverría, Ezeiza, General Las Heras, Homero Bibiloni, intendentes, La Matanza, Lanús, Lomas de Zamora, Marcos Paz, Matanza-Riachuelo Basin, medio ambiente, Merlo, Morón, Presidente Perón, Riachuelo, San Vicente, saneamiento, SAyDS
Subscribe to My Comments Feed
Leave a Reply