« Will Lima Breathe Easier? | Home | Changes in the Wind in LAC »
By Keith R | October 18, 2006
Topics: Economics & the Environment, Energy & the Environment, Environmental Protection, Renewable Sources | No Comments »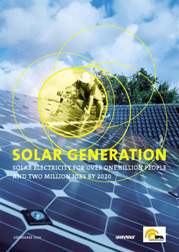 Seeking Enlightenment
In a prior entry I wrote about the special maps indicating solar and wind power generation potential among Latin American and Caribbean (LAC) nations. But knowing what average daily radiation rates in any given area is only part of the equation. I've been on the lookout for quite awhile for a study that would provide at least some rough estimate of the prospects in LAC for actually realizing solar's potential.
There are several studies by the UN Economic Commission for Latin America and the Caribbean (ECLAC/CEPAL) — all on the Temas Recommended Reading List –that do a pretty good job of describing the status (as of 2003, at least), and barriers to greater use of renewable energy sources in the region. However, they tend to either treat the entire sector in the abstract or focus too heavily on hydroelectric, biomass, biofuels and "sustainable fuelwood," giving solar short shrift.
The exception, Renewable Energy Sources in Latin America and the Caribbean: Situation and Policy Proposals (PDF available for download in both English and Spanish), was produced in 2004 jointly with the German technical cooperation agency GTZ. It does a good job of describing the solar projects in the region as of 2003, but shied away from prognostication for solar. I wanted a study or report that not only focused on solar and focused on LAC, but also looked ahead further than the next 2-3 years.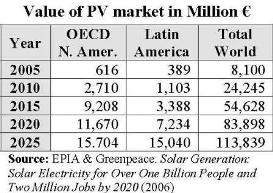 Let There Be Light?
Well, two out of three is not bad.
Last month the European Photovoltaic Industry Association (EPIA) and Greenpeace (GP) jointly released the third edition of their study on the global market prospects for power generation from photovoltaics (PV) until the year 2020 (the first edition was released in 2001, the second in 2004).
The EPIA/Greenpeace reports are excellent for a global overview of trends in photovoltaic technology development and deployment, and their 2001 global projections so far have been more or less on-target (market development in the US did not meet expectations, but this was compensated by Germany exceeding projections).

The latest report provides plenty of detail for Europe (it is, after all, EPIA's home market!) as well as for the countries from each geographic region spotlighted in "case studies." Luckily one of those spotlighted is Brazil (see discussion below).
Otherwise, though, the report provides sparse information on LAC nations. In fact, the two tables and the pie graph I provide in this article are largely it. [NOTE: bear in mind when considering these tables and graph that this report adopts the International Energy Agency's (IEA) classification of Mexico as part of "OECD North America."]
Projected World Solar Market in 2025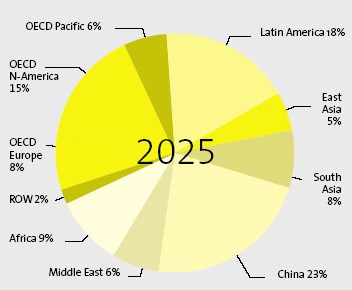 The EPIA/Greenpeace report offers some general policy recommendations for all nations to consider:
extend to all nations "best practice support schemes, appropriately adapted to local circumstances, to encourage the uptake of solar electricity amongst consumers." The report particularly points to the German and Japanese examples;
remove subsidies to fossil and nuclear fuels (which keep renewable energy sources from being more competitive) and "inherent barriers to the uptake of solar power";
implement "legally enforceable mechanisms" to help expand the market for photovoltaics. These include "the introduction or expansion of premium feed-in tariffs with guaranteed lifetimes."
Brazil in the Spotlight
The report does take a closer look at Brazil's prospects. Brazil has huge potential, notes the report, but currently its participation in the world PV market is poor. Brazil's Energy Ministry estimates installed PV capacity at 9 megawatts (MW), but EPIA and Greenpeace argue that this figure is too low. After Brazil's PRODEEM rural electrification program terminated, most PV installation has been done by charities and nongovernmental organizations. A professor from the University of São Paulo's (USP) Electrical Engineering Department estimates that once NGO activity is factored in, the figure is closer to 15 MW.
EPIA and Greenpeace feel that, with the right policy mix, Brazil can achieve 150 MW installed capacity by 2010 and over 2,000 MW by 2025, creating some 60,000 jobs in installation and maintenance over that period in the process (see chart). Given high irradiance with low seasonal variance, and a national mandate to bring electricity to every Brazilian by 2008 (luz para todos), some of the fundamentals for strong growth certainly are there. But it will take policy changes.
Which policy changes do they specify, you ask?
create an effective financing instrument for private PV users. EPIA/GP suggest perhaps a special PV loan window at the National Bank for Economic and social Development (BNDES) offering 8% interest rates (rates on private bank loans for such personal projects can run as high as 42%, putting them beyond most Brazilians).
cut by at least 10% the federal import tariffs for modules (now 25%) and cells (now 20%).
cut to zero the tariffs on importation of PV production equipment and raw materials.
if the first three recommendations are implemented, impose a set R$0.7 per kilowatt hour (kWh) grid-feed compensation rate (i.e., the rate power concessionaires must pay to those who "sell" excess power from the PV installations to the grid).
cut subsidies for remote-location diesel power plants.
impose a CO2 tax at international market prices on power generation utilizing fossil fuels.
create a "showcase project" for PV power generation on the popular tourist destination of Fernando de Noronha island, replacing its current diesel generators. The report suggests that this project can be funded through an environmental levy on tourists visiting the island (since the island is a nature sanctuary, tourist access is controlled and tourists are already accustomed to paying premiums).
None of these are likely to be acted upon before Brazil's national elections are decided. But most are politically possible in Brazil if the Casa Civil (the President and his Cabinet) get behind it and lobby the Congress to enact it. Probable exceptions: the CO2 tax and the cut in diesel power subsidies in remote locations. Both ideas would face stiff lobbying from the usual suspects.

To download an English PDF of the EPIA/Greenpeace report, click this link. Unfortunately, a Spanish version is not yet available.
— Keith R
Tags: BNDES, Brasil, Brazil, carbon tax, CEPAL, CO2 tax, ECLAC, energía renovable, energia renovável, energía solar, EPIA, Fernando de Noronha, fossil fuels, Greenpeace, import tariffs, photovoltaics, PRODEEM, renewable energy, solar energy, solar power
Subscribe to My Comments Feed
Leave a Reply