« The Significance of the WTO Biotech Ruling for LAC | Home | Importance of the IPCC Report for LAC »
By Keith R | March 6, 2007
Topics: Energy & the Environment, Environmental Governance, Environmental Protection, Extractive Sectors | 2 Comments »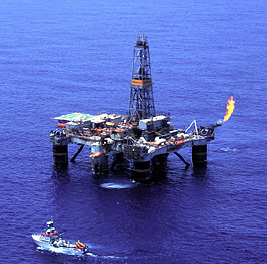 Synopsis in English: Just days after the PAC was unveiled, the Environment Ministry's (MMA) #2 man, Claudio Langone, met with the director of the oil and gas (O&G) industry's trade association (IBP), João Carlos de Luca, to discuss possible changes in environmental licensing of oil and gas projects. The meeting made some in the environment community uneasy, coming as it did on the heels of the PAC's heavy emphasis on O&G and its proposals that would effectively put even more of the environmental licensing of O&G projects in federal hands.
They agreed to a series of monthly meetings to discuss 10 industry suggestions regarding the licensing of O&G projects. Luca insisted that IBP was not seeking changes in law, but rather "executive" changes. For example, he suggested that the R$900 million per year (about US$421 million at current rates of exchange) in petroleum production royalties now going into the general treasury instead be earmarked solely for O&G work by the environment enforcement agency, IBAMA. Some of the other suggestions mentioned: (1) license by geographic area rather than well by well; (2) a seat for IBP in the O&G "situation room" presently containing only government officials who discuss priority sectoral issues; (3) the creation of an O&G sectoral technical group within the National Environment Council (CONAMA) to vet proposals affecting the sector before they go up to the full Council; (4) clearer guidelines on criteria and timelines for environmental studies used in the licensing process.
Desde o Ministerio de Meio Ambiente (MMA):
MMA, IBP e Ibama discutem novos avanços nos licenciamentos

26/01/2007

Em reunião hoje pela manhã no Ministério do Meio Ambiente, o diretor do Instituto Brasileiro de Petróleo e Gás (IBP), João Carlos de Luca, e o secretário-executivo do MMA, Claudio Langone, concordaram em desenvolver uma agenda de trabalho comum com o Ibama. Juntos, o governo federal e o Instituto (que representa 220 empresas do setor de petróleo e gás no Brasil) debaterão e definirão medidas que sejam capazes de dinamizar ainda mais o processo de licenciamento para empreendimentos naquele setor. "Como se trata de uma área dinâmica, é sempre positivo buscar formas de adequá-la a novas necessidades", afirmou o presidente do IBP, João Carlos de Luca.

A agenda de trabalho acertada começa a ser cumprida no próximo mês. Na semana anterior ao Carnaval, durante a primeira reunião, que será mensal, serão listados 10 pontos prioritários para nortear as discussões. "Não queremos nenhuma mudança nas leis; queremos apenas contribuir com sugestões no campo executivo", afirmou Luca.

Entre as sugestões, o presidente do IBP pede o descontingenciamento do orçamento federal de cerca de R$ 900 milhões anuais provenientes da cobrança pelo governo de royalties sobre a produção de petróleo. "Queremos que aquele montante seja transferido diretamente para o Ibama, para que venha a ser investido em ações relacionadas ao setor. Se não for possível a transferência integral, pelo menos que uma parte o seja", diz Luca.

O empresário sugeriu também que o licenciamento, hoje concedido por poço, passe a ser autorizado por área geográfica. "Isto permitiria maior agilidade nos procedimentos. Numa bacia rica em petróleo, por exemplo, a licença por área evitaria a repetição os processos de autorização a cada poço encontrado", explica o presidente do IBP. Luca solicitou também assento para o Instituto na Sala de Situação de Petróleo e Gás, que conta com a participação de representantes da Casa Civil, do Ministério das Minas e Energia e da Agência Nacional do Petróleo.

Para Claudio Langone, do MMA, as sugestões do IBP são construtivas e o Ministério não vê problemas em debater. "Pelo contrário. Nossa expectativa é de que essa agenda traga resultados concretos. Mais importante que a concordância entre os participantes, é mantermos um espaço de diálogo. O diálogo com interlocutores qualificados tecnicamente são sempre positivos para que os problemas sejam tratados em seu devido tamanho", afirmou o secretário. "O presidente do IBP concordou conosco quanto ao fato de que o licenciamento avançou bastante nos últimos quatro anos. Avanços esses retratados, por exemplo, na contratação de servidores por concurso, pessoal de carreira na área, e também pela criação da Coordenação de Petróleo e Gás dentro da Diretoria de Licenciamento (Dilic/Ibama), que, por sinal, nessa gestão, foi desmembrada de outra diretoria para cuidar exclusivamente de licenciamento", disse Langone.

Além disso, diz o secretário, o Ibama/MMA têm obtido sucessivos recordes no número de licenciamentos concedidos nos últimos quatro anos. Foram 882 licenças no quadriênio, 278 delas somente em 2006. Um grande número de vistorias, publicação de normas, guias esclarecedores de procedimentos.

Mais sugestões – O presidente do IBP pretende sugerir ainda, nos próximos encontros, a criação de um Grupo Técnico, no âmbito do Conselho Nacional do Meio Ambiente (Conama), que, em suas palavras, "arredonde" questões antes que elas sejam submetidas à apreciação do Conselho. "Embora o setor de petróleo e gás contribua com 12% do PIB nacional, o Brasil possui poucos especialistas na área. Nesse sentido, o GT que propomos pode vir a favorecer o processo pelo esclarecimento de pontos técnicos cruciais". Nesse item, o objetivo principal de Luca é transformar o GT numa câmara técnica do setor dentro do Conama, hoje, segundo Luca, inexistente. "Nesse sentido, também, o IBP está disponível para financiar cursos de capacitação avançados para técnicos do Ibama e de outros setores que estejam interessados em aprofundarem ainda mais seus já bons conhecimentos no setor", afirmou Luca.

O empresário pretende levar para a pauta de discussões também o que ele chamou de aprimoramento dos termos de referência de licenciamento. Diz ele que, a partir daí, se poderia criar um guia claro de procedimentos, pelo qual os empresários possam organizar suas atividades sem incorrer em erros. Ele propôs ainda o "aprimoramento de guias de licenciamento prévio, com a inclusão de prazos e critérios uniformes para solicitação de estudos". Por fim, sugeriu o aperfeiçoamento de regras e critérios de avaliação do licenciamento. E maior articulação com as Unidades de Conservação na elaboração de planos de manejo que possuam interface com o setor de petróleo.
Tags: ANP, Brasil, Brazil, CONAMA, environmental licensing, gas natural, hidrocarbonetos, hydrocarbons, IBAMA, IBP, licenciamento ambiental, licensamiento ambiental, MMA, natural gas, orçamento federal, petroleo, petroleum, production royalties
2 Responses to "A Change in Environmental Licensing of Oil & Gas Projects?"
Clayr Raphael Says:
March 29th, 2007 at 13:30

mINH sugestão se refere a nova TV estatal, que deveria contemplar, temas genuionamente brasileiros, tais como: Programas com Cantores de real qualidade vocal, músicos de primeiro escalão; paisagens naturais brasileiras. Temas teatrais com histórias de nossa história. Programas de aconcelhamento e soluções de emprego e educação. Devorma bem feitas e por pessoas realmente interessadas em passar o Brasil aos brasileiros, sem chapeus americanos e de vestimentas de cauboy como faz o paulista passando uma imagem que não é nossa, mas, que por influência está sendo adotada por´seguidores interessado em vender tal imágem por desejo do paulista de ser americano, como se o que é nosso tem menos valor. Não permita Sr. Presidente que isso prolifere em detrimento do que é nosso. Por hora. Obrigado

Keith R Says:
March 29th, 2007 at 14:00

Prezado Dr. Raphael, seja bem-vindo ao Temas Blog, e obrigado pelo comentário. Não é precisamente conectado ao tema do artigo ou dos temas gerais deste blog, mas está bem…
Atenciosamente,
Keith R
Leave a Reply