« IDB's First Loan to a Private Sector Bioenergy Project / Primeiro financiamento do BID ao setor privado para bioenergia | Home | Helping Poor Countries Deal with Chronic Non-Communicable Diseases »
By Keith R | July 26, 2007
Topics: Air Quality, Environmental Protection, Health Issues | No Comments »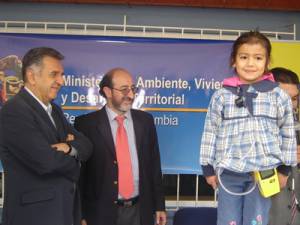 Synopsis in English: The Environment Ministry and the City of Bogotá signed an agreement aimed at improving air quality in the nation's capital. Under the accord the two will collaborate to (1) design an Air Quality Information System (SISAIRE); (2) characterize (identify types, levels, concentrations, sources, etc.) of airborne particulate matter in the city; (3) elaborate an emissions inventory; (4) conduct an assessment of the linkage between air pollution and health in the city; (5) force improvements in fuel quality in the region; (6) draft relevant regulations. Some US$6 million will be spent during the rest of 2007 to implement this agreement.
As part of the project some 600 kids under five years old in the city areas known as Puente Aranda and Kennedy will be continuously monitored for their exposure to particulate matter, both inside and outside the home. [The picture at right is one of the children modeling the monitoring unit for the Environment Minister and the Mayor of Bogotá.]
Participating in this project will be MAVDT, the Institute of Hydrology, Meteorology and Environmental Studies (IDEAM), the Autonomous Regional Corporation of Cundinamarca (Corporación Autónoma Regional de Cundinamarca – CAR), the city's Health and Environment Secretaries, La Salle University and the Hospital of the South.
______________________________________
Desde el Ministerio de Ambiente, Vivienda y Desarrollo Territorial (MAVDT):
MINAMBIENTE Y ALCALDE FIRMAN ACUERDO PARA GARANTIZAR MEJOR AIRE EN BOGOTÁ

Más de 600 niños de 4 jardines serán monitoreados diariamente

En 2007 se invertirán más de US$6 millones para mejorar la calidad del aire.
Autoridades evaluarán impacto en la salud de niños y niñas de Puente Aranda y Kennedy

Desde hoy se comenzará a desarrollar un proyecto piloto para mejorar la calidad de aire en Bogotá, que inicialmente medirá y evaluará la contaminación por material particulado intra y extra domiciliario, en las localidades de Kennedy y Puente Aranda.

Así lo anunció el ministro de Ambiente Vivienda y Desarrollo Territorial, Juan Lozano Ramírez, al instalar la mesa de calidad de aire en Bogotá y las zonas aledañas.

Para ello las autoridades ambientales y el Distrito firmaron un convenio mediante el cual las entidades involucradas se comprometen a desarrollar acciones que permitan disminuir la contaminación en la ciudad y la región.

"Con la firma de este acuerdo con el Distrito, la CAR y el IDEAM vamos a ejecutar programas tendientes a reducir la contaminación atmosférica en el Distrito y zonas aledañas", aseguró el Ministro.

Más allá –añadió- de unos equipos y de unos procedimientos en la Mesa tiene que ver con la vida y la salud de los bogotanos, nuestros niños y la supervivencia de la ciudad.

Durante el evento en el que participaron el Alcalde Mayor, Luis Eduardo Garzón; el Director de la Corporación Autónoma Regional de Cundinamarca, CAR, Edgar Alfonso Bejarano y el Director del Instituto de Hidrología, Meteorología y Estudios Ambientales (Ideam), Carlos Costa; Lozano Ramírez insistió en que el objetivo es permitir el desarrollo conjunto de acciones integrales para tomar decisiones sobre emisiones contaminantes generadas por fuentes fijas y móviles.

El jefe de la Cartera Ambiental recordó que el Ministerio viene desarrollando proyectos que buscan tener un diagnóstico del estado actual de las principales redes de calidad del aire en el país.

"Se trabaja en el diseño del Sistema de Información sobre Calidad del Aire (SISAIRE); la caracterización de material particulado; la realización del protocolo para elaborar inventarios de emisiones; la evaluación de la relación entre calidad del aire y salud; el fortalecimiento de las redes de calidad del aire; la evaluación ambiental estratégica en el tema combustibles; la gestión interinstitucional para mejorar la calidad de los combustibles; y formulación de reglamentación", dijo el Ministro.

Estas actividades contemplan una inversión superior a los US$2 millones, para lo cual se han suscrito diferentes contratos, incluyendo el proyecto mencionado para las localidades de Kennedy y Puente Aranda.

Proyecto piloto

El proyecto piloto que se inició este miércoles busca medir y evaluar la contaminación por material particulado, identificar y valorar sus fuentes e integrar y comparar esta información con resultados obtenidos en trabajos previos que determinan la relación entre la contaminación del aire y la salud de la población.

Inicialmente se desarrollará en las localidades de Puente Aranda y Kennedy, con una población objetivo de 600 niños y niñas menores de 5 años en cuatro jardines infantiles distritales (Antonio Nariño, Tamborcito Encantado, Santo Domingo Sabio y Jerona).

Para el desarrollo del proyecto que tendrá una duración de cuatro (4) meses se instalaron equipos de última tecnología para el monitoreo de la calidad del aire en los jardines infantiles.

"El proyecto contará con la participación del Ministerio de Ambiente, Secretaria Distrital de Salud, Hospital del Sur, Secretaría Distrital de Ambiente y Universidad de la Salle (contratista), con una inversión del MAVDT en equipos y evaluaciones de la información en cabeza de la Universidad de La Salle, cercana a los 500 millones de pesos", dijo el ministro Lozano.

Adicionalmente, la Secretaría de Salud aportará $500 millones representados en el seguimiento al estado de salud de los niños y niñas.
Tags: air pollution, Air Quality, Bogotá, calidad del aire, Colombia, contaminación atmosférica, Cundinamarca, diagnóstico, fuel quality, fuentes fijas, fuentes móviles, IDEAM, Juan Lozano, La Salle University, MAVDT, particulates, qualidade do ar, SISAIRE
Subscribe to My Comments Feed
Leave a Reply