« Metal "Recycling" Run Amuck? | Home | Should Environment PSA's be Obligatory? »
By Keith R | March 21, 2007
Topics: Climate Change, Environmental Protection, Sustainable Forest Use | No Comments »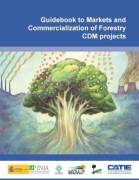 The FORMA Project has released its "Guidebook to Markets and Commercialization of Forestry CDM Projects." The Guidebook provides an overview of forestry projects meeting clean development mechanism (CDM) criteria under the Kyoto Protocol, a description of available carbon markets, and recommendations to the project developer. In the last two years, more than US$18 billion have been traded in the international carbon market, representing some 990 million tons of carbon dioxide equivalent (CO2e). about 500 projects have been registered under CDM, and more than 421 million certified emission reductions (CERs) have been traded.
The guidebook is based on in-depth interviews with key market actors, a review of secondary information, and on a survey among market actors. It
lists minimum requirements that CDM forestry projects need to meet;
outlines the steps of the CDM project cycle;
provides an overview of the risks of such projects;
examines forestry CDM projects from a financial viewpoint, and discusses quality standards;
outlines the present state of the markets; and
describes some of the mechanics and policy processes underlying them.
A section is dedicated to the procedures for commercialization of carbon credits and analyzes buyers' preferences, and project success criteria.
Last but not least, the guidebook recommends strategies for carbon credit commercialization. Project developers are provided with a checklist for evaluating concrete initiatives against the data and the insights that this guidebook compiles.
The FORMA project is a joint effort by a consortium of institutions supporting the development of afforestation/reforestation and bioenergy projects in the context of the CDM in Latin America. The project provides technical and financial assistance to help with the design of CDM projects, develops tools for facilitating technical tasks and systemizes the lessons learned from project intervention.
The FORMA project is funded by Spain's National Institute of Agrarian and Food Research (Instituto Nacional de Investigacion Agraria y Alimentaria – INIA) and implemented by Costa Rica's Tropical Agricultural Research and Higher Education Center (Centro Agronómico Tropical de Investigación y Enseñanza – CATIE) and Indonesia's Centre for International Forestry Research (CIFOR), with the participation of experts from INIA, ECOSUR (Colegio de la Frontera Sur, Mexico) and Uruguay's Ministry of Livestock Raising, Agriculture and Fishing (Ministerio de Ganaderia, Agricultura y Pesca – MGAP).
_______________________________________
El Proyecto FORMA ha lanzado su "Guía sobre los mercados y la comercialización de Proyectos MDL Forestales." La Guía proporciona una panorama de los proyectos de la silvicultura que cumplen con los criterios del mecanismo de desarrollo limpio (MDL) del Protocolo de Kyoto, una descripción de los mercados disponibles del carbón, y recomendaciones al revelador del proyecto. En los dos años pasados, más que US$18 mil millones se han negociado en el mercado internacional del carbón, representando alguno 990 millones de toneladas de equivalente del bióxido de carbono (CO2e). Acerca de 500 proyectos se han colocado debajo de MDL, y se han comerciado más de 421 millones de certificados de reducción de emisiones (CERs).
La Guía se basa en las entrevistas profundizadas con los agentes dominantes del mercado, una revisión de la información secundaria, y una encuesta de los agentes del mercado. La Guía
provee una lista de requisitos mínimos para tales proyectos;
revisa los riesgos de este tipo de proyecto;
examina proyectos MDL florestales desde el punto de vista financiera, y discute estándares de cualidad;
describe el estado actual de los mercado; y
describe algunos de los mecanismos y los procesos de la política subyacentes ellos.
Una sección se dedica a los procedimientos para la comercialización de los créditos del carbón y analiza las preferencias de los compradores, y también los criterios del éxito de los proyectos.
Por ultimo, la Guia recomienda las estrategias para la comercialización del crédito del carbón. Se proporcionan a los reveladores de proyectos una lista de comprobación para evaluar iniciativas concretas contra los datos y las perspectivas que la Guía compila.
El proyecto FORMA reune instituciones científicas con experiencia tanto en investigación, como en la facilitación de proyectos en los campos de silvicultura y agricultura. FORMA tiene como propósito facilitar apoyo para el desarrollo de proyectos de forestación/reforestación y bio-energía en el MDL del Protocolo de Kyoto.
FORMA es financiado por el Instituto Nacional de Investigación y Tecnología Agraria y Alimentaria (INIA) de España y ejecutado por el Centro Internacional para la Investigación Forestal (CIFOR). La coordinación del Proyecto en Ibero América la realiza el Centro Agronómico Tropical de Investigación y Enseñanza (CATIE) ubicado en Costa Rica, con la participación de expertos del INIA, ECOSUR (Colegio de la Frontera Sur, México) y el Ministerio de Ganaderia, Agricultura y Pesca (MGAP) de Uruguay.
Tags: afforestation, agricultura, América Latina, carbon credits, carbon markets, CATIE, CDM, CERs, CIFOR, clean development mechanism, Costa Rica, créditos de carbono, ECOSUR, forestación, forestry, FORMA, guia, guide, INIA, Kyoto Protocol, Latin America, mecanismo de desarrollo limpio, mecanismo de desenvolvimento limpo, Mexico, MGAP, Protocolo de Kyoto, proyectos florestales, reforestación, reforestation, silvicultura, Spain, Uruguay
Subscribe to My Comments Feed
Leave a Reply