« Better Solid Waste Management in Argentine Tourism Cities | Home | Three Rivers »
By Keith R | June 9, 2007
Topics: Environmental Protection, Food/Beverage Issues, Health Issues, Pharmaceutical Issues, Sanitation, Water Issues | No Comments »
The annual General Assembly (GA) of the Organization of American States (OAS), held this year in Panama just last week, was used as the venue for formally rolling out the "Health Agenda for the Americas" developed over the last two years by the Pan American Health Organization (PAHO) and the World Health Organization (WHO). The Agenda is intended as a set of common goals and benchmarks that will guide the work of PAHO and national health ministries in Latin America and the Caribbean (LAC) until 2017.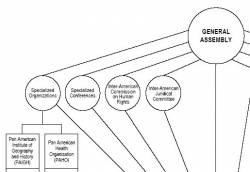 Those not familiar with the inter-American system may be scratching your heads, wondering why PAHO chose to release the Agenda in the OAS rather than at a PAHO venue. Well, of course, there is always the political and public relations calculation that releasing a regional consensus document at the OAS GA, when most of the region's foreign ministers (including US Secretary of State Condoleezza Rice) are in one spot, increases the chance that the measure will make headlines.
But it's actually a bit more complex and nuanced than that. Although PAHO is more than 40 years older than the OAS, it technically is part of the OAS organizational universe, as an autonomous "specialized organization" that nonetheless provides input to every annual OAS GA. [PAHO is also much older than WHO, but serves as WHO's regional office for the Americas — although it tends to exercise more independence in its work than most WHO regional offices.]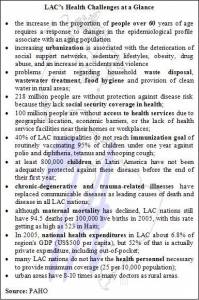 And given some of the items contemplated in the Agenda, PAHO and the Health Ministers are going to need the cooperation and even collaboration of the OAS and national foreign, trade, finance and environment ministers in order to meet their goals by 2017.
What the Agenda Calls For
As such documents tend to be, the Agenda basically is a laundry list of key challenges to address and the desired outcomes. Most Health Ministers and PAHO officials probably don't harbor any illusions about being able to fulfill every goal, but at least the Agenda gives them a shared diagnosis (see bullet list at right — click to enlarge), an agreed course of therapy to pursue and a shared vision of where they want it to take them. In other words, this should help them all sing from the same page, as it were.
Perhaps just as important, it indicates to all the multilateral and bilateral donors and nongovernmental collaborators just what the region's chief public health officials think the priorities should be for funding and technical assistance. [Will the World Bank, IDB, UNDP, USAID, CIDA, SIDA, DANIDA, AECI, JICA, GTZ, MSF and others heed? Only time will tell.] What it does not do, however, is rank the priorities– in part because the calculation for each country will differ.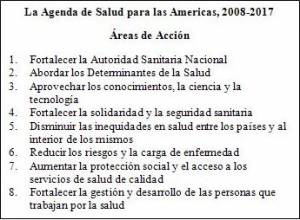 PAHO likes to summarize the Agenda's principal lines of action as follows:
Strengthen the National Health Authority
Tackle Health Determinants
Harness Knowledge, Science and Technology
Strengthen Solidarity and Health Security
Diminish Health Inequities both Within and Among LAC Nations
Reduce the Risk and Burden of Disease
Increase Social Protection and Access to Quality Health Services
Strengthen the Management and Development of People Working for Health
Let's take a quick look at what each of those mean.
Strengthen the National Health Authority. At a minimum, Health Ministries should fulfill what PAHO calls "the eleven essential public health functions" (see box – click to enlarge). Some of the region's Health Ministries already fulfill these roles, but many still have a ways to go.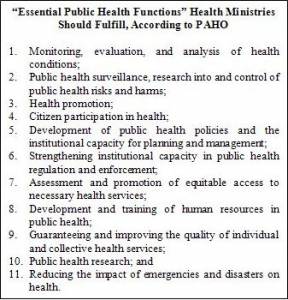 In this area the Agenda also calls for (1) fostering social and community participation and input by all stakeholders, including the private sector (which, frankly, will require a change in attitude in some Ministries); (2) adopting evidence-based decision-making; (3) inserting the health authority in national discussions on topics it traditionally may not have become involved, including globalization, migration, social protections, human rights, public safety, the labor market, equal opportunities for men and women, and poverty reduction; (4) plugging the health authority into the forecasting and budget allocation process for human development of the finance and planning ministries.
Health Determinants. The health authority should become the main advocate for tackling the following health determinants in national development plans: (1) social exclusion; (2) exposure to risks (including unhealthy lifestyles, insufficient food and water, pollution); (3) unplanned urbanization; (4) the impacts of climate change. It should also invest more in (a) health promotion; (b) stronger epidemiological surveillance systems; (c) social protections for infants.
Knowledge, Science and Technology. Beyond the obligatory language about encouraging and incorporating new breakthroughs into public health systems, the Agenda calls for (1) promoting bioethics; (2) ensuring "equitable access" to pharmaceutical products and vaccines; (3) promoting access for all to health information and education; (4) guaranteeing the quality, safety and efficacy of drugs, vaccines, technology and medical supplies, and promoting their rational use; (5) standardization of health surveillance information to facilitate comparisons within and among nations.
Solidarity and Health Security. LAC nations should take "intersectoral measures" to adequately prepare for natural disasters and pandemics, deal with migratory movements and food commerce along border areas, as well as to reduce social and interpersonal violence, street/roadway insecurity and personal insecurity (on this last, don't ask — I'm scratching my head too).
Health Inequities. Ministries should prioritize interventions that help the poor, marginalized and vulnerable groups, such as indigenous people. Sexual and reproductive health should be a high priority, with continuous care for the woman from preconception to care for the newborn. Breastfeeding should be promoted. Vaccination coverage should be maintained or expanded, along with the introduction of new immunization technologies as appropriate. Strong stress should be placed on preventing risky behaviors and associated problems among adolescents and young adults, including smoking, alcohol, drugs, unwanted pregnancies, sexually transmitted diseases, HIV/AIDS, and violence.
Risk and Burden of Disease. While current actions against communicable diseases (tuberculosis, malaria, dengue, HIV/AIDS, etc.) should be maintained and innovations introduced where appropriate, the region needs to shift to strong stress on noncommunicable diseases, now the principal source of mortality and morbidity in the Americas. This means programs on diabetes, cardiovascular disease, the types of cancer with the greater incidence, plus risk factors such as hypertension, obesity (hence the recent stress on tackling trans-fats). The Health Ministry should be become very active in promoting healthy lifestyles, including health eating habits, physical activity and not smoking.
Social Protection and Access to Quality Health Services. The chief push here is for
the need to develop insurance systems with mixed and collective financing schemes that reduce the financial burden on families, protecting them from the risk of falling into poverty due to catastrophic out-of-pocket expenditures, and guaranteeing the population a basic package of health services
Health Ministries must also do all they can to ensure that primary health care is provided to marginalized rural and peri-urban areas.
Strengthening Management and Human Resources Development. Governments need to address five key challenges: (1) developing long-term plans and policies to develop the health workforce; (2) resolving inequities in health personnel distribution — getting the personnel to the populations that need them most; (3) regulate the migration of health workers, so that qualified personnel do not all end up in a few countries with pooer ones bereft of such personnel; (4) get personnel more involved in their institution's mission; (5) link training institutions with health services to ensure that health sector needs are properly met.
— Keith R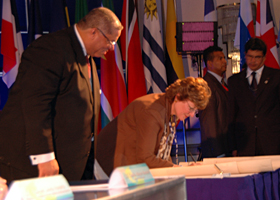 From the Pan American Health Organization (PAHO):
Health Agenda for the Americas Launched In Panama

The hemisphere's top health policy authorities have launched the Health Agenda for the Americas, setting out the health priorities the governments propose to tackle over the next decade. The plan was unveiled here before the opening of the 37th General Assembly of the Organization of American States (OAS).

Panamanian President Martín Torrijos, Panamanian Health Minister Dr. Camilo Alleyne, UN Secretary-General Ban Ki-moon and PAHO Director Dr. Mirta Roses, along with OAS Secretary General José Miguel Insulza signed the Health Agenda for the Americas.

PAHO's Dr. Roses said that launching the Health Agenda of the Americas represents a singleness of purpose around improving human life and enhancing understanding and harmony among peoples.

"The Health Agenda for the Americas will be a framework to orient the development of future health plans and the strategic plans of those organizations interested in cooperating in health with the countries of the Americas, including PAHO/WHO," she said.

Roses described the health plan as the product of a process of consultations at various levels, involving governments and civil society, to present "a platform that articulates the governments' sovereign and collective will, speaking to the world, to their citizens and to civil society while addressing the need for international cooperation and identifying what the health sector can contribute to development and what it needs from the other sectors."

Secretary General Insulza hailed the role played by the World Health Organization (WHO) and PAHO in guiding all the ministries of health "around this crucial effort." He said the project delivers "an ambitious agenda, a policy initiative for the next decade." Not only does it set certain objectives, but it also identifies "what commitments each country undertakes and what specific task each will pursue," he said.

He also described work by the OAS "to design a Social Charter" that articulates social citizenship rights for the peoples of the Americas, to complement the Inter-American Democratic Charter adopted in 2001, saying the social charter initiative is a parallel effort to the new PAHO plan. "We believe that our Democratic Charter asserts political citizenship-the right to participate in a free and democratic political system, civil citizenship-but also addresses social citizenship: the right to enjoy the benefits of development," Insulza said.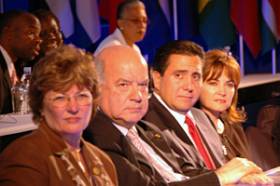 Desde la Organización Panamericana de la Salud (OPS):
Se Lanza En Panamá Agenda De Salud Para Las Américas

Las máximas autoridades encargadas de políticas de salud en el continente han lanzado una Agenda de Salud de las Américas, que delinea los enfoques y las prioridades de salud que enfrentarán los gobiernos del hemisferio durante la próxima década. El plan fue presentado antes de inaugurar la 37ª Asamblea General de la Organización de los Estados Americanos (OEA) en la capital panameña.

La ceremonia contó con la participación del Presidente de Panamá, Martín Torrijos; el Ministro de Salud de Panamá, Dr. Camilo Alleyne; el Secretario General de la ONU, Ban Ki-moon; y la Directora de la OPS, Dra. Mirta Roses Periago, quienes, junto con el Secretario General de la OEA, entre otros, firmaron la Agenda de Salud para las Américas. El acto contó, además, con la presencia de varios Ministros de Relaciones Exteriores de países miembros que se encuentran en Panamá para la Asamblea General de la OEA.

Por su parte, la Directora de la OPS, Mirta Roses, explicó que el lanzamiento de la Agenda de Salud representa el nacimiento de una unidad de propósito para mejorar la vida humana, el entendimiento y la convivencia entre los pueblos.

Roses informó sobre el proceso de consultas a diferentes niveles, no sólo entre gobiernos sino también con la sociedad civil, para presentar "una plataforma que significa la voluntad soberana y colectiva de los gobiernos, hablándole al mundo, hablando a sus pueblos, hablándole a la sociedad civil y a la cooperación internacional, de cuáles son esas prioridades para el desarrollo que la salud puede aportar y también que la salud necesita de los demás sectores".

La Agenda de Salud de las Américas es una iniciativa que establece un compromiso colectivo para mejorar la salud en el continente, aseguró el presidente Torrijos Espino, al presentar oficialmente el documento, en el marco de la celebración de la trigésimo séptima Asamblea General de la Organización de Estados Americanos (OEA). Precisó que los esfuerzos de las democracias latinoamericanas deben dirigirse hacia el análisis integral de la situación de salud, definiendo áreas de acción y desarrollando políticas efectivas.

El Secretario General de la OEA, José Miguel Insulza, al hablar durante la ceremonia en la cual se presentó esta iniciativa de la Organización Panamericana de la Salud (OPS), subrayó la disposición ya manifestada por la OEA de colaborar con la Organización de Naciones Unidas (ONU) y las demás organizaciones internacionales en materia de política social, con miras al cumplimiento de la Agenda de los Objetivos del Milenio.

La Dra. Roses Periago señaló que esta agenda orienta acciones para mejorar la salud en la región en los próximos diez años (2008-2017), e hizo un público reconocimiento al Ministro de Salud de Panamá, Dr. Camilo Alleyne, a quien ponderó por liderar el proceso de consulta y elaboración de esta estrategia.

Insulza destacó en su intervención que sin la cooperación entre las organizaciones internacionales, los objetivos de eliminar la pobreza y el hambre en la región, así como "los objetivos de mejorar la salud de todos nuestros ciudadanos y de desminuir la desnutrición infantil y la mortalidad infantil, serán más lejanos". Apuntó que entre los Objetivos del Milenio, un número importante de las metas se refieren a la política de la salud, "porque se entiende que la pobreza -el gran objetivo de la agenda- está asociada fundamentalmente a salud y educación". Según Insulza, "en la medida en que exista un solo objetivo y un sola agenda social -con nuestras particularidades de cada país y de cada región- en la misma media, vamos a avanzar en materia social, con muchos objetivos paralelos, con muchas ideas, con muchas propuestas y con muchos conceptos que cada organización desarrolla".

El Secretario General Insulza saludó el papel que juegan la Organización Mundial de la Salud (OMS) y la OPS en orientar y organizar a todos los ministerios de salud "en torno a esta tarea tan fundamental". Dijo que al lanzar hoy la Agenda de Salud, lo que se logra es "una ambiciosa agenda, una propuesta política para la próxima década", por la cual no solamente se fija algunos objetivos sino también se identifica "a qué se compromete cada país y qué tarea va a ir cumpliendo cada cual".

Se refirió a la labor en la OEA sobre "el diseño de una Carta Social" que reiterará los derechos de ciudadanía social de los pueblos de las Américas, para acompañar la Carta Democrática Interamericana adoptada en 2001. Describió a dicho esfuerzo de la Carta Social como elemento paralelo con el plan de salud lanzado hoy y agregó: "Estamos convencidos de que nuestra Carta Democrática confiere a los ciudadanos una ciudadanía política -el derecho de participar en un sistema político libre y democrático, una ciudadanía civil- pero también le confiere una ciudadanía social: el derecho a disfrutar de los beneficios del desarrollo".
Tags: AIDS, alcohol consumption, Americas, bioethics, breastfeeding, cambio climático, cancer, cardiovascular disease, Climate Change, communicable diseases, dengue, derechos humanos, disease burden, drug efficacy, drug safety, enfermedades cardiovasculares, epidemiological surveillance, equal opportunities, globalization, grasas trans, health education, health inequities, health information, health insurance, health surveillance, hipertensión, HIV, human rights, hypertension, immunization, labor market, malaria, migration, Mirta Roses, morbidity, mortality, mudanças climáticas, natural disasters, non-communicable diseases, OAS, obesidad, obesity, OEA, OMS, OPAS, OPS, PAHO, pandemics, pharmaceutical products, pollution, poverty reduction, primary health care, public health, public safety, reproductive health, risk exposure, salud pública, saude, sexual health, SIDA, smoking, Social Charter, social protections, STDs, trans-fat, tuberculosis, urbanization, vaccination, vaccines, vacunas, VIH, WHO
Subscribe to My Comments Feed
Leave a Reply