« Improving Water and Sanitation in Minas Gerais / Melhorar tratamento de água e esgoto em Minas | Home | Latest Round of REEEP Projects for LAC »
By Keith R | July 11, 2007
Topics: Environmental Protection, Motor Vehicles, Sustainable Agriculture, Sustainable Transport, Waste & Recycling | 1 Comment »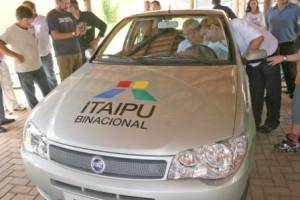 I've been holding this one back since I wrote it soon after the car was shown at a rural producers' expo in southern Brazil in February. I thought it'd make a good "filler" whenever LAC health/environment got slow. But that day never seems to come, so I've decided to release it from the Temas backlog queue. Enjoy!
Imagine most of the farms across the four nations of MERCOSUR (Argentina, Brazil, Paraguay, Uruguay) generating much or all of their daily electricity needs through biogas (primarily methane) siphoned off from biodigestors processing their own farm wastes.
Now imagine much of their passenger transport coming from electric vehicles charged quickly from those biogas-fueled generators — cars constructed at a plant in Foz de Iguaçu, the area where Brazilian, Argentine and Paraguayan territories come together, utilizing mostly MERCOSUR-sourced parts and technology.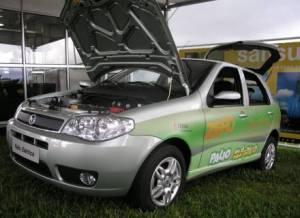 That is the vision being nurtured by FIAT and Itaipu Binacional (IB) — the bi-national (Brazil, Paraguay) firm that built and runs the huge Itapu Dam that provides power to much of southern Brazil — with technical help from Swiss power producer KWO. They already have a prototype of such an electric car (see photos) prepared based on the FIAT Palio model, which they have taken around to several fairs, expo's and other events involving rural producers. FIAT and IB say that once they have perfected their version of the car, they will produce electric buses, trucks and tractors.
The FIAT interest in this vision is obvious: they want to be the car maker that sets up that factory, taps the MERCOSUR market and perhaps someday build on it all to sell the resulting electric cars outside of MERCOSUR.
What's Itaipu Binacional's (IB) angle? It seems that agricultural production currently is a large electricity consumer in Brazil (example: producers raising birds for human consumption in Parana state alone spend US$125 million per year on electricity), and they reckon that if they can get farms to generate a significant portion of their energy needs on-site with biodigestors, then it will free up some of Itapu's production for reallocation. Of course, IB tends to instead emphasize that the biodigestors will reduce farm wastes and the carbon footprint of agricultural production, while the electric cars will mean no liquid fuel consumption or vehicle emissions, with all that implies for regional air quality and global climate change.
The current prototype car only goes up to 130 kilometers per hour, can only go 140 kilometers on a charge and charging takes eight hours. FIAT and BI hope in five years they'll be able to offer a better version that goes up to 150 km/h, covers 450 km per charge, and only requires 20 minutes to charge.
— Keith R
Tags: biodigestors, electric vehicles, farm wastes, FIAT, Foz de Iguaçu, Itaipu Binacional, Itapu Dam, KWO, MERCOSUL, MERCOSUR
One Response to "A MERCOSUR Car Run on Biogas and Electricity?"
Matt Says:
July 24th, 2007 at 3:04

I like it and have also put it up over at my new blog;

http://environmentsolutions.wordpress.com/

Thanks Keith. 🙂
Leave a Reply