« Getting Tough About Lamp Take-Back | Home | Biofuel from Sweet Potatoes »
By Keith R | August 9, 2008
Topics: Climate Change, Environmental Protection, Sustainable Agriculture | No Comments »
Last month I posted about the United Nations Food and Agriculture Organization's (FAO) disturbing report about soil degradation and what it says regarding Latin America and the Caribbean (LAC).
A couple of weeks later the FAO and several partner organizations — the European Commission, the private Dutch foundation World Soil Information (ISRIC), the private Austria-based International Institute for Applied Systems Analysis (IIASA), and the Institute of Soil Science of the Chinese Academy of Sciences (ISSCAS) — released a new tool that will help the battle to stop and turn back the degradation. It will also help in the global climate change challenge by helping assess soil carbon storage and sequestration potential.
It's a "Harmonized World Soil Database" (HWSD) — a melding of the FAO-UNESCO Soil Map of the World with several different existing regional and national soil-related databases. A version of it is offered online for free download.
I downloaded the online version of the database and took it for a "test drive." While a rather large file (about 43 MB), it downloaded and installed smoothly and is fairly easy to operate.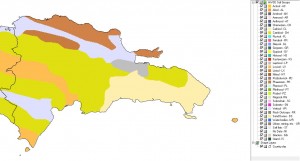 I don't have the particular technical expertise to judge the full utility of the database, so I'll leave that to others. I did check out what it might tell me about individual LAC nations, and in the process may have identified some limitations.
I zoomed into the Dominican Republic (DR). While the database does display broad zones, that's about it. If I remove everything but water bodies, theoretically I should see at least the DR's largest inland body of water, Lake Enriquillo in the southwest, but I don't. Either water bodies have to be a certain size to register in the database, or else there are data gaps (I did, however, find several large bodies of water in Central and South America). I also could not find any registration of the sand dunes of Bani, the only such formation in the Caribbean — maybe it's too small in terms of area?
In any case, the current version of the database should be viewed as a foundation on which to build, not the finished structure by any means. I'm hoping that LAC nations, working with the institutions that put together the harmonized database, develop their own, more detailed national databases.
________________________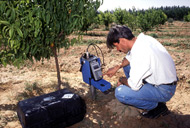 From the UN Food and Agriculture Organization (FAO):
Soil database win-win options for climate change mitigation and food production

A new database on the world's soils improves knowledge of the current and future land productivity as well as the present carbon storage and carbon sequestration potential of the world's soils. It helps to identify land and water limitations, and assist in assessing the risks of land degradation, particularly soil erosion risks, said FAO today.

Derived from the soil database, FAO has produced a global Carbon Gap Map that allows for the identification of areas where soil carbon storage is greatest and the physical potential for billions of tons of additional carbon to be sequestrated in degraded soils.

Soil information has often been the one missing information layer, the absence of which has added to the uncertainties of predicting the potential for and constraints to food and fibre production as well as the capacity of soils to hold carbon and to act as a sink.

Until now, most efforts to use agriculture to manage greenhouse gases have involved above-ground sequestration, primarily through planting trees, since the amount of carbon that can be sequestered in this way is substantial. However, there is also growing interest in finding ways to increase carbon sequestration in soils. Soils are presumed to be the largest carbon reservoir of the terrestrial carbon cycle, although estimates of their magnitude vary widely. Soil can be a source or a sink for green house gases depending on land use management. For long-term sequestration, organic carbon must be stored in forms and in locations in the soil profile with slow turnover.

"The chemical and physical properties of soils also help to determine specific information about how well a soil will perform as a filter of wastes, as a home to organisms, as a location for buildings and as pool for carbon. The more information we have about soil properties, the more we can evaluate the quality of our natural resources all over the world and their potential to produce food now and in future scenarios of climate change" said Alexander Muller, FAO Assistant Director General for Natural Resources and Environment Management.

"Soil characterization data are a key piece of the picture of how an ecosystem work," said Freddy Nachtergaele, FAO soil expert. "Soil properties also tell us whether the soil has the potential to store enough water to keep plants growing through a drought or to withstand a flood. Farmers' knowledge of soil properties also forms the basis of managing fertilizer application efficiently thus reducing avoidable nutrient losses to the environment."

Land Potential Assessment

FAO and the International Institute for Applied Systems Analysis combined recent regional and national updates of soil information worldwide and incorporated the FAO-UNESCO Soil Map of the World into a new Harmonized World Soil Database (HWSD). Other partners such as The European Soil Bureau Network; the Institute of Soil Science of the Chinese Academy of Sciences and ISRIC World Soils contributed significantly to the information.

Soils as carbon stores

Different soils have different capacities to act as a store for carbon which has direct implications for capturing greenhouse gases. The world's soils hold more organic carbon (1500 Gt) than the atmosphere that contains about half this amount as CO2 (720 Gt), and the vegetation (600 Gt) combined. Thus, relatively small changes in the flow of carbon into or out of soils have significant effect on a global scale. In addition to predicting the effect of changing rainfall patterns under climate change scenarios, scientists require information on soil moisture storage capacities which are provided by this database.

The HWSD provides improved soil information worldwide particularly needed in the context of the Climate Change Convention and post Kyoto Protocol instruments for soil carbon measurements and carbon trading. It can also be used by agronomists, farm experts and scientists in planning the sustainable development of agricultural production and will improve land degradation assessments, environmental impact studies and sustainable land management options.

The database will also serve to guide policies aimed at addressing land competition.
Tags: agricultural production, agronomists, cambio climático, carbon sequestration, carbon storage, Climate Change, database, degradación del suelo, environment, European Commission, FAO, gases de efecto invernadero, greenhouse gases, IIASA, ISRIC, ISSCAS, medio ambiente, meio ambiente, mudanças climáticas, soil degradation, Soil Map of the World, UNESCO
Subscribe to My Comments Feed
Leave a Reply