« Improving Environment, Water & Sanitation Management in São Luís | Home | The Disease Burden Associated with Water, Sanitation and Hygiene »
By Keith R | July 18, 2008
Topics: Environmental Protection, Waste & Recycling | No Comments »
Recently Costa Rica was presented its long-awaited Solid Waste Plan (PRESOL) by the entities belonging to the Inter-Institutional Platform of the Competitiveness and Environment Program (CYMA): the Health Ministry (MinSalud), the Planning Ministry (Mideplan), the Ministry of Environment and Energy (MINAE), the Institute for Municipal Development and Advice (Instituto de Fomento y Asesoria Municipal – IFAM – the body representing the country's municipalities), the Chamber of Industries (CICR), and the German technical cooperation agency (GTZ). The CYMA is a broader initiative in cooperation on environmental policy between the German and Costa Rican government. In January 2007 MinSalud asked it to take over the work of a waste policy coordinating committee that it chaired.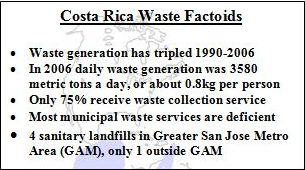 [What presentations and press releases by CYMA and its members tend to omit or gloss over is that this is not the first time Costa Rica has developed a comprehensive waste plan with German help. In 1991 GTZ produced such a plan (PNMD) for MinSalud, but for reasons too numerous and complex to go into here, it was never truly and fully implemented. A key difference between then and now: the development process of PRESOL was far more inclusive than that of the PNMD.]
PRESOL consists of 31 "strategic actions." Some of these are predictable fare for a waste plan, such as improving education of the public about the issues, helping municipalities draft and adopt their own waste management plans, expanding/improving waste data, improving waste collection coverage (up to 90% by 2014), and replacing uncontrolled dumps with regional sanitary landfills. There are some rather some interesting "strategic actions":
special programs for wastes in the tourism sector, hazardous wastes and construction and demolition (C&D) wastes;
a waste framework law, and special regulations on industrial wastes
special rules, programs and guides and guides for "priority hazardous wastes," which are defined to include infectious waste, expired medicines, pesticides, batteries, fluorescent lamps, electronics and electrical equipment (WEEE), used oil, paint residues
usage of "economic instruments" — particularly tax breaks for machinery for recycling and/or for recycled products
a system of recycling quotas for different packaging materials (plastic, glass, paper/board, etc.), plus phase-in of recycling targets for other waste streams (such as tires)
sector-based waste reduction programs for industry
To implement the Plan, a special Coordinating Unit (UCIP) is envisioned that will bring together MinSalud, MINAE and IFAM.
________________________
Desde el Ministerio de Salud (MinSalud):
Una herramienta para la gestión integral de los residuos sólidos

• Presentación oficial del Plan de Residuos Sólidos-Costa Rica, PRESOL.

Esta mañana, fue presentado de manera oficial el Plan de Residuos Sólidos-Costa Rica, PRESOL, a cargo de autoridades del Ministerio de Salud, Ministerio de Ambiente y Energía, Ministerio de Planificación, Instituto de Fomento y Asesoría Municipal y de la Cámara de Industrias; entidades que constituyen la Plataforma Interinstitucional del Programa Competitividad y Medio Ambiente (CYMA).

El PRESOL es un esfuerzo nacional en el que participan diversos actores y sectores de la sociedad, y que desde sus 31 acciones estratégicas planteadas, impulsa acciones orientadas a la reducción de residuos, recuperación de materiales, aprovechamiento energético y tratamiento de los residuos sólidos en Costa Rica, mediante prácticas de producción y consumo sostenibles, que involucran a toda la población.

La iniciativa surge en enero del 2007, cuando la Comisión Coordinadora para la Búsqueda de la Solución Integral del Manejo de los Desechos Sólidos, liderada por el Ministerio de Salud, encarga al Programa CYMA la elaboración del PRESOL.

Durante la fase de confección se analizó de forma participativa y consensuada la situación actual de la gestión de los residuos sólidos en Costa Rica. Los resultados del diagnóstico se resumen de la siguiente manera:
• Entre 1990 y el 2006 se triplicó la generación de residuos en el país.
• En el 2006 se generaron aproximadamente 3580 toneladas de residuos por día, es decir 0,85 Kg. por persona al día.
• La cobertura media de recolección en todo el territorio nacional es aproximadamente de un 75%.
• No existen prácticas de separación de residuos en las fuentes.
• Existen cinco rellenos sanitarios en el país que cumplen con la legislación vigente (cuatro en el GAM y sólo uno fuera de esta zona).
• La mayoría de las municipalidades prestan los servicios en forma deficitaria y carecen de apoyo.

Partiendo de esta realidad, la creación del PRESOL busca orientar las acciones gubernamentales y privadas a corto, mediano y largo plazo; mediante una estrategia uniforme y apropiada a las condiciones de Costa Rica, lo que permitirá implementar paulatinamente una adecuada gestión integral de los residuos sólidos (GIRS) en el país.

Destacan en este plan, entre otros, los siguientes objetivos:
• Garantizar que el manejo de todos los residuos generados en Costa Rica se realice en forma ambiental, social y económicamente adecuada.
• Minimizar los riesgos asociados a la salud humana.
• Disminuir los impactos ambientales.
• Aumentar la valorización de los residuos.
• Definir objetivos, indicadores y acciones obligatorias para los diferentes actores.
• Promover la cooperación público-privada.
• Fomentar soluciones regionales y la cooperación entre gobiernos locales.

El Director del Programa CYMA, Wilfried Hülstrunk, comentó que el enfoque que se tiene en Costa Rica de la gestión de residuos, hace énfasis únicamente en la recolección y disposición final de estos, dejando de lado el aprovechamiento y valorización de los desechos, existiendo alternativas como la reutilización y el reciclaje.

"El plan propone, dejar de lado la idea de que la basura es basura. Debemos pensar de ahora en adelante que hablamos de residuos o materiales que pueden ser aprovechados, que tienen un valor y un uso post-consumo", destacó Hülstrunk.

El PRESOL comprende a todo el territorio nacional y se diseñó para un horizonte temporal de 15 años, en el que se espera haber implementado la visión de GIRS en nuestro país. Sin embargo, debido a la urgencia del país de contar con avances significativos en este ámbito, las acciones estratégicas orientadas a materializar dicha visión, se han enfocado en el corto y mediano plazo (cinco años).

Su implementación contará con una unidad organizacional con representación del Ministerio de Salud, el Ministerio de Ambiente y Energía, y el Instituto de Fomento y Asesoría Municipal, denominada Unidad Coordinadora para la Implementación del PRESOL (UCIP); sus objetivos serán coordinar, monitorear y evaluar la ejecución del plan, así como su actualización y aplicación continua, garantizando la sostenibilidad del mismo.

El PRESOL, como instrumento de planificación para la GIRS, guarda concordancia con otras herramientas existentes, como los planes municipales en la materia, o proyectos que se encuentran en proceso de aprobación, tal como la Propuesta de Ley de Gestión Integral de Residuos (Expediente Legislativo N°15897); en conjunto marcan la ruta que el país desea transitar en materia de gestión de residuos y refuerzan su compromiso con el bienestar ambiental y sanitario para la población.

María Luisa Ávila, Ministra de Salud, indicó que la implementación de este plan, de manera coordinada por parte de las instituciones responsables y con la participación activa y comprometida de todos los sectores de la población, tendrá un fuerte impacto en la salud pública, al estar sustentado en cuatro ejes fundamentales, como son la protección de la salud, la protección ambiental, la responsabilidad compartida y la valorización y uso de materiales, que conjuntamente resultan en la gestión integral de los residuos con un enfoque sanitario y ambiental.

Según la posición del Ministerio de Ambiente y Energía, el PRESOL integra una visión ambiental del tema de los residuos, que articula aspectos de producción y consumo sostenible, así como el aprovechamiento de los desechos. Este proyecto abrirá nuevas oportunidades para la economía nacional e impulsará la competitividad del sector privado, ofreciendo empleo y oportunidades de negocio, propuestas que coinciden con las estrategias que en el MINAE se promueven para evitar y reducir los impactos al medio ambiente, especialmente aquellos que influyen en el suelo, el agua y en el cambio climático.

Según Fabio Molina, Presidente Ejecutivo del IFAM, la GIRS implica una forma distinta de planificar y resolver los problemas, con participación de todos los actores y los mecanismos locales y nacionales. "Por esto, el PRESOL es una herramienta idónea para ser eficiente y eficaz en la ejecución de los servicios que prestan las Municipalidades, cubriendo las necesidades de la población, proporcionando sostenibilidad a esos servicios y protección al medio ambiente", afirmó.

Roberto Gallardo, Ministro de Planificación, argumentó que "el PRESOL representa una oportunidad para analizar, valorar y definir objetivos, y establecer acciones en el tema de la gestión integral de residuos sólidos en Costa Rica, estrechamente relacionada con las variables ambiental, socioeconómica y normativa, haciendo partícipes a todos los actores de la sociedad directamente involucrados, fomentando así, un manejo sostenible de los desechos sólidos". Aunado a lo anterior, Jack Liberman, Presidente de la Cámara de Industrias de Costa Rica, comentó que "para el sector empresarial esta es una opción de promover el emprendedurismo, es un medio para aumentar la competitividad de las empresas, mediante el aprovechamiento de residuos de materias primas de origen externo, que ya han sido nacionalizadas. Esto permite incrementar el valor agregado a los bienes producidos en el país y con ello tener mejores accesos a terceros mercados".

Los entes participantes coinciden en que se requiere la voluntad y empeño de todos para impulsar e implementar este plan, que rendirá frutos positivos y contribuirá en mejorar considerablemente, la salud, el ambiente y la calidad de vida de la población costarricense.
Tags: aprovechamiento energético, aterros sanitários, baterias, batteries, C&D wastes, Cámara de Industrias, CICR, Costa Rica, desechos sólidos, e-desechos, e-lixo, e-scrap, e-waste, economic instruments, embalagem, embalaje, envase, environment, escombros, expired medicines, fluorescent lamps, GAM, GIRS, GTZ, hazardous waste, Health Ministry, IFAM, industrial wastes, infectious waste, llantas, medicamentos vencidos, medio ambiente, MINAE, MinSalud, packaging material, packaging waste, paint residues, pesticides, pilas, plaguicidas, pneumaticos, pneus, PRESOL, PVC, RAEE, reciclaje, recycling, recycling targets, rellenos sanitarios, residuos, residuos de envase, residuos industriales, residuos peligrosos, restos de pintura, San José, sanitary landfills, tax breaks, tires, tourism, turismo, tyres, used oil, valorización, valorization, waste, waste collection, waste dumps, waste electronics, WEEE
Subscribe to My Comments Feed
Leave a Reply