« Jalisco Gets a Waste Law | Home | More LAC Wind and Solar Maps »
By Keith R | February 27, 2007
Topics: Air Quality, Biofuels, Climate Change, Economics & the Environment, Energy & the Environment, Energy Efficiency, Environmental Protection, Extractive Sectors, Marine/Coastal Issues, Renewable Sources | 12 Comments »
In an earlier article, I looked at the sustainability of Brazil's long-range energy plans. Today I examine Barbados' recently announced 20-year plans.

The government of Prime Minister Owen Arthur recently presented to Parliament a ambitious draft national energy plan that has numerous environmental elements in it. While some have applauded its stated intentions — reduction of greenhouse gas emissions, less reliance on imported oil, greater reliance on renewable energy, greater energy conservation and efficiency — others have questioned how realistic the plan is.
Subdued Interest
The reaction to the presentation has been somewhat muted, perhaps because many of the Plan's concepts have been floated at one time or another by the Prime Minister or his Cabinet during 2006.
For its part the media has tended to focus on the provisions of the plan calling for more offshore drilling and exploration, Energy and Environment Minister Elizabeth Thompson's claims for strong international interest (reportedly Exxon-Mobil and Shell) in such concessions and Barbados' plans to set "tough" conditions on competitive bidding for offshore drilling rights.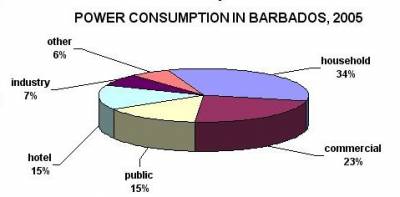 Some have wondered aloud just how interested international petroleum companies really might be, pointing out that Conoco abandoned drilling off Barbados not too long ago — although that was before a UN Law of the Sea arbitration panel recently ruled on the maritime boundary dispute between Barbados and Trinidad, reducing some of the legal risks in such exploration. Some also wonder just how much leverage Barbados really will have in setting special conditions on drilling concessions.
Those energy analysts paying attention at all have focused not just on the drilling rights, but also other major sectoral changes called for in the Plan, namely:
removal of the longstanding power generation monopoly of the private firm Barbados Power & Light Ltd. (BL&P). Among other things, this is to allow so-called "independent power producers" (IPPs) — whether individual households or companies — producing power with renewable energy sources — photovoltaics, wind, waste-to-energy (WTE) — to sell electricity to the national grid.
deregulation of oil imports and retail sale of petroleum products — but the Government intends to retain control of storage and terminal services, and will continue to control prices of kerosene, gasoline and diesel.
enlargement of port berths to accommodate larger tankers;
creation of a National Energy Authority;
Official Bajan expression of interest in Trinidad's proposal for a trans-Caribbean natural gas pipeline, and in investing in photovoltaic production in Trinidad.
The Temas Perspective
While restructuring Barbados' energy profile, liberalizing its markets and reducing its energy security vulnerabilities interest me, the Temas Blog is more about environment, health, safety and consumer issues. Without better data on in-country conditions it would be difficult for me to comment on the consumer implications of the proposed Plan, so here I'll look at its environmental implications.
Actually what initially struck me in reading the draft Plan is its heavy, almost self-conscious emphasis on stressing the environmental dimensions of the energy policy rather than its energy security aspects. For example, the proposed switch from petroleum-based power production to natural gas-based was billed almost as strongly as a move to cut greenhouse gas (GHG) emissions as it was to reduce the country's economic vulnerability to higher international oil prices.
Let's take a look at the Plan's various environment-related elements.
Reducing GHG Emissions
Since the government calculates that some 94% of Bajan GHG emissions are CO2, and electricity generation accounts for 74% of those, switching all but 10% of Barbados' electricity generation from diesel or bunker-fueled plants to natural gas will be the country's major contribution to combating global climate change. [Currently natural gas accounts for only 2.5% of electricity generation, fuel oil 90% and 7.5% diesel.] It would also significantly cut Barbados' import bill, since currently electricity generation accounts for about half of all imported petroleum-based fuel consumption. [Temas Note: Barbados has modest natural gas reserves; if it continued at current consumption rates, the reserves could last about 15 years. To increase usage to 70% of power generation by 2026 will require importing natural gas from Trinidad, either by undersea pipeline or by tankers as compressed natural gas.]
Other steps proposed include:
promotion of energy efficient technologies to reduce energy demand in industrial, commercial and residential sectors;
reduction of CO2 emissions in cement production;
increased use of renewables to 20% by 2026 (see below for details);
replacement of government vehicle fleet with hybrids and electric vehicles, and provision of fiscal incentives for dealerships and rental agencies to offer such vehicles (

Temas note

: hybrid, solar-powered, LPG and compressed natural gas vehicles already enjoy an excise tax rate of 20% vs. the 46.9% for normal cars);
reduction of the introduction of organic material in landfills [

Temas Note

: the Plan does not say

how

this would be done — a ban on the disposal of certain organics at the landfill, as some European and North America jurisdictions have done? A special organic/inorganic waste separation program, together with a massive composting program (which has rarely worked in Latin American and Caribbean (LAC) countries)? Without some credible specifics, it is difficult to see this Plan component being implemented in any meaningful fashion.];
a carbon tax on GHG emitting companies (linked to funding renewables — see below).
BL&P Officials with the late Prof. Oliver Headley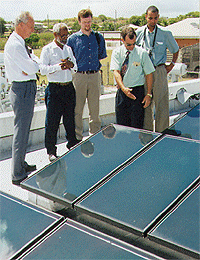 Increased Use of Renewables
Barbados is not a stranger to employing renewable energy technology. One of LAC's best-known solar pioneers was Bajan: Professor Oliver Headley of the University of the West Indies at Cave Hill developed many solar still and solar crop drying systems used throughout the Caribbean Basin, and spearheaded the installation of solar electric systems at several schools, government buildings and even BL&P. Barbados also developed and installed a solar hot water system (SHWS) in some 38,000 homes and 55 hotels (thanks in part to tax incentives for installing the systems) — far more than any other Caribbean nation. The Government now says that it will seek to promote and export the SHWS model to the rest of the region.
The Plan envisions shifting 10% of all national energy usage to renewable sources by 2012, 20% by 2026. [Temas Note: This is a substantial pull-back from the Government's previously announced goal of 30% by 2012, itself lower than the 40% by 2010 projected in the Government's 2000-2010 strategic plan.] The 2026 renewables target range for electricity generation is 14-22% (quite a broad range! wonder why they cannot be more precise?), including:
20-40 megawatts (MW) from wind energy [

Temas Note

: BL&P has already taken the prime onshore spot at Lamberts, St. Lucy. The Plan calls for identifying other sites, "including offshore," but isn't that the main option? If so, why not say so and discuss the areas already suggested by the "years of study" Barbados and BL&P claim to already have done regarding wind potential sites in and around the island? Do the potential offshore sites possibly interfere with the aesthetics of key beaches, or conflict with cruise ship approaches or marine protection areas?];
5-10 MW from landfill gas recovery at Mangrove Pond (the landfill in the process of being closed and replaced);
0-5 MW from photovoltaics;
30 MW from co-generation using bagasse by 2010, as part of the Cane Industry Restructuring Project (CIRP) managed by the Barbados Agricultural Management Company (BAMC) and financed by the Caribbean Development Bank (CDB) [

Temas Note

: essentially this represents a return to BL&P practice during the 1980s and early 1990s];
possibly 30 MW from "plant gasification";
10-20 MW from "other technology" [

Temas Note

: a rather large portion of the power generation pie to leave to unspecified supply technologies. Is this intended for some politically sensitive project the government does not wish to discuss, such as "co-incineration," or one of the various unproven technologies Barbados has flirted with in recent years, such as hydrogen, wave, tidal or ocean thermal energy conversion (OTEC)?].
In addition, the Plan calls for:
producing 14.7 million liters of ethanol annually, implementing the E10 (10% ethanol) blend in the near term and shifting toward E85 by 2026 [

Temas Note

: while it seems possible, maybe with Brazilian help, to meet the target for E10, there are doubts that Barbados can scale up to ever meet the levels full implementation of E85 would entail without significant environmental drawbacks.];
switching all vehicle diesel fuel to 2% biodiesel by 2010, and 10% biodiesel by 2025 [

Temas Note

: is this in reference to Bio-Energy Resources Ltd.'s plans to provide palm oil from Guyana to blend with diesel? (If so, has there been any discussion of the environmental impact of relying on palm oil?) Or does the government plan other, perhaps domestic, sources for the "bio" portion?];
promoting the installation of solar water heaters in more residences and the use of solar air conditioners in government buildings;
funding wind water pumps through the Agriculture Investment Fund "where feasible";
building and staffing a Renewable Energy Center by December 2008;
offering courses and training in renewable energy technologies;
government guarantee of purchasing electricity generated by renewables up to 10% of total electricity use;
providing duty waivers on renewable products [

Temas Note

: in point of fact, the government already waives duties on hydropower systems, solar thermal systems and biofuel systems] and zero value-added tax (VAT) on solar electric systems;
allowing accelerated depreciation for tax purposes of renewable energy and energy efficiency equipment;
offering government loan guarantees up to Bds$200 million on renewable energy projects;
allocating Bds$300,000 annually to renewable energy feasibility studies;
levying a carbon tax on GHG emitting companies "related to the global value of the emission traded under the Kyoto Protocol and other mechanisms," and using the revenues to fund renewable energy projects [

Temas Note

: the carbon tax idea is thrown out there with absolutely no details — because it is too politically sensitive, or because it hasn't been fully thought through yet? What constitutes a "GHG emitting company"? Given the limited Bajan GHG inventory data, how is this to be determined? At what level will the tax be set, and what indicator will the Government utilize to determine "the global value" under Kyoto? What safeguards will there be to ensure that the revenues raised actually go solely to renewable energy projects, and not also to the general treasury or some special infrastructure project?];
creating a Renewable Energy Investment Fund through contributions from the government and the Barbados National Oil Company Ltd. (BNOCL);
requiring 2% of all cars to be solar-powered by 2016;
government investment in photovoltaic cell manufacture in Trinidad;
requiring all buildings above a certain size to incorporate photovoltaic technology into their structure.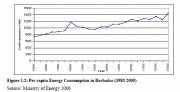 Energy Conservation and Efficiency
In essence, the draft Plan hopes to minimize fuel imports and deal with growth in power demand over the next 20 years (projected at roughly 4% per year) though efforts to reduce wastage and increase efficiency, including:
changing the National Building Code to require buildings above a certain size to meet energy efficiency requirements for their systems/components (lighting, air conditioning, etc.);
compelling the use of materials that keep houses cooler (

Temas Note

: the government had already reduced import duties on the aforementioned materials from 20% to 5%) — such as thermal barriers, roof insulation, window tint and ceramic roof coatings — by banning the importation of products not meeting tougher efficiency standards.
enacting an Energy Conservation Act that

imposes mandatory energy efficiency standards for imports [

Temas Note

: the interesting questions will be (1) for which products — just motors, pumps, turbines, and appliances, or also computers, telecommunications and office equipment? (2) whose efficiency standards will Barbados copy (since it is unlikely that they will take on the expense and delay of developing their own), which will determine whose exports to Barbados will benefit, American or European (in many categories their efficiency standards differ)];
mandating energy efficiency labeling for appliances [TemasNote: Again, following whose labeling scheme — US? Europe's? Canada's? Japan's? Korea's? Brazil's? Mexico's? They differ in key aspects. Or will Barbados take on the bureaucratic nightmare of developing their own standard?]
implementing "market-based programs" to assist consumers and manufactures in adopting energy conservation measures

providing tax incentives for home energy audits. [

Temas Note

: the government had already proposed in 2006 an income tax deduction of up to Bds$2,000 for such audits. Key to success on this point will be the standards on auditors set by the Energy Ministry and their enforcement.].
instituting commercial audits to promote energy efficiency retrofits for the manufacturing and retail sectors;
establishing energy audits for the tourism sector, and using the already created Bds$10 million Energy Fund to retrofit facilities with energy efficient devices;
providing breaks for tourism projects to switch to energy efficient light bulbs (presumably compact fluorescents, although the Plan does not specify) and energy efficiency fittings for their plants;
requiring the ten largest electricity users to audit their facilities and report annually on their energy conservation efforts;
promoting energy conservation through promotion of water conservation, because the Barbados Water Authority is the country's single largest energy consumer.
Transport-Related Provisions
creating a tax regime that favors fuel efficient vehicles;
requiring 30% of all vehicle imports to be diesel-powered by 2016 [

Temas Note

: why set a quota for diesel-power vehicles, especially given the government's stated desire to reduce diesel imports? Why 30%? Are the fuel efficiency numbers of diesel engines really so much better, or is this intended more to create a natural market for the biodiesel fuel when it comes on-line?];
legislating vehicle emission standards and imposing rigorous inspections for buses, trucks, commercial vehicles and cars over 10 years old [

Temas Note

: standards covering which emissions, and following which existing international model — Europe's? The US national standards? California's? Some other (perhaps WHO recommendations?)? And why only for cars over 10 years old, when many jurisdictions impose it on cars five years or older (Buenos Aires just set it for three years or older!)? How will inspections be conducted — by government-run stations, or contracted out?];
phasing out the use of methyl tertiary butyl ether (MTBE) in gasoline (to be replaced by ethanol);
retrofitting regional refineries to meet international standards for sulphur in diesel.
Other Environment-Related Provisions of the Plan

enacting legislation to control stack emissions from fossil fuel burning (primarily electricity generating stations);
surveying gasoline service stations to determine what impact they are having on the marine environment.
ensuring all petroleum storage complies with groundwater and Coastal Zone Management policies.
publishing energy intensity and per capita energy consumption data in the Central Bank's annual report.

Nice Design, But Can You Actually Build It?
The draft Energy Plan hits all the right environmental notes and themes that international institutions, lenders and investors applaud these days — market liberalization, source diversification, GHG cuts, energy conservation, energy efficiency, biofuels and other renewable sources, fuel efficiency and emission standards for vehicles, etc. Probably it should be praised for at least being mindful of such things — lord knows I have read many energy plans in LAC that ignored the environmental impacts of their proposals.
Perhaps too many "smooth" and "sounds good" notes: there is too little feel of the tough trade-offs such policies usually entail, of calculating cost-benefits, of considering where the different items on the laundry list of policy measures might work at cross-purposes or even undermine one another. No firm sense of priority-setting, and everything is spoken of in terms of near- (2010) or long- (2026) term — nothing in the medium-term, as if it does not exist and transitions will take care of themselves.
The paucity of current, hard data in the Plan certainly does not inspire confidence. For example, when discussing air pollution, the Plan cites a 1994 World Health Organization study — back when the number of registered private cars were half what they are now, private lorries and vans 60% less, bagasse was burned and BL&P used older turbine technology. It cannot provide figures for which sectors other than power generation currently uses the most petroleum, because the Central Bank stopped collecting such statistics in 1998. The GHG emission data are all from 1997, ten years ago, so how does the government intend to determine who are the principal emitters now and how much they emit, so that a carbon tax can be assessed?
Curious is the Plan's minimal mention of the role of public mass transit in the island's energy and environment equation. The Plan laments that heavy usage of private cars is inefficient and undesirable, mentions that public transport in rural areas are considered unreliable, notes that public transport is a heavily user of diesel, and says in passing that a comprehensive public transport plan is needed. But why aren't these already factored into the Plan? Wouldn't modern traffic management, more reliable public transport and the use of buses or mini-buses powered by compressed natural gas contribute significantly on a island with an area no bigger than 2.5 times the District of Columbia?
Then there is the excellent point recently raised by my friends at Barbados Free Press: how can this ambitious Plan be implemented in a policy vacuum, when Barbados, after years of promises and drafting and redrafting work, still lacks a general environment law? How can the government impose emission controls, inspect motor vehicles, properly supervise offshore drilling and onshore natural gas storage facilities, ethanol production and wind farms, and generally enforce the many measures envisioned in this Plan without a framework law and supporting regulations (which may take years to write and adopt) and an inspection and enforcement staff and budget?
Further, who is going to be setting and inspecting compliance with the energy efficiency and labeling requirements for appliances, the efficiency components in the building code, the bans on various materials? Who will be conducting all these energy audits envisioned, and what certification will be provided for the auditors?
The devil always is in such details. Can all of the Plan elements truly be realized? To the extent and within the timeframe envisioned? If so, how, given current and prospective budgetary and technical resources available to Barbados? If not, what will be sacrificed first?
The Barbadian Senate already has before it a resolution to approve the draft Plan and urge the Government to "proceed to implement [it] in the shortest possible time." Maybe the Senators should demand further details first, or better yet, an open national public debate on the various elements of the Plan. But given what I have read about the current Administration and its hold over Parliament, this does not seem likely.
— Keith R
Tags: accelerated depreciation, Agriculture Investment Fund, bagasse, BAMC, Barbados, Barbados Free Press, Bio-Energy Resources Ltd., biodiesel, BL&P, BNOCL, building code, buses, carbon tax, Cave Hill, cement, ceramic roof coatings, CIRP, co-generation, CO2, coastal management, cogeneração, commercial vehicles, compact fluorescents, Conoco, diesel, duty waivers, E10, E85, eficiencia energética, electric vehicles, energía renovable, energy audits, energy conservation, Energy Efficiency, energy labeling, etanol, ethanol, Exxon-Mobil, fiscal incentives, fuel efficiency, gas pipeline, gases de efecto invernadero, gasoline, greenhouse gases, groundwater, Guyana, hybrids, kerosine, Kyoto Protocol, lámparas fluorescentes compactas, landfill gas, landfills, loan guarantees, LPG, Mangrove Pond, maritime boundary dispute, MTBE, offshore drilling, palm oil, petroleum products, photovoltaics, Protocolo de Kyoto, renewable energy, roof insulation, service stations, Shell, solar air conditioners, solar water heater, stack emissions, tankers, thermal barriers, tourism, Trinidad and Tobago, trucks, turismo, University of the West Indies, value-added tax, vehicle emissions, vehicle fleet, water conservation, wind energy, wind power, wind water pumps, window tint, WTE
12 Responses to "A Sustainable Energy Plan for Barbados?"
Leave a Reply