« Can Rio Negro Implement an E-Waste Regime? | Home | Brazil Proposes LAC's First Mandatory Standby Power Labels for Projection, Plasma & LCD TVs »
By Keith R | December 30, 2008
Topics: Economics & the Environment, Environmental Protection | No Comments »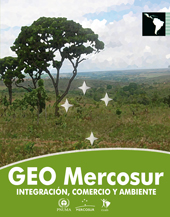 Last month a GEO for the Southern Cone Common Market (MERCOSUR or MERCOSUL) was finally unveiled with much fanfare by representatives of the United Nations Environment Programme (UNEP) at the meeting of MERCOSUR Environment Ministers.
What's a GEO? It's probably the best known type of comprehensive environmental diagnosis available. "GEO" was the acronym for "Global Environment Outlook" first prepared by the in the mid-1990s. The fourth edition of that global report was released in November 2007.
After the success of the global report, it was decided to do a series of assessments/outlooks at the sub-global level using a similar format and methodology, with each report an open, collaborative efforts between governments, civil society, experts, academics, etc. This included country-level GEOs, among them many Latin America and Caribbean (LAC) nations (you can find a Temas list of them here).  It also included GEOs for the Andean Community (CAN) and Caribbean Commuity (CARICOM), but until now, one for Latin America's most important common market, MERCOSUR, was notably missing.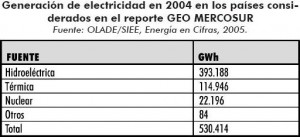 The MERCOSUR GEO is unusual for two reasons: (1) it includes a non-member nation (Chile, which has only associate member status with MERCOSUR) while excluding soon-to-be member Venezuela; (2) it focuses heavily on the interaction between economic integration, trade and the environment (most GEOs do not).
As the MERCOSUR GEO is 189 pages long, I won't try to go through it blow-by-blow. But perhaps it's worth noting some of its findings:
In all but Brazil over half of exports are primary goods or raw material [Brazil is 47%, Argentina 70%, Uruguay 60%, Paraguay 87% and Chile 80-90%].  These exports tend to be concentrated in just a few products: minerals, hydrocarbons, fisheries, agricultural and livestock products and, in the case of Chile, forestry. In these sectors environmental measures tend to be viewed as adversely affecting potential export revenues, and the prices for the goods/materials are mostly determined by countries and businesses not directly suffering the environmental impacts or taking these into account;
these countries share 55 ecoregions among themselves, which means that none of them are environmentally isolated and making it necessary to promote coordinated environmental actions;
over 50% of the area covered by the study has been modified by human use and appropriation, resembling conditions in many industrialized countries;
key emerging topics to be considered and debated include:

over-exploitation of natural resources for export;
advancing agricultural frontiers and deforestation;
fragmentation of forests and loss of soil and water quality;
impacts of monoculture for export;
ecologic "back-packing" (waste products, scraps, unutilized products, etc. that are left behind by natural resource exports);
illegal appropriation and trade;
hazardous waste, toxic substances;
physical interconnection;
energy interconnection; and
mega-export projects.

Amazonia is facing diverse pressures and threats, including illegal trade of fauna and flora, deforestation, mining, and the advancing agricultural frontier. Many Amazonian forests have been converted into agroforestry systems, bringing new problems such as exotic species, the use of agricultural chemicals, and building of new infrastructure;
Although mangrove swamps offer a relatively stable and intact state of conservation in some sites, they are also threatened by chemical compounds and oil refineries, as well as sedimentation resulting from agricultural activity;
Rain forests in the Guyana highlands are strongly pressured by mercury contamination from mining activities, construction of reservoirs, and hunting;
Subtropical forests in the Yungas are in a critically threatened state, particularly due to agricultural conversion such as sugarcane and, more recently, soy and forestry exploitation.
El Cerrado, whose state of conservation is critically threatened, is also under a process of rapid expansion of the agricultural frontier, mostly due to soy farming and cattle raising;
The Pantanal is affected by agricultural and cattle farming expansion, water projects, mining and overfishing;
approximately 90% of the Atlantic Forest has disappeared, much of it converted for farming of sugar cane and coffee for export. For this reason, its state of conservation is evaluated as critically threatened;
moist forests in Araucaria have been evaluated as critically threatened since they have also been reduced by about 90%;
the Paraná forest is considered critically threatened particularly due to the advancing agricultural frontier, and it is estimated that only about 5% of its original area remains;
Argentina's Southern Cone Mesopotamian savanna are classified as vulnerable and threatened by destruction and degradation of its natural habitat as a result of agricultural and cattle farming activities and overgrazing;
The Atacama and Sechura deserts are vulnerable as a consequence of urbanization, mining activities, road construction, cattle farming, commercial plant collection and erosion.
The Espinal in Patagonia is critically threatened; although having a low human population density, it has been affected by overgrazing.
The Valdivian temperate forests are considered critically threatened in view of the fact that a third of their original coverage has been lost.
agrofuel demand may add to pressing factors from agricultural expansion or intensification;
tropical forest conversion (such as Amazonia) or wooded savannas (such as El Cerrado) for agrofuel production will result in a net carbon deficit since the CO2 emissions generated will be greater than the emission of greenhouse gases saved by using such fuels.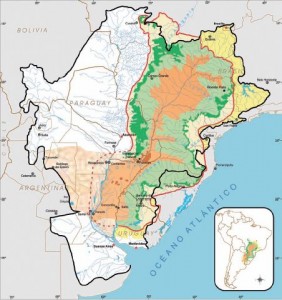 The GEO also offers 16 recommendations for action, including:
deeper incorporation of the environment dimension into MERCOSUR's economic integration;
transfrontier protected areas should be considered for shared ecoregions;
MERCOSUR should consider work in managing shared water resources such as rivers and lakes, aquifers and ice fields;
while differences in environmental demands of each ecosystem's characteristics need to be recognized, MERCOSUR should consider some harmonization establishing regionally agreed upon minimums;
opportunities or restrictions resulting from environmental measures on trade competitiveness should be analyzed;
environmental costs should be internalized so that prices better reflect the environmental costs in the export and import processes;
mechanisms for access to information and participation by the public need to be strengthened.
Tags: agricultura, agriculture, agroforestry, agrofuels, agrotoxicos, Amazonia, aquifers, áreas protegidas, Argentina, Atlantic Forest, biocombustibles, biocombustiveis, Biofuels, Brasil, Brazil, calidad del agua, cattle raising, Cerrado, Chile, comercio, deforestación, deforestation, desmatamento, economic integration, ecoregions, environment, export revenues, fisheries, forestry, GEO, Guyana highlands, hazardous waste, hydrocarbons, livestock, mangroves, Mata Atlântica, medio ambiente, meio ambiente, MERCOSUL, MERCOSUR, mercurio, mercury, mineração, minerals, minería, mining, oil refineries, overfishing, overgrazing, Pantanal, Paraguay, pesticides, plaguicidas, PNUMA, primary goods, protected areas, qualidade da agua, rainforest, recursos hídricos, residuos peligrosos, resíduos perigosos, sedimentation, soja, soy, substâncias perigosas, sustancias tóxicas, toxic substances, trade, UNEP, Uruguay, water quality, water resources, Yungas
Subscribe to My Comments Feed
Leave a Reply