« A Green Report Card for São Paulo's Cities | Home | Wal-Mart Brasil Provides Discounts for Not Using Plastic Bags »
By Keith R | November 28, 2008
Topics: Air Quality | No Comments »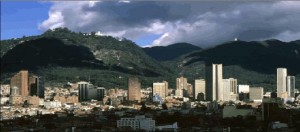 Bogotá's environment authority, SDA, just issued a release declaring that the city's air is getting better.  Their evidence that is so?  First, that the sulfur content in diesel fuel sold in the capital has fallen from 500 parts per million (ppm) this past July to 231 ppm in October.  They attribute the drop to the agreement with Ecopetrol made earlier this year to drop the sulfur content of the fuel they distribute from the 1,200 ppm prevailing in Bogotá at the beginning of 2008 (outside Bogotá it was as high as 4,500 ppm) to 50 ppm (the European standard for diesel) by December 2009.
The second indicator they point to involves large particulates (10 microns in diameter or smaller), known as PM10.  In January-October 2007 the average of measured levels was 70.6 micrograms per cubic meter (µg/m3); during the same period in 2008 this was 64.9.  The district environment secretary, Juan Antonio Nieto Escalante, said that a one-point drop was cause enough for celebration, but a near six-point drop in such a short time was more than officials dared hope for.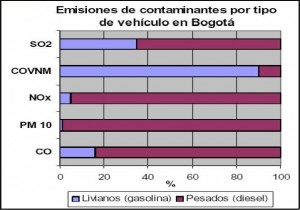 Nieto Escalante went on to argue that emissions reductions would be even greater if residents could be convinced to give up their older cars, especially those 20 or older.  [Temas Note: While it may be true that getting older and poorly maintained cars off the road will help, studies show that the majority of SO2 and PM10 emissions from mobile sources in Bogotá come from heavy, diesel-burning vehicles (buses and trucks) (see graphic at right).]
What They're Not Saying
In the days since that release, many Bogotá residents have openly expressed their skepticism on news sites and blogs about whether their city's air has indeed improved.  For my part, I am struck by what the authorities are not telling us, and wonder if maybe citizens may be right to be skeptical.
Take for example the sulfur content of diesel metric, and how much time SDA spends telling us about the levels and all the testing that they have done to confirm that resellers are complying with the new diesel standards.  I am glad to hear that the content levels are falling, and that Ecopetrol appears to be on-schedule to meet its commitment to implement low-sulfur diesel two years ahead of the requirement under current law (2009 instead of 2011).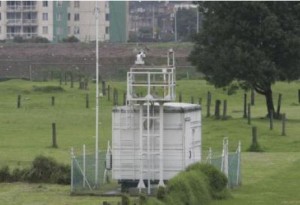 But why focus so much on the sulfur content of the fuel — one source of sulfur dioxide (SO2) emissions — but say nothing about the measurement of its actual impact on air quality in the city?  They are silent about SO2 levels measured during 2008.  Were the levels embarassing, perhaps rising, or unchanged, or dropping too minutely to merit mention?
Then there are the two other problems I see with the sulfur claims.  The first is that not all the stations of the Air Quality Monitoring Network of Bogotá (RMCAB) measure SO2, so how complete is the picture city environment officials have in any case?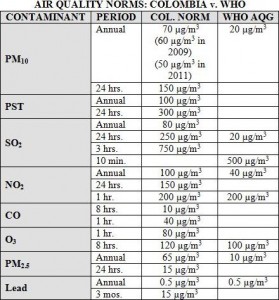 The second is with the norm itself set under current Colombian law.  In their report on air quality in 2007, city officials boasted that SO2 levels were well below the official limit set by legislation.  However, that is hardly reassuring: the World Health Organization's (WHO) recently revised Air Quality Guidelines (AQGs) for 24-hour exposures to SO2 is one-tenth lower than the Colombian norm and below the levels RMCAB registered for 2007.  It also should be noted that Colombian norms do not cover, and RMCAB's stations do not measure, short exposures (every 10 minutes) that the WHO AQGs recommend.
Then there is the PM10 metric cited.  All decreases in PM10 are welcome, especially for vulnerable populations, such as those with respiratory illnesses (asthma, chronic bronchitus, etc.).  But there many caveats to that figure:
As good as it may be (particularly for a LAC nation), RMCAB monitoring of PM10 has gaps (note the area of the city not cover in the south in the emissions map at right): areas where there are no monitoring stations, two stations that only monitor weather conditions but not contaminants, and one station that monitors all contaminants except PM10.
The figures cited are an arithmetic average for nine months.  They include at least one month (February) which was above the existing Colombian limit of 70 µg/m3 (76), and another (October) was very close to it at 68.8 µg/m3.  Furthermore, left out of the averaging are November and December, traditionally two of the higher months in any given year for PM10 emissions (see graph at right of month-to-month variations for PM10).
Even if you can assume 64.9 µg/m3 will end out as the average for all 2008, that is still five points above the average set by law for 2009 and only back to the levels of 2001.  And perhaps more importantly, it remains over three times higher than the WHO AQG.
And what about the other contaminants that RMCAB regularly monitors?  Why is SDA not talking about them?  These include nitrogen dioxide (NO2), carbon monoxide (CO), ozone (O3), total suspended particulates (PST) and fine particulates (PM2.5).
Have they shown any notable improvement?  That's hard to say, since SDA has not been posting the monthly air quality reports on their website since the end of 2007.  Why the lack of transparency, especially at a time when they are trying to convince everyone that the air is getting better?
____________________

Desde la Secretaría Distrital de Ambiente (SDA) de Bogotá:
Se recupera el aire bogotano: diésel de mejor calidad y reducción de PM10, lo demuestran

El pacto para mejorar la calidad del aire de Bogotá, firmado entre la Administración Distrital y Ecopetrol en febrero de este año, continua dando resultados. Mientras que en el mes de julio, la concentración de azufre en el diésel de la capital era de 500 partes por millón (ppm), en octubre se redujo a 231 ppm. Además, la concentración del material particulado PM10, en comparación con 2007, descendió  8 por ciento.

Según los registros obtenidos por la Secretaria Distrital de Ambiente, la concentración de azufre en el diésel durante el mes de octubre alcanzó los 231 partes por millón (ppm), lo que significa una reducción importante en la contaminación ambiental, si se tiene en cuenta que al inicio de 2008 la concentración de azufre en este combustible se reportaba en 1.200 ppm.

Como se recordará en febrero de este año, la Administración Distrital inició su propósito de  ponerle freno a la problemática de la polución del aire en la capital, a través de la firma de un pacto con Ecopetrol, mediante el cual la petrolera se comprometió a suministrar un diésel de 500 partes por millón de azufre a partir del primero de julio del presente año, hasta alcanzar la meta para diciembre de 2009 de 50 ppm, cumpliendo así con los estándares internacionales establecidos. La Secretaría Distrital de Ambiente fue la entidad designada para verificar que la estatal petrolera suministrara a las estaciones de servicio un combustible con dichas especificaciones.

De acuerdo con el seguimiento realizado a través del laboratorio del Centro de Investigaciones en Ingeniería Ambiental de la Universidad de los Andes, que realiza el muestreo en todas las estaciones de servicio, en el mes de julio la concentración de azufre de las fuentes móviles fue inferior a las 500 ppm, hecho que significaba el cumplimiento por parte de petrolera. En el mes de agosto, esta concentración de 500 ppm de azufre en el ACPM se redujo más de la mitad, alcanzando un valor de 214 partes por millón; el dato más reciente, del mes de octubre, es de 231 ppm.

En el último informe de la SDA y Uniandes, se tomaron 59 muestras de gasolina y 60 de diésel, para un total de 107 estaciones en toda la ciudad. Además, se midieron parámetros como contenido de agua, destilación, densidad y contenido de cenizas. Dicho análisis reveló que ninguna de las muestras presentó valores superiores al 0.05% de agua (valor máximo permitido), y ninguna superó el 0.01% de cenizas.

En el 2007, los vehículos que operaban con ACPM empleaban un combustible con concentraciones de azufre superiores a las 1.200 partes por millón (ppm), lo que hacía del aire bogotano una fuente de las enfermedades respiratorias y de deterioro ambiental. Actualmente, la Administración Distrital mitiga este problema a través del monitoreo y seguimiento permanente, garantizando así el mejoramiento en la calidad del aire de Bogotá.

"Efectivamente, el diésel suministrado por la petrolera es de mejor calidad. Hemos pasado de 1.200 partes por millón a casi 200 en tan sólo 10 meses. Sin embargo, estos cambios deben ser apoyados por un cambio en la cultura de las fuentes móviles, por medio de la chatarrización, de mejores conductas por parte de los conductores y del uso de equipos de calibración aptos", dijo Juan Antonio Nieto Escalante, Secretario Distrital de Ambiente.

PM10 sigue a la baja

Debido a la puesta en marcha del pacto, el material particulado PM10 también ha disminuido, en comparación con los valores registrados en el 2007. Según registros de la Red de Monitoreo de Calidad del Aire de Bogotá (RMCAB), entre enero y octubre de 2007, el promedio de PM10 fue de 70,6 microgramos por metro cúbico (µg/m3), mientras que en 2008, el promedio se redujo a 64,9.

En pocas palabras, la concentración promedio de PM10 en Bogotá, entre 2007 y 2008, se ha reducido 5,7 microgramos por metro cúbico, cifra equivalente a 8 por ciento. "El hecho de disminuir un microgramo de concentración de PM10 es motivo de celebración. Ahora, reducir casi seis es toda una osadía. Esto ratifica que el pacto firmado está dando los primeros resultados en el aire bogotano", concluyó Nieto Escalante.

Sin embargo, el Secretario de Ambiente fue enfático en asegurar que la reducción sería mucho mayor si los bogotanos mejoran las conductas con sus propios vehículos. "Un carro que tiene más de 20 años de vida, a pesar de que use un diésel de buena calidad, generará emisiones contaminantes, debido a su deterioro mecánico, lo que debe inducir a una renovación sistemática del parque automotor".

En el 2008, el mes que registró la menor concentración de PM10 fue julio, con 46 µg/m3, producto de la entrada en el mercado del diésel de 500 partes por millón de azufre. Durante este mismo mes del año pasado se alcanzaron concentraciones de 60.4 µg/m3.

Todos los registros del presente año son inferiores a los obtenidos en el 2007. Mientras que en febrero del año pasado, la concentración de PM10 fue de 100.5 µg/m3, en 2008 cayó a 76. En octubre de 2007 esta concentración fue de 72,1, mientras que en el 2008 pasó a 68,8, disminuyendo 3,3 µg/m3.

La Red de Monitoreo de Calidad del Aire está conformada por 15 estaciones, de las cuales 13 son de calidad de aire y meteorológicas. Estas estaciones se encuentran ubicadas por todo el DC. En el norte se encuentran dos (Escuela y Bosque), en el noroccidente tres (Corpas, Carrefour y Fontibón), en el centro tres (Santo Tomás, IDRD y MAVDT), una en el centroccidente (Puente Aranda), dos en el suroccidente (Kennedy y Cazucá) y cuatro en el sur (Sony, INEM del Tunal, Vitelma y Usme).
Tags: air pollution, Air Quality, azufre, Bogotá, buses, calidad del aire, CO, Colombia, contaminación atmosférica, diesel, Ecopetrol, fuentes móviles, NO2, O3, particul, particulates, PM10, PM2.5, PST, RMCAB, SDA, sulfur content, trucks, Universidad de los Andes
Subscribe to My Comments Feed
Leave a Reply