« An E-Waste Bill for Colombia | Home | Pesticide Residue Levels in Brazilian Food »
By Keith R | April 15, 2009
Topics: Air Quality, Motor Vehicles | No Comments »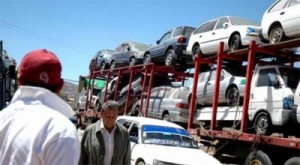 Peru's Environment Minister wants everyone to be clear: as of 2011, no more used vehicles will be imported through the Tacna Free Zone (ZofraTacna).
Dr. Antonio Brack Egg says that starting in 2011 there will be no more importation of used vehicles in order to cut down on vehicle and air pollution, because Peru's vehicle fleet age is now around 18 years old, the oldest in Latin America, with all that implies for health, safety and the environment.
Law 29,303 of December 18, 2008 orders the halt to used car imports.  Brack Egg wants to make it clear that the implementing rule for the law states that imports of used cars for repair and refurbishment in the workshops of ZofraTacna must stop as of 31 December 2010, not 31 December 2011 as some have claimed.
The decision on the date for full implementation of the law was taken by a high-level commission that includes the Ministry of Environment (Minam), as well as representatives of the Regional Government of Tacna, the Ministry of Energy and Mines (Minem), and the Ministry of Production.
Since the beginning of the importation of used vehicles in 1991, 653,742 used cars have been reported entering the country, of which 476,695 are cars and the rest vans and station wagons.  It is estimated that in 2008 about 3,500 new vehicles were imported at Tacna, mostly from Brazil and Argentina to a lesser extent.
Officials expect enforcement of Law 29,303 to benefit the environment and public safety and health, since cars are a major cause of traffic accidents in Peru new cars have lower emission levels.  In Peru the greatest number of vehicle trips per day are in Lima transit, numbering about 10 million trips a day.  According to the Health Ministry's Environmental Health Directorate (DIGESA), recent measurements found as much as 200 micrograms of particulate material in just two hours along Lima's Abancay Avenue, causing bronchial problems, allergies, etc. for residents of the capital.
A 2009 national Study done for MINAM identified 13 cities with populations over 250,000 whose air quality deserves  priority attention under the terms of Supreme Decree 074-2001-PCM: Arequipa, Cerro de Pasco, Chiclayo, Chimbote, Cusco, Huancayo, Ilo, Iquitos, La Oroya, Lima-Callao, Pisco, Piura and Trujillo.
MINAM has added new Environmental Quality Standards (ECA) on air quality to complement existing ones on benzene, fine particulate matter (less than 2.5 microns – PM2.5), hydrogen sulfide (H2S), total hydrocarbons (HT) expressed as hexane, and also reset the standard for sulfur dioxide (SO2), making it more demanding, in order to ensure that by 2014 it will match the World Health Organization's (WHO) recommended norm of 20 mg/m3.
In line with its announced objectives, MINAM is proceeding this year with proposals for five maximum permissible limit (LMP) forms for industrial activities, regulatory instruments that will allow the control and punishment of those who exceed emission limits through the Environmental Assessment and Control Organism (OEFA).
___________________
Desde el Ministerio del Ambiente (Minam):
MINISTRO BRACK: "A PARTIR DE 2011 NO HABRÁ MÁS IMPORTACIÓN DE VEHÍCULOS USADOS"

A partir de 2011 no habrá más importación de vehículos usados en la Zona Franca de Tacna (ZofraTacna), lo que será fundamental para evitar accidentes de tránsito, contaminación ambiental y a su vez contar con un renovado parque automotor que actualmente tiene 18 años, siendo uno de los más antiguos de América Latina, aseguró hoy el Ministro del Ambiente, Dr. Antonio Brack Egg.

"Hay que ser claros en que des­de el pró­xi­mo año, la im­por­ta­ción de ve­hí­cu­los usa­dos a través de esta zona es­tará pro­hi­bi­da de acuerdo a la Ley 29303 del 18 de diciembre de 2008, pe­se a soli­ci­tu­des respecto a que se ex­tienda has­ta el 2012, pero invoco que primero es la salud y seguridad de las personas e impedir que continúen los altos niveles de contaminación ambiental", expresó el titular del sector.

La norma promulgada por el Ejecutivo establece que el 31 de diciembre de 2010 será la fecha final para la reparación y el reacondicionamiento de autos usados importados en los talleres de la Zona Franca de Tacna.

Por otra, El Ministerio del Ambiente formó parte de la co­mi­sión de al­to ni­vel en el que participó con su representante Eduardo Talavera Ampuero, además de Víctor Damián López, presidente de la comisión y representante del Gobierno Regional de Tacna; Jennie Vizcarra Alvizuri, del Ministerio de Energía y Minas; y Douglas Humberto Torres García, del Ministerio de la Producción; quienes coinciden en el análisis de la pro­ble­má­ti­ca de la im­portación de ve­hí­cu­los a me­dio uso en Pe­rú y en la Zo­fra­Tac­na, con­clu­yendo que no debería haber más importación de autos usados, ni una nueva ampliación más allá del próximo año.

Des­de que se inició la im­por­ta­ción de ve­hí­cu­los usa­dos en 1991, se ha re­por­ta­do el in­gre­so al país de 653.742 au­tos usa­dos, de los cuales 476.695 son automóviles y camionetas station wagon.

Según el Informe Nº 01 – 2009 de la Comisión para el Desarrollo de las Zonas de Tratamiento Especial Tacna, se estima que en el 2008 ingresaron aproximadamente 3.500 vehículos nuevos por la frontera de Tacna provenientes principalmente de Brasil y en menor proporción de Argentina. La venta de ese año en el interior del país superó los 199 millones de dólares, mientras que la venta al exterior generó más de un millón de dólares.

La aplicación de la ley 29303 traerá beneficios tanto al medio ambiente como a la seguridad y salud de la población, debido a que los vehículos con timón cambiado son una de las principales causas de accidentes de tránsito en las carreteras del país. La norma también indica que sólo se podrá importar autos nuevos, lo que ayudará a rebajar significativamente los niveles de contaminación en las ciudades, y permitirá incrementar los vehículos con tecnología adecuada para una combustión más eficiente.

La mayor cantidad de viajes de Lima se realizan en transporte público, generándose unos 10 millones de viajes al día. En ese sentido, el problema de la contaminación se ha acentuado especialmente en la Avenida Abancay, que en sólo dos horas de tránsito se encontró 200 microgramos de material particulado (monóxido de carbono, óxidos de nitrógeno, bióxido de azufre y los temibles hidrocarburos policíclicos condensados HPC), causante de problemas bronquiales, alergias, etc., de acuerdo a la Dirección General de Salud Ambiental del Ministerio de Salud (DIGESA).

Conforme al Estudio Nacional Ambiental 2009 del MINAM, en el Perú se han identificado 13 ciudades con un número mayor a 250 mil habitantes que merecen atención prioritaria debido a los problemas de contaminación de aire (según DS N 074-2001-PCM). Las ciudades identificadas son Arequipa, Cerro de Pasco, Chiclayo, Chimbote, Cusco, Huancayo, Ilo, Iquitos, La Oroya, Lima-Callao, Pisco, Piura y Trujillo.

Cabe destacar que el Ministerio del Ambiente ha logrado la aprobación de Estándares de Calidad Ambiental (ECA) de Aire complementarios a los ya existentes, ellos son, Benceno, Material Particulado menor a 2,5 micras (PM2,5), Sulfuro de Hidrógeno (H2S), Hidrocarburos Totales (HT) expresado como Hexano y reajuste al estándar de Dióxido de Azufre (SO2), haciéndolo más exigente, con lo que se logrará que al 2014, el ECA de este contaminante tan perjudicial para la salud humana y el ambiente sea el establecido por la Organización Mundial de la Salud, es decir 20mg/m3,(D.S. Nº 003-2008-MINAM).

De acuerdo a sus objetivos, el MINAM continúa con los procesos de aprobación de los Límites Máximos Permisibles (LMP) para emisiones contaminantes, poniendo en consulta pública, entre los meses de enero y marzo de este año, cinco propuestas de LMP para actividades industriales, instrumentos ambientales que permitirán la fiscalización y sanción a quien sobrepase los límites de esas emisiones y ponga en riesgo la salud de las personas y contamine el ambiente, a través del Organismo de Evaluación y Fiscalización Ambiental (OEFA), adscrito al portafolio ministerial.
Tags: alergias, Arequipa, Argentina, autos usados, benceno, benzene, bióxido de azufre, Brasil, camionetas, car imports, carros, cars, Cerro de Pasco, Chiclayo, Chimbote, contaminación atmosférica, Cusco, DIGESA, ECA, H2S, HPC, Huancayo, hydrogen sulfide, ILO, Iquitos, La Oroya, Lima-Callao, LMP, material particulado, Minam, MINEM, monóxido de carbono, motor vehicles, OEFA, OMS, óxidos de nitrógeno, parque automotor, Peru, Pisco, Piura, PM2.5, SO2, station wagon, Tacna, Trujillo, used vehicles, vans, vehículos usados, WHO, ZofraTacna
Subscribe to My Comments Feed
Leave a Reply