« WHO & FAO Call for Countries to Improve Food Safety Vigilance / OMS y FAO: paises tienen que mejorar su vigilancia de la seguridad de los alimentos | Home | Assessment of Non-communicable Chronic Disease in Uruguay / Diagnóstico de las enfermedades crónicas no transmisibles en Uruguay »
By Keith R | July 21, 2007
Topics: Air Quality, Climate Change, Conservation, Environmental Education, Environmental Governance, Government Accountability, Sanitation, Waste & Recycling, Water Issues | No Comments »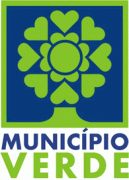 Synopsis in English: São Paulo State's governor, José Serra, and Environment Secretary, Xico Graziano, recently announced the formal launch of the "Green City" project promised as part of the Governor's package of 21 strategic environmental measures. By early July, 393 of SP's 645 cities had already signed onto the program's protocol of 10 commitments, covering such areas as sewage treatment, collection and recycling of solid wastes, environmental education, sustainable housing, air pollution control, rational water use, etc. (click on box below to view full-sized image of the basic commitment checklist). [As you might notice, several of the Green City commitments are tie-ins to other portions of the State's 21 measures program.]
Municipalities agreeing to the commitments will be given preference in state programs, technical and financial assistance. This help will range from strictly environment related — drafting a municipal environment code and supplementary regulations, staffing and training a municipal environment authority, designing and implementing an environmental education or environmental zoning program, etc. — to more common municipal concerns, such as paving or repaving neighborhood streets.
The active cooperation of municipal administrations is key if Serra is to meet the goals set out in his 21 measures initiative. For example, 182 SP municipalities have no sewage collection and treatment system whatsoever, 228 only treat 20% of their sewage. 143 have inadequate waste treatment and disposal systems. Municipal participation will be critical to recovery of 1.7 million hectares of "eyelash forest" (mata ciliar). [The mata ciliar are the vegetation lining rivers, lakes and other bodies of water that help impede the entrance of pollutants into those bodies of water.] And but far from least, if Serra is to meet his goal of devolving all environmental licensing of projects with strictly local impacts to the municipalities, he must first help many of them establish the rules, institutions and technical staff to do so.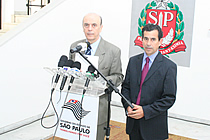 Desde a Secretaria de Meio Ambiente do Estado de São Paulo (SMA):
Programa Município Verde recebe adesão de 393 cidades paulistas

Projeto Município Verde quer parceria de municípios na preservação ambiental

Um total de 393 cidades paulistas já aderiu ao Projeto Município Verde, que o governador José Serra e o secretário Xico Graziano, do Meio Ambiente, lançaram nesta terça-feira (3/7), no Palácio dos Bandeirantes, com a finalidade de envolver prefeitos, vereadores e representantes da comunidade em ações para a melhoria dos sistemas de tratamento de esgoto, coleta e reciclagem de lixo, educação ambiental, arborização e outras.

Para Serra, com esse projeto, "a questão ambiental passa a integrar a agenda política do Estado, buscando a adesão de todos os segmentos da comunidade no cumprimento das dez diretrizes estabelecidas pela Secretaria do Meio Ambiente". O governador alertou que os municípios que cumprirem o protocolo assinado terão preferência nas ações do governo, até mesmo para recuperação de estradas vicinais.

"O Estado não tem recursos para tocar todas as ações sem o apoio dos prefeitos, que conhecem a realidade de cada um dos municípios", salientou. E lembrando Franco Montoro, que defendia a descentralização da administração, repassando atribuições às prefeituras, propôs a instituição de um prêmio para os municípios que cumprirem com maior proficiência os itens propostos no protocolo, com o nome do ex-governador.

Graziano fez uma explanação do Projeto Município Verde, enumerando os dez itens que integram o protocolo assinado pelos prefeitos: esgoto tratado, lixo mínimo, recuperação de mata ciliar, arborização urbana, educação ambiental, habitação sustentável, uso racional da água, controle da poluição do ar, estrutura ambiental e conselho ambiental.

Segundo o secretário, 182 municípios não dispõem de nenhum sistema de coleta e tratamento de esgoto, 228 tratam somente 20% do esgoto gerado e 308 tratam mais de 80% dos esgotos.

Na questão de resíduos sólidos, 143 municípios tratam o lixo de forma inadequada e 181 dispõem de sistemas adequados e ainda realizam coleta seletiva de resíduos. Graziano apontou também o problema da cobertura vegetal no Estado, que precisa recuperar 1,7 milhão de hectares de matas ciliares.

"Até março do próximo ano, vamos realizar a avaliação dos municípios para premiar os que cumprirem o protocolo de forma mais eficiente, e os que se destacarem terão privilégios no acesso a recursos do Estado", explicou.

Além dos representantes dos 645 municípios paulistas, a solenidade contou com as presenças do presidente da Assembléia Legislativa, deputado Vaz de Lima, prefeito da Capital, Gilberto Kassab, secretário-chefe da Casa Civil, Aloísio Nunes Ferreira, secretária de Saneamento e Energia, Dilma Pena, e prefeito de Brotas, Orlando Pereira Barreto Neto, que discursou em nome dos prefeitos presentes.

Projeto Município Verde

O Projeto Município Verde propõe o desenvolvimento de ações articuladas entre o Governo do Estado e as prefeituras, estabelecendo formas de gestão ambiental compartilhada com responsabilidades mútuas. O projeto exige o desenvolvimento de competência gerencial nos municípios e, em contrapartida, o Estado, por intermédio da Secretaria do Meio Ambiente, oferece apoio técnico e treinamento às equipes das prefeituras.

O objetivo do projeto é fazer com que os municípios criem uma estrutura executiva com capacidade e autonomia para a gestão das questões ambientais locais, envolvendo a Câmara dos Vereadores e as entidades civis. Com essa finalidade, a Secretaria do Meio Ambiente vai estimular a aprovação de legislação ambiental no âmbito dos municípios, criando o suporte institucional às ações de proteção ambiental.

Outro ponto é a transferência da atribuição de licenciamento ambiental e fiscalização de empreendimentos com impactos locais, devendo os municípios criar estrutura e montar equipes técnicas com competência para a realização de diagnósticos, planejamento e zoneamento ambiental, determinação de indicadores de qualidade do meio ambiente, com a supervisão dos órgãos da Secretaria do Meio Ambiente.
Tags: air pollution, arborização urbana, basura, coleta seletiva, contaminación atmosférica, educação ambiental, environment, Environmental Education, environmental licensing, habitação sustentável, José Serra, licenciamento ambiental, lixo, matas ciliares, medio ambiente, meio ambiente, Município Verde, poluição do ar, rational water use, reciclagem, recycling, residuos sólidos, São Paulo, selective collection, sewage treatment, sustainable housing, trash, tratamento de esgoto, uso racional da água, waste treatment
Subscribe to My Comments Feed
Leave a Reply