« Update: Easier Buying Recycled | Home | Swiss to Help Minas Prepare E-waste Diagnosis »
By Keith R | March 7, 2009
Topics: Air Quality, Motor Vehicles | No Comments »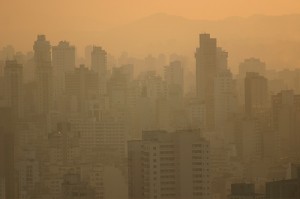 Vehicle emissions indirectly kill 20 people per day in the São Paulo metropolitan region, according to a study reported in the daily Folha de São Paulo done by the Air Pollution Laboratory of the University of São Paulo's (USP) Faculty of Medicine (FM). The study was commissioned by the Brazilian Health Ministry (MS) and has not yet been officially released.
The new estimated mortality rate is much higher than that of five years ago, when the average was calculated at 12 deaths per day for cardio-respiratory diseases "accelerated" by vehicular pollution.
The study, utilizing World Health Organization (WHO) parameters, finds that the chance of a person dying from cardiopulmonary disease in 39 municipalities of the SP metropolitan area is 10.9%.  Without vehicular emissions, that probability would fall to 2.4%.
Current SP metropolitan area air quality standards indirectly kill about 7,187 paulistas aged 40 or more (the most vulnerable group), about 65% higher than in 2004, the last year researched.  The main associated diseases are heart attack, stroke, pneumonia, asthma and lung cancer.
Utilizing statistics from 2008, the study estimates that vehicular pollution is also responsible for 13,100 hospitalizations each year, with an annual cost of R$334 million — 25% of it paid for by the Unified Health System (SUS).  Children up to four years of age and adults over 60, with about 5,000 hospital admissions per group, account for most of those affected.
SP's air is nearly three times "heavier" than the limits suggested by WHO: the daily average concentration of inhalable fine particulate matter (PM 2.5, the most harmful particles that reach the lungs and cause illness) is 28 mg/m3, 18 more than the limit called for by WHO.  A study recently published in the New England Journal of Medicine (NEJM) found that decreasing PM2.5 levels increases life expectancy.  Examining date from 51 US metropolitan areas, the NEJM study found that a 10 mg/m3 drop in PM2.5 increased average life expectancy around seven months.
The USP researchers blame the worsening air quality in metropolitan SP on the recent spurt in growth of the local vehicle fleet.  In 2004 the region had 6.3 million motor vehicles; now it has 9 million.  Motor vehicles were found to be responsible for 50% of airborne particulate matter in SP, the highest percentages of six Brazilian state capitals recently surveyed.  The diesel fleet (trucks, buses and utility vehicles) account for 15% of the total, and constitute the most pollutiing in terms of PM emissions.  However, USP researchers argue that the role of the increasing number of motorbikes and cars in the region should not be overlooked.
Tags: acidente vascular cerebral, air pollution, asma, asthma, Brasil, Brazil, buses, caminhões, câncer de pulmão, carros, cars, diesel engines, doenças cardiorrespiratórias, frota a diesel, Health Ministry, infarto, life expectancy, lung cancer, Ministério da Saúde, motor vehicles, NEJM, OMS, ônibus, particulate matter, pneumonia, poluição atmosférica, poluição do ar, São Paulo, stroke, SUS, trucks, USP, vehicle emissions, vehicle fleet, WHO
Subscribe to My Comments Feed
Leave a Reply