« Cans and Bottles for Electricity | Home | Do Tobacco Ad Bans Reduce Smoking Among Youth? Results of a Brazilian Study »
By Keith R | January 24, 2007
Topics: Air Quality, Biodiversity, Biotechnology, Chemicals, Climate Change, Economics & the Environment, Environmental Protection, Hazardous Substances, Pharmaceutical Issues, Renewable Sources, Waste & Recycling, Water Issues | No Comments »
Another piece I started long ago (at the end of Sept.) and left in the queue. I'll clear the backlog yet! This is one is not over-ripe, though, because the Andean Community is only now implementing the Agenda.
The Lima-based General Secretariat of the four-nation Andean Community* (Comunidad Andina – CAN) has released the Community's work plan on environmental issues through 2010, La Agenda Ambiental Andina ("The Andean Environmental Agenda"). The Agenda is the end-product of a process launched in 2004, when it was decided to create a ministerial-level council on environment and sustainable development and to formulate common CAN policies on key environmental issues.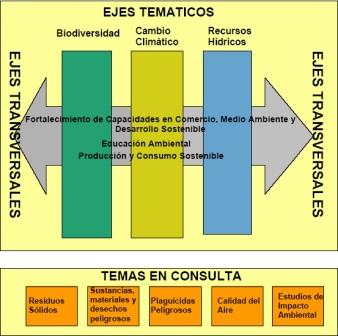 The Agenda is quite (perhaps too) ambitious, but CAN officials are confident it can be fully realized because in many cases they have already lined up funding sources and technical help, including the Andean Development Corporation (Corporación Andina de Fomento – CAF), Spanish aid agency (AECI), Japan's International Cooperation Agency (JICA), the UN Environment Programme (UNEP), the UN Development Programme (UNDP), Canada's International Development Research Centre (IRDC), Germany's technical cooperation agency (GTZ), the Pan American Health Organization (PAHO/OPS), the government of Finland, and the Swiss and Dutch aid agencies.
Among the notable elements of the five-year program:
aid and implement the Regional Strategy for the Conservation and Sustainable Use of Altiplano Wetlands;
elaborate and launch a regional project on biotechnology and biosafety;
consolidate the Andean BioTrade Program [with help from CAF and the Global Environment Facility (GEF)];
elaborate a regional project on methodologies for the evaluation and "just and equitable distribution" of benefits from granting access to genetic resources;
elaborate a common Andean negotiating strategy vis-a-vis international talks toward an International Regime of Access to Genetic Resources and Distribution of Benefits;
Formulate an Andean Strategy and Action Plan on Climate Change and coordinate negotiating positions vis-a-vis the UN Framework Convention on Climate Change and its Kyoto Protocol;
Elaborate regional maps of likely vulnerabilities and risks to ecosystems and the poor stemming from climate change;
Identify and promote action to remove the principal barriers in member countries to clean development mechanism (CDL) projects;
Develop common national procedures for the evaluation, approval, registration and tracking of CDL projects;
Promote, in coordination with CAF, the creation of a "high quality" Andean CDL Project Market;
Elaborate a diagnosis of the potential for renewable energy sources for CAN nations;
Formulate an Andean Strategy for the Integrated Management of Water Resources, to include basin management and policies on rational water use, payment for environmental services, and the participation of organized communities in formulating water management policy;
Identify and formulate joint management plans for transborder water bodies and basins;
Establish common criteria for source protection and the treatment of wastewater;
Promote national environmental standard programs for commercial products (pharmaceuticals, instruments and equipment, "nutri-ceuticals", etc.);
Elaborate regional policies on sustainable production and sustainable consumption (including green purchasing policy);
Joint work to help municipalities — particularly those with populations of 50,000 or less — develop, adopt and implement Plans for the Integrated Management of Solid Wastes (PGIRS), including building national/local technical capacity in this area and closing illegal dumps;
Create a regional network that identifies and works to stop the principal types of illegal traffic in hazardous substances, materials and wastes;
Create a regional inventory of obsolete pesticide stocks existing in CAN nations;
Identify measures to counteract transborder trade in hazardous pesticides;
Share information on the monitoring of, creating a registry for, and reporting air quality regarding fixed and mobile sources;
harmonize standards regarding environmental impact assessment (EIA).
* The current member states of the Andean Community are Bolivia, Colombia, Ecuador and Peru. Venezuela, a founding member, recently left in order to join MERCOSUR, but still participates in some joint Andean programs, such as that on health. Chile, a former member, recently signed on to become an Associate State.
Tags: access to genetic resources, AECI, Air Quality, Altiplano, Andean Community, biosafety, Biotechnology, biotecnologia, BioTrade, Bolivia, CAF, calidad del aire, cambio climático, clean development mechanism, Climate Change, Colombia, Comunidad Andina, consumo sostenible, desechos peligrosos, dumps, Ecuador, EIA, energía renovable, environmental services, fármacos, fixed sources, fuentes fijas, fuentes móviles, GEF, gestão de resíduos, gestión de residuos, green purchasing, GTZ, hazardous materials, Hazardous Substances, hazardous waste, IRDC, JICA, Kyoto Protocol, mecanismo de desarrollo limpio, mecanismo de desenvolvimento limpo, medicamentos, mobile sources, nutri-ceuticals, OPS, PAHO, Peru, pesticides, PGIRS, pharmaceuticals, plaguicidas, PNUD, producción sostenible, Protocolo de Kyoto, qualidade do ar, rational water use, renewable energy, residuos peligrosos, resíduos perigosos, solid waste management, substâncias perigosas, sustainable consumption, sustainable production, sustancias peligrosas, transborder water bodies, tratamento de esgoto, UNDP, UNFCCC, wastewater treatment, wetlands
Subscribe to My Comments Feed
Leave a Reply