« Setting the Eco-Benchmark for Cattle Raising / Meat Processing in the Amazon | Home | What the Other Guy Blogs About…Climate Change »
By Keith R | March 15, 2007
Topics: Climate Change, Environmental Protection | 2 Comments »
The recent ACNielsen poll suggested that Latin American nations may take the global climate change issue more seriously than most. A new poll just published on the WorldPublicOpinion.org website appears to confirm it.

The 17-nation* poll was organized by the Chicago Council on Global Affairs (formerly the Chicago Council on Foreign Relations). The countries picked represent more than 55% of the world's population. LAC nations included Argentina, Mexico and Peru. [Temas Note: Interesting that they chose to exclude LAC's most populous nation, Brazil.]
The first question in the survey declares that there is "controversy over what to do about about the problem of global warming" [Temas Note: by calling it a "controversy" instead of "debate" and "global warming" instead of "global climate change" where the surveyors skewing the results?], and asks them which of three statements would best reflect their personal view. 63% of Argentines and 69% of Peruvians responding** agreed with "Global warming is a serious and pressing problem. We should begin taking steps now even if this involves significant costs." Of all the nations surveyed, only Australia scored this answer as high.
In another question, 10 of the nations (no explanation as to why all 17 were not asked) were given a list of possible threats to their nation's "vital interests" over the next ten years, and were asked to rate how critical they thought each to be. In the case of Mexico, respondents were given four options: critical; important, but not critical; of little importance; not important. 70% of Mexicans deemed it "critical," the highest of the 10 nations surveyed (next highest was Australia at 69%).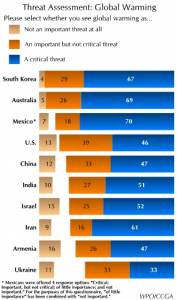 Five nations were asked (again, no explanation as to why only five) "If the developed countries are willing to provide substantial aid, do you think the less-developed countries should make a commitment to limit their greenhouse gas emissions?" 68% of Argentines agreed, second only to China (79%).
An interesting tangential question was asked of 11 nations (again, no explanation as to why all 17 were not asked): should countries that are part of international trade agreements be required to meet minimum environmental standards? In every case except the Philippines, a majority of respondents answered that they should. 90% of Argentines replied "should," while 76% of Mexicans did so.
Some Temas Cautionary Notes
As interesting as this poll is and as much as I would like to confide in its results, I have some reservations I must voice. For once it is not about sampling size: 881 were interviewed in Argentina, 1499 in Mexico and 578 in Peru. I do, however, lament the decision to conduct these surveys
at different times: some countries were surveyed as early as June 2006, others (such as Argentina) in December 2006, after the release of the Stern Review and when the international media already was swirling with rumors about what the IPCC report would say, so public awareness and concern likely was heightened.
utilizing different sampling areas: in some nations (such as Mexico) the survey was national, in others it is what the Chicago Council chooses to call "urban." The latter was the case in Argentina and Peru: in the former, surveying only occurred in key population centers (Metropolitan Buenos Aires, La Plata, Mar del Plata, Mendoza, Córdoba, Rosario and Tucumán), while in the latter, surveying was focussed in the Lima-Callao area. Might the Peruvian results differed substantially if the survey included smaller but important regional centers such as Arequipa, Cuzco and Trujillo?
utilizing different survey methods: most surveys were "face-to-face", but some (Australia, Israel) were by telephone and in the case of the US, by internet. Arguably different (and perhaps not comparable) audiences were being surveyed.
by asking some questions of certain countries and not of others. It is incomprehensible to me why most of these questions were not asked in all 17 nations.
All this makes meaningful comparisons difficult, if not hazardous, to my mind. But maybe I am too picky?
— Keith R
* Argentina, Armenia, Australia, China, India, Indonesia, Iran, Israel, Mexico, the Palestinian Territories, Peru, the US.
** Unfortunately, in Peru (unlike elsewhere), this questions was asked only to those respondents who replied "very informed" or "informed" to a pre-screening question that asked how informed they were about the topic.
Tags: AC Nielsen, Arequipa, Argentina, Armenia, Australia, Buenos Aires, Callao, cambio climático, Chicago Council on Global Affairs, China, Climate Change, Córdoba, Cuzco, efeito estufa, global warming, greenhouse gases, India, Indonesia, Iran, Israel, La Plata, Lima, Mar del Plata, Mendoza, Mexico, Peru, Philippines, Poland, Rosario, Russia, South Korea, survey, Thailand, Tucumán, Ukraine
2 Responses to "Another Poll Suggests LAC Takes Climate Change Seriously"
Climate Change Elucidated :: Another Poll Suggests LAC Takes Climate Change Seriously Says:
March 15th, 2007 at 14:29

[…] Original post by Keith R Share and Enjoy: These icons link to social bookmarking sites where readers can share and discover new web pages. […]

EconWatch.com Says:
March 16th, 2007 at 9:46

Another Poll Suggests LAC Takes Climate Change Seriously…

[Source: The Temas Blog] quoted: The recent ACNielsen poll suggested that Latin American nations may take the global climate change issue more seriously than most. A new poll just published on the WorldPublicOpinion.org website appears to confirm …
Leave a Reply