« Mandatory Independent Monitoring of Ecopetrol's Discharges | Home | New Rules for Used Oil Recycling in Brazil »
By Keith R | September 22, 2007
Topics: Environmental Protection, Waste & Recycling | No Comments »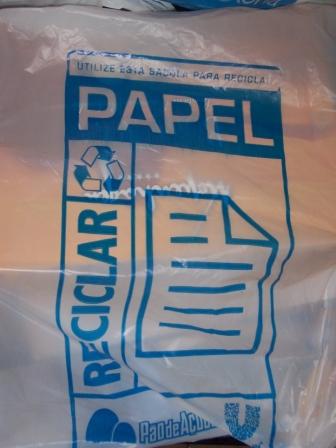 In my rant last June about unnecessary plastic wrap being praised by Chile's Environment Minister simply because it is "biodegradable," I promised a guest post from an expert who can explain better than I can the debate over whether "biodegradable" plastic bags are really a substantial improvement over conventional plastic bags.  I'm happy to publish here that guest post by Brenda Platt, the director of the Waste to Wealth and Sustainable Plastic programs at the Washington, DC-based Institute for Local Self-Reliance (ILSR).  I met Brenda many years ago at a recycling conference and we've kept in touch since.  We don't agree on everything, but I respect her expertise and her analysis on waste/recycling issues, so I am very glad that she accepted my invitation to guest post.
_______________________
I often get asked my opinion on biodegradable plastic bags and whether these are better than conventional plastic bags.
Like many issues, the answer is "It depends." In this case, it depends on biodegradable certification, actual application or intended use, impact on conventional bag recycling programs, and also on the biobased content of the bag (that is, the portion derived from annually renewable plant-based carbon vs. nonrenewable fossil-fuel-based carbon).
Biodegradable plastics are plastics that can decompose into carbon dioxide, methane, water, inorganic compounds, or biomass via microbial assimilation (the enzymatic action of microorganisms). To be considered biodegradable, this decomposition has to be measured by standardized tests, and take place within a specified period time, which vary according to the "disposal" method chosen. The American Society of Testing and Materials (ASTM) has created definitions on what constitutes biodegradability in various disposal environments.
Plastics that meet ASTM D6400, for instance, can be certified as biodegradable and compostable in commercial composting facilities. In Europe the equivalent standardized test criteria is EN 13432. In the US, there is a biodegradability standard for soil (ASTM D5988), a biodegradability test standard for marine and fresh water (ASTM D6692 and D6691), one for wastewater treatment facilities (ASTM D5271), and one for anaerobic digestion (ASTM D 5511). Other countries have similar standards and certifications. Belgium is unique in offering the "OK Compost" mark, which guarantees that the product can be composted in home composting systems.
While many bioplastics are indeed certifiable as compostable in commercial compost facilities, not all can be home composted and not all are biodegradable in the marine environment. Furthermore, a number of petrochemical-based polymers are certified biodegradable and compostable. Biodegradability is a directly linked to the chemical structure, not to the origin of the raw materials.
Biodegradable bags certified as compostable are great for collecting segregated organics destined for a composting facility. In North America, the Biodegradable Products Institute is the go-to source for information on certified compostable products. All of the bags on the BPI web site are certified compostable, but none are free of fossil-fuel-based resins. Biodegradable bags are not even close to being 100% biobased. Nearly all are a vast majority fossil-fuel-derived content. In fact, the highest biobased content I found in any biodegradable bag was 32%. The biodegradable fossil-fuel-based co-polyester resin frequently used in these bags is made by the big German chemical giant, BASF.
I generally do not support the use of biodegradable plastic bags for shopping bags, only for collecting organics destined for composting facilities. Further, all the biodegradable bags I know of are only biodegradable in commercially operated compost facilities, not for instance, in the marine environment.
A number of jurisdictions have recently proposed per-bag fees on plastic shopping bags, fees that biodegradable bags would be exempt from. I am an advocate for per-bag fees applying to ALL single-use shopping bags in order to promote reusable bags. Let's not encourage single-use biodegradable plastic bags. While the recycling rate for shopping bags and other film plastics is quite low, there is a high demand for clean sources of these plastics and collection programs are growing. If used for retail bags, biodegradable bags will become a contaminant in film recycling. I'm no fan of fossil-fuel-based plastics and bags, but this is a concern from a recycling perspective. By restricting the use of compostable plastic bags to the collection of organics destined for composting facilities, we can mitigate the impact on conventional recycling systems.
Just because a bag is biodegradable does not mean it is environmentally sound. Anyone considering use of biodegradable bags should ask for proof of biodegradable certification and of biobased content.
— Brend Platt
Tags: anaerobic digestion, ASTM, BASF, Belgium, biodegradability, biodegradable packaging, Biodegradable Products Institutute, biodegradável, bolsas plásticas, Brenda Platt, carbon dioxide, co-polyester resin, compostable, compostagem, compostaje, compostável, composting, dióxido de carbono, EN 13432, Europa, Europe, ILSR, metano, methane, OK Compost, plastic bags, sacolas plásticas
Subscribe to My Comments Feed
Leave a Reply