« IDB President: Renewable Energy Critical to LAC's Development | Home | Attention Eco-designers! Eco-diseñadores, ¡atención! Eco-desenhistas, atenção! »
By Keith R | March 20, 2007
Topics: Environmental Protection, Protection of the Ozone Layer | No Comments »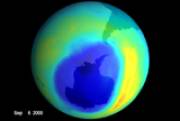 Synopsis in English: Argentina and Brazil have submitted a joint proposal to the secretariat of the Montreal Protocol (on substances that deplete the ozone layer – ODS) calling for negotiations on phasing out use of hydrochlorofluorocarbons (HCFCs). HCFCs became the substitute of choice for many of the chlorofluorocarbons (CFCs) controlled under the Protocol in such products as freezers, air conditioners, foams and plastics. Because of their own potential to deplete the ozone layer and contribute to global climate change, the Protocol calls for developing countries to freeze their HCFC consumption starting in 2016 using 2015 consumption baseline figures, and to eliminate their use by 2040. However, unlike many other ODS, no interim phaseout targets are set.
Argentina and Brazil are proposing that the next Meeting of the Parties to the Protocol negotiate (1) a series of reductions set every five years; (2) an earlier total ban on the most commonly used HCFC, HCFC-22, at 2030; (3) a cap of 5% on all other HCFC use by the year 2035. The two countries say that they decided to make this a joint proposal to give it more diplomatic weight, and Brazil's Environment Ministry that the proposal was discussed beforehand with trade associations representing affected industries, particularly heating/cooling, appliances and polyurethane.
The joint effort on an environmental issue in a global forum is unusual for the two, as is two of LAC's largest ODS consumers proposing tougher measures under the Protocol rather than signing on to a proposal initiated by an OECD nation or nations. It also may place them squarely at odds with the nation whose HCFC consumption is growing fastest, China.
Desde o Ministerio de Meio Ambiente (MMA):
Brasil e Argentina se antecipam à eliminação de gás nocivo para camada de ozônio

Os governos do Brasil e da Argentina estão propondo antecipar as metas do Protocolo de Montreal no que diz respeito à eliminação do HCFC (hidroclorofluorcarbono) e, assim, contribuir efetivamente com a preservação da camada de ozônio, além de combater o aquecimento global. O HCFC é o principal substituto do CFC (clorofluorcarbono) na produção de geladeiras, ar-condicionados, espumas e plásticos, entre outros produtos, e ambos agridem a camada de ozônio. Não obstante, são substâncias de efeito duplamente nocivos, pois também causam efeito estufa, fenômeno que resulta no aquecimento global.

A eliminação de seu uso está previsto no Protocolo de Montreal, acordo firmado entre países há 20 anos com regras para reduzir a emissão de substâncias que destroem o ozônio. O CFC, considerado o principal agressor, teve sua eliminação determinada pelos signatários de Montreal até 2010. Como a data se aproxima, o HCFC ocupou o lugar do CFC na produção de equipamentos. De acordo com o compromisso assumido pelas nações, a partir do dia 1º de janeiro de 2016 os países em desenvolvimento congelariam o consumo anual do gás na quantidade registrada em 2015.

Ainda segundo o Protocolo, em 2040 a substância teria seu uso completamente erradicado. No entanto, entre 2016 e 2040 não há sequer uma meta de redução gradual. Para acelerar o processo, Brasil e Argentina uniram forças e submeteram uma proposta de emenda ao Protocolo de Montreal, que será analisada em setembro.

O novo cronograma dos vizinhos sul-americanos prevê o congelamento do consumo de HCFC no ano de 2012, com base na utilização do gás registrada em 2010. Como a família HCFC possui ramificações em diferentes substâncias (HCFC-22, HCFC-124, HCFC-225, etc), o calendário Argentina/Brasil prevê metas de redução específicas para cada uma delas, em intervalos de cinco anos. A erradicação de todos os tipos ocorrerão também em 2040. Entretanto, o mais utilizado (HCFC-22) será eliminado dez anos antes, em 2030. E, para 2035, o objetivo é já ter reduzido o consumo de todo o resto da família HCFC em 95%.

Brasil e Argentina se uniram neste programa para ter maior respaldo internacional. No Brasil, a Secretaria de Qualidade Ambiental (SQA), do Ministério do Meio Ambiente, esteve à frente das negociações com indústrias e setores da sociedade. Participaram do diálogo com a SQA a Associação Brasileira de Refrigeração, Ar-condicionado, Ventilação e Aquecimento (Abrava), Associação Brasileira da Indústria Elétrica e Eletrônica (Abinee), Associação Nacional de Fabricantes de Produtos Eletroeletrônicos (Eletros) e Associação Brasileira da Indústria do Poliuretano (Abripur).

Pelo lado brasileiro, a decisão final coube ao Comitê Executivo Interministerial para a Proteção da Camada de Ozônio (Prozon), que inclui, entre outros ministérios, o MMA, o Ministério do Desenvolvimento, Indústria e Comércio Exterior (MDIC) e Ministério da Ciência e Tecnologia (MCT).

Nos anos 1980 surgiu a preocupação do mundo com o rápido crescimento do buraco na camada de ozônio, colocando os países em alerta. Os efeitos da destruição da camada de ozônio na saúde humana vão desde o desenvolvimento de catarata até câncer de pele, bem como diminuição do sistema imunológico. Também há perda de produtividade agrícola. Como o HCFC acumula a função de gás estufa, com um potencial destruidor (por grama lançado na atmosfera) milhares de vezes superior ao dióxido de carbono (CO2), a decisão conjunta entre Brasil e Argentina é um passo importante para evitar as mudanças climáticas previstas para este século.
Tags: Abinee, Abrava, Abripur, air conditioners, appliances, aquecimento global, ar-condicionado, Argentina, Brasil, Brazil, camada de ozônio, câncer de pele, capa de ozono, catarata, CFCs, China, chlorofluorocarbons, clorofluorcarbono, efeito estufa, electrodomésticos, eletrodomésticos, Eletros, espumas, foams, freezers, geladeiras, HCFC-124, HCFC-22, HCFC-225, HCFCs, hidroclorofluorcarbono, hydrochlorofluorocarbons, MDIC, MMA, Montreal Protocol, ozone depleting substances, ozone layer, plásticos, plastics, poliuretano, polyurethane, Protocolo de Montreal, refrigeração, sistema imunológico, ventilação
Subscribe to My Comments Feed
Leave a Reply