« Mexico's Eco-Partnership with California | Home | Electric Cars for Chile »
By Keith R | August 4, 2008
Topics: Biotechnology, Environmental Protection, Packaging, Waste & Recycling | 6 Comments »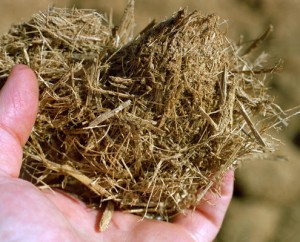 Synopsis in English: Three biotech enterprises and a university from the Brazilian state of Minas Gerais (MG) have developed a biodegradable material made from sugarcane waste (bagasse) which they believe will be shortly be available for the manufacture of packaging and containers. The three firms (Viveiro Flora Brasil, Lótus Soluções Ambientais, Floema Nutrição Vegetal) and the Federal University of Uberlândia (UFU) are all located in the fabled "Triângulo Mineiro" in Western MG, a prosperous triangular region (hence its nickname) bordered by two rivers and a mountain range containing the cities of Araguari, Uberaba and Uberlândia.
The four partners have been working on developing biodegradable packaging made from cellulose materials, with a focus on utilizing the bagasse so plentiful in the Triangle's sugar industry (and which farmers will soon be prohibited from burning, as they traditionally have). The partners have made a type of plastic from bagasse and are testing it for suitability in various packaging uses. The current thinking is that testing will be completed in 2009 and the project can then move into commercial production, starting with planting containers (which would be buried with the plants, and naturally decompose in the soil), supermarket carry bags and disposable cups.
The four partners are also investigating other cellulose sources to be used to make packaging, including tree leaves collected from trimming and pruning operations (so these yard wastes need not go to landfills).
________________________
Desde Agência Sebrae:
Recipientes biodegradáveis entram em fase de teste em Minas

Empresas de bionegócios do Triângulo Mineiro e Universidade Federal de Uberlândia desenvolvem recipientes biodegradáveis, a partir de resíduos celulósicos

Materiais biodegradáveis, feitos a partir de resíduos naturais diversos, são a meta de pesquisadores, empresas, universidades e institutos de pesquisa de todo o mundo. É a corrida pelas chamadas 'tecnologias verdes', que procuram mitigar os impactos causados pelas atividades humanas ao planeta, bem como, garantir o futuro sustentável das futuras gerações.

No Triângulo Mineiro, projeto desenvolvido em parceria por três empresas de bionegócios – Viveiro Flora Brasil e Lótus Soluções Ambientais, de Araguari, e Floema Nutrição Vegetal, de Patrocínio, e Universidade Federal de Uberlândia (UFU) objetiva lançar no mercado recipientes biodegradáveis, feitos a partir de materiais celulósicos, até o final de 2009. O bagaço de cana, farto na região, é o primeiro resíduo pesquisado.

Até o momento, o trabalho passou por quatro fases: produção de plástico, a partir da celulose do bagaço da cana; ensaios da resistência desse plástico; testes de outros materiais como fonte de celulose; e produção do recipiente para mudas de plantas, sacolas de supermercado e copos descartáveis.

"Nosso produto ainda não tem nome, nem marca, e já desperta muito interesse do mercado e da imprensa. Nos próximos meses, estamos entrando na fase de testes de campo,", revela José Rafael da Silva, sócio-diretor do Viveiro Flora Brasil, de Araguari.

Recipientes biodegradáveis para mudas de plantas deverão ser os primeiros produtos a serem lançados no mercado pelas três empresas. "Estamos desenvolvendo biotecnologia 100% triangulina", brinca Rafael. O período de degradação ou decomposição do produto varia entre dois meses a um ano. O recipiente será 'plantado' junto com a muda no solo e se transformará em composto orgânico, explica ele.

Antes e depois do APL

A idéia de desenvolver biotecnologia para produzir material biodegradável, a partir de resíduos naturais, se transformou em projeto em 1996, segundo o empresário e agrônomo. Rafael conta que as três empresas de bionegócios começaram as pesquisas com recursos próprios. Procuraram outros parceiros e apoio financeiro, mas não encontraram. "Naquela época, mercado e sociedade ainda não davam a importância, que se dá hoje, à questão ambiental", justifica.

Com a criação do Arranjo Produtivo Local de Biotecnologia do Triângulo Mineiro e Vale do Paraníba, em 2003, do qual as três empresas são integrantes, o projeto passou a participar das ações promovidas pelas instituições apoiadoras do pólo.

"A gente conseguiu o desenvolvimento do trabalho graças ao APL", afirma Rafael. O Sebrae, enquanto instituição organizadora do arranjo, e a Universidade Federal de Uberlândia são importantes apoiadores do projeto das três empresas, segundo ele. "Temos consultorias nas áreas de projeto, gestão de custos, entre outras, patrocinadas em parte pelo Sebrae", informa o empresário.

Os testes de campo do primeiro produto, oriundo da biotecnologia 'triangulina', serão feitos com plantas de um mês a um ano de vida. Depois da aprovação, a próxima etapa do projeto será a montagem da fábrica, quando empresários vão pesquisar maquinário e equipamentos existentes no mercado para viabilizar a bioprodução. "Em meados de 2009, acreditamos que teremos condição de começar a produzir", prevê Rafael.

Materiais celulósicos

Bagaço de cana é material abundante no País, pois há usinas de álcool e açúcar em muitas regiões. O empresário cita que existem, atualmente, cerca de 300 pedidos de autorização para instalação de novas usinas, aguardando decisão dos órgãos competentes.

"Em 2014, entra em vigor norma que proibirá a queima de resíduos das plantações de cana em todo o território nacional", ressalta. Ou seja, folhas da cana também se transformarão em resíduos de valor para a biotecnologia.

Outros materiais celulósicos, como folhas de árvores podadas em parques e jardins, também poderão ser boas matérias-primas para a produção de recipientes biodegradáveis, segundo Rafael. "Elas passarão a ocupar lugar mais nobre do que ocupam, hoje em dia", argumenta.

"Vai ser um ganho fenomenal para o meio ambiente. Imagina, você vai beber um cafezinho e não descartará mais o copinho no lixo. Esse copinho vai se transformar em adubo nos vasos, jardins, etc", exemplifica.

O mesmo poderá acontecer com sacolas de supermercado, diz ele. A biotecnologia desenvolvida pelas três empresas e a Universidade Federal de Uberlândia será patenteada e poderá ser aplicada em qualquer material celulósico, de acordo com o empresário do Triângulo Mineiro.
Tags: adubo, Araguari, bagaço, bagasse, biodegradable packaging, bionegócios, Biotechnology, biotecnologia, Brasil, Brazil, cana-de-açúcar, cellulose, containers, copos descartáveis, disposable cups, Floema Nutrição Vegetal, folhas de árvores, Lótus Soluções Ambientais, Minas Gerais, packaging materials, plastic, plastic bags, plástico, poda, recipientes biodegradáveis, resíduos celulósicos, sacolas de supermercado, sugarcane, tecnologias verdes, tree pruning, Triângulo Mineiro, Uberaba, Uberlândia, UFU, Viveiro Flora Brasil, yard wastes
6 Responses to "Biodegradable Containers Made from Sugarcane Waste"
Leave a Reply