« The IDB Pushes Ethanol | Home | Mapping Brazil's Basins to Prepare Against Oil Spills / Atlas de bacias sedimentares vão garantir segurança contra vazamento de petróleo »
By Keith R | February 14, 2007
Topics: Environmental Protection, Waste & Recycling | No Comments »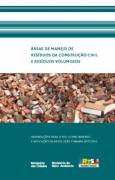 Synopsis in English: Brazil's Ministries of Environment (MMA) and Cities (MCidades) has just released a "manual" providing regulatory guidance on the management of "civil construction and voluminous wastes" — more often known elsewhere as construction and demolition (C&D) wastes — and their sorting, recycling and disposal. Ostensively the two Ministries jointly developed the manual to "guide" municipal and state authorities in their environmental licensing of such activities, with a view to harmonizing the licensing procedures and criteria. The Ministries know full well, however, that in doing so they are trying to indirectly set policy, since a (binding) 2002 National Environment Council (CONAMA) resolution requires environmental licensing of all C&D waste operations, and obliges municipalities to create C&D waste management plans and programs, but sets out only general environmental standards on the subject. This manual essentially discusses regulatory interpretation, of how best to apply Resolution 307 and how it meshes with technical specifications already agreed by the Brazilian Standards Association (ABNT) and best practice in existing municipal and state law. The PDF manual (in Portuguese) can be downloaded in zipped form.
Desde o Ministério do Meio Ambiente (MMA):
Manual reúne recomendações para manejo de resíduos da construção civil

O Manual "Áreas de manejo de resíduos da construção civil e resíduos volumosos – orientações para seu licenciamento e aplicação da Resolução da Conama 307/2002" está disponível nos sites dos ministérios do Meio Ambiente e das Cidades. O trabalho é resultado do seminário Licenciamento Ambiental de Destinação Final de Resíduos Sólidos realizado em 2006, com a participação de órgãos do meio ambiente estaduais, distrital e federal, para buscar a harmonização de procedimentos aplicados ao licenciamento ambiental.

A versão impressa, com oito mil exemplares, será encaminhada para setores como os órgãos e conselhos estaduais de meio ambiente, municípios com mais de cem mil habitantes e associações de limpeza. Além da Resolução do Conama, considera também as normas técnicas da Associação Brasileira de Normas Técnicas (ABNT) e a legislação ambiental dos estados e municípios. O documento foi estruturado pelas diretorias de Gestão Ambiental Urbana e de Licenciamento da Secretaria de Qualidade Ambiental, do MMA, em parceria com a Secretaria de Saneamento do MCidades.

Para o secretário de Qualidade Ambiental do MMA, Victor Zveibil, a aprovação da Resolução 307/02 e de novas normas brasileiras está mudando o modo de lidar com esses resíduos no país. "A expectativa do MMA é que o manual resulte em normas e diretrizes dos órgãos ambientais estaduais para o licenciamento das áreas de manejo destes resíduos, condizente com as melhores soluções técnicas, com as diferenciadas realidades regionais brasileiras e com as políticas ambientais dos municípios, dos estados e do governo federal", disse.

De acordo com o diretor de Gestão Territorial do MMA, Rudolf Noronha, dentro da composição do resíduo sólido urbano, os resíduos da construção e demolição têm um papel muito importante. Do total de resíduos sólidos gerados nas cidades, 60% correspondem ao da construção. "É um material de peso e densidade e que configura um desafio para as municipalidades. Para os governos estaduais, há ainda a tarefa de licenciamento e fiscalização, que terá ajuda valiosa do manual", avaliou.

A publicação contém procedimentos para fiscalização pelos órgãos estaduais que vão desde as áreas de transbordo e triagem até os aterros de resíduos sólidos da construção civil e resíduos inertes, inclusive para áreas de reciclagem dos resíduos da construção."São normas e dicas necessárias para que os órgãos estaduais de meio ambiente analisem as propostas dos governos municipais para o licenciamento de áreas que venham a ser destino final de resíduos da construção civil e de demolição. A fiscalização será decorrência natural", explicou Noronha.

Os entulhos da construção civil, por si, não representam grandes riscos ambientais. No entanto, muitas cidades brasileiras sofrem graves impactos ambientais provocados pela intensa deposição irregular de resíduo da construção e demolição (RCD). As políticas públicas voltadas para a indução da implantação de áreas para o manejo sustentável desses resíduos foram estabelecidas no Brasil a partir de 2002. Essas áreas foram normatizadas apenas recentemente e os órgãos ambientais devem se preparar para o seu licenciamento e fiscalização, estabelecendo procedimentos claros para atendimento da demanda crescente por empreendimentos desse tipo.
Tags: ABNT, Brasil, Brazil, C&D waste, CONAMA, construção civil, desechos, MMA, reciclagem, recycling, resíduo da construção e demolição, residuos sólidos, waste
Subscribe to My Comments Feed
Leave a Reply