« The Importance of Being Tested / La importancia de la prueba | Home | IDB: Camisea May Save Peru's Rainforest »
By Keith R | July 10, 2007
Topics: Energy & the Environment, Environmental Protection, Extractive Sectors, Marine/Coastal Issues | No Comments »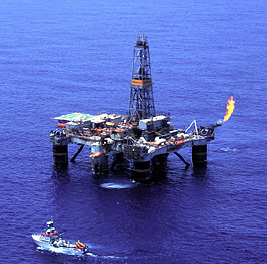 Synopsis in English: Brazil's National Environment Council (CONAMA) has approved a binding resolution setting the rules for the continuous discharge of production water containing oils and greases from oil and natural gas maritime platforms. The platforms have to obey a simple monthly arithmetic average discharge level of 29 milligrams (mg) per liter (l), while the maximum allowed in any single day will be 42 mg/l as long as the monthly average is observed. Environmental authorities can authorize temporary increases in discharges under certain circumstances, and only if the undertaking agrees to a timetable to return to standard levels.
Environmental authorities will set special levels for platforms located within 12 nautical miles of the coast based on dispersal studies to be presented by the undertaking in charge of the platform(s). Preference is to be given to zero discharges within that zone. In any case, discharges are prohibited from any platform within 10 kilometers of the coastline of a conservation unit and within 5 kilometers of areas deemed environmentally sensitive (making it all the more important the work underway to map Brazil's basins).
The resolution also requires hydrocarbon firms to propose by 2012 lower discharge levels in line with best international practice.
____________________________________
Desde o Ministerio de Meio Ambiente (MMA):
Conama finaliza resolução sobre descarte de óleos por plataformas de petróleo

O Conselho Nacional do Meio Ambiente (Conama) finalizou, nesta quarta- feira (04), a aprovação da resolução que define regras para o descarte contínuo de água com óleos e graxas associados à produção em plataformas marítimas de petróleo e gás natural. O assunto foi debatido durante os dois dias da 86ª reunião ordinária do Conselho, realizada em Brasília. A resolução entra em vigor após a sua publicação do Diário Oficial da União.

O diretor do Conama, Nilo Diniz, avaliou positivamente o encontro. "Foi bastante produtivo, pois conseguimos votar uma resolução complexa", disse. Diniz lembrou ainda que a reunião serviu para que os conselheiros fizessem sugestões ao Ministério do Meio Ambiente (MMA) sobre a elaboração do Plano Plurianual, de 2008-2011.

O texto-base da resolução foi aprovado, por unanimidade, no primeiro dia de reunião. Porém, foram apresentadas emendas para alguns pontos. Ainda na terça-feira, acabou sendo mantido artigo que define a concentração de óleos e graxas na água descartada no mar. As plataformas terão de obedecer a média aritmética simples mensal de 29 mg/l. Por dia, o valor máximo autorizado será de 42 mg/l, desde que seja cumprida a média mensal.

Nesta quarta-feira, os conselheiros retomaram os trabalhos a partir da discussão sobre metas da concentração para o futuro. Ficou decidido que, em 2012, empresas petrolíferas terão de apresentar propostas de redução que atendam a padrões internacionais. O objetivo é fazer com que as metas sejam ajustadas de acordo com o desenvolvimento de novas tecnologias compatíveis.

Foi decidido também que o órgão ambiental competente poderá autorizar o descarte de água produzida acima das condições e padrões estabelecidos na resolução, mas só em contingências operacionais temporárias, mediante aprovação de programa e cronograma elaborado pelo empreendedor, para solução da questão.

O órgão ambiental definirá o descarte e suas condições, em plataformas situadas a menos de 12 milhas náuticas da costa, de acordo com estudo de dispersão apresentado pelo empreendedor. Preferencialmente, deverá se buscar a vazão zero. A resolução proíbe o descarte de água produzida num raio inferior a 10 quilômetros de Unidades de Conservação e a 5 quilômetros de áreas ecologicamente sensíveis.

Com relação ao monitoramento anual da água produzida, foi decidido que deverá ser elaborada uma resolução específica sobre o assunto. Já existe um grupo de trabalho do Conama que estuda padrões e parâmetros para análise de substâncias. Provavelmente, esse grupo deverá também elaborar uma proposta de resolução referente às substâncias de água produzida.
Tags: Brasil, Brazil, coastline, CONAMA, descarte de óleos, effluent, empresas petrolíferas, environment, gas natural, graxas, hidrocarbonetos, hydrocarbons, marine pollution, maritime platforms, medio ambiente marino, meio ambiente, MMA, natural gas, petroleo, petroleum, plataformas de petróleo, plataformas marítimas, poluição da agua, UCS, unidades de conservação, water discharges, water pollution
Subscribe to My Comments Feed
Leave a Reply