« WHO: Time to Focus on Health Impacts of Climate Change | Home | Improving Environmental Quality in Joinville »
By Keith R | November 1, 2007
Topics: Environmental Protection, Health Issues, Protection of the Ozone Layer | No Comments »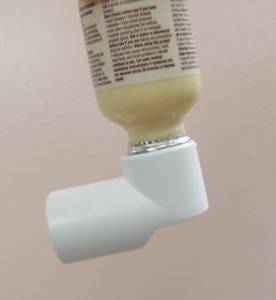 Synopsis in English: Brazil's National Sanitary Vigilance Agency (ANVISA) just published a portaria (an administrative regulation) that will ban, as of 01 January 2008, the production and import of medicines in metered dose inhalers (MDIs) that contain chlorofluorocarbons (CFCs) as propellent. Anvisa is asking for public comment on the measure [Temas Observation: Interesting how Anvisa chose to do this. In many countries public comment is requested on a draft proposal that may be revised in response to input before being finalized and published. In this case, the portaria will take effect as written unless Anvisa can be convinced by public outcry to revise it.]
MDIs, most commonly used to treat asthma, are one of the few CFCs uses exempted from the controls of the Montreal Protocol on Substances that Deplete the Ozone Layer until such time as alternatives that do not deplete the ozone layer are available. Anvisa feels that the time has come, with substitutes such as hydrofluoroalkane (HFA) already available in the marketplace and the US Food and Drug Administration (FDA) already requiring the change to HFA propellent.
Currently 14 medicines with CFCs are registered with Anvisa: one is used to treat burns, another to treat throats, and the rest for asthma and other pulmonary diseases. About five million MDIs are sold in Brazil each year.
Comments on the proposal can be submitted either by email [cp104.2007@anvisa.gov.br], fax [+5561-3448-1435] or mail [Agência Nacional de Vigilância Sanitária / Gerência-Geral de Medicamentos, SEPN 515, Bloco B, edifício Ômega, Asa Norte, Brasília-DF, CEP 70 770-502].
______________________________
Desde a Agência Nacional de Vigilância Sanitária (ANVISA) do Brasil:
Aberta consulta pública sobre proibição de CFC em bombinhas para asma

A Agência Nacional de Vigilância Sanitária (Anvisa) publicou no Diário Oficial desta quarta-feira (31) a Consulta Pública 104, que propõe a proibição da produção e a importação de medicamentos que contenham gás clorofluorcarbonos (CFC) em inaladores de dose medida, mais conhecidos como bombinhas usadas no tratamento de asma. Esse gás é um dos principais responsáveis pela destruição da camada de ozônio que envolve a Terra. Cidadãos e setores interessados têm até o dia 29 de dezembro para oferecer contribuições.

Neste sentido, o Ministério da Saúde publicou a Portaria 2.799, determinando que, a partir de 1º de janeiro de 2008, a aquisição de inaladores de dose medida pelo órgão deverá atender ao critério da ausência de CFC na produção.

Já a proposta da Anvisa prevê que as empresas ajustem o registro desses medicamentos até o dia 31 de dezembro de 2010. "O texto estabelece a proibição a partir de 1º de janeiro de 2011", esclarece o assessor-chefe da Assessoria Técnica da Anvisa, Pedro Ivo Ramalho. Segundo a proposta, quem não cumprir a norma estará sujeito a penalidades por infração sanitária, como notificação e multa entre R$ 2 mil e R$ 1,5 milhão.

As contribuições podem ser feitas pelo site, pelo e-mail cp104.2007@anvisa.gov.br, pelo fax (61) 3448 1435 ou pelo endereço Agência Nacional de Vigilância Sanitária / Gerência-Geral de Medicamentos, SEPN 515, Bloco B, edifício Ômega, Asa Norte, Brasília-DF, CEP 70 770-502.

Mercado

Na Anvisa, há 14 medicamentos registrados que utilizam esse gás como propelente (para dar impulso). Desse total, um é indicado para o tratamento de queimaduras; outro, para garganta e os 12 restantes são aerossóis utilizados em casos de asma e doenças pulmonares.

De acordo com o gerente de Avaliação Econômica de Novas Tecnologias da Agência, Alexandre Lemgruber, os aerossóis representam 0,5% do mercado total de medicamentos; ou seja, nove milhões de unidades vendidas. "Dentro do mercado de aerossóis, os que contêm CFC são maioria. São 63% do setor ou 5,9 milhões de unidades comercializadas", acentua.

O gerente de Pesquisas, Ensaios Clínicos, Medicamentos Biológicos e Novos da Anvisa, Granville Garcia, ressalta que já existem alternativas ao CFC. Um exemplo é o gás hidrofluoralcano (HFA). "O HFA apresenta eficácia semelhante ao CFC e é vantajoso quanto ao custo", acrescenta.

Camada

O ozônio é um gás presente naturalmente em duas regiões da atmosfera: troposfera (entre 10 e 16 quilômetros da Terra) e estratosfera (entre 16 e 50 quilômetros da Terra). Cerca de 90% do gás está na estratosfera, também chamada de "camada de ozônio".

O início da destruição do ozônio estratosférico se dá por meio de emissão de gases que contenham cloro e bromo. Destruída, a camada de ozônio não absorve a radiação ultravioleta do sol, que é nociva à saúde.

A radiação pode causar danos à visão, supressão do sistema imunológico e câncer de pele. O Instituto Nacional do Câncer (Inca) calcula que o câncer de pele não-melanoma é o tipo mais freqüente no Brasil, com 141 mil mortes registradas em 2004 e estimativas de 116.640 novos casos no ano passado.
Tags: aerosols, Anvisa, asma, asthma, ban, Brasil, Brazil, camada de ozônio, CFCs, chlorofluorocarbons, clorofluorcarbonos, doenças pulmonares, FDA, hidrofluoralcano, hydrofluoroalkane, inaladores de dose medida, INCA, MDIs, medicamentos, medicines, metered dose inhalers, Montreal Protocol, ozone depleting substances, pharmaceutical products, portaria, proibição, Protocolo de Montreal, pulmonary disease, queimaduras
Subscribe to My Comments Feed
Leave a Reply