« Paraguay Extends Its Zero Deforestation Law | Home | $50 Million for Green Energy in Rural Argentina »
By Keith R | November 20, 2008
Topics: Conservation, Environmental Protection | No Comments »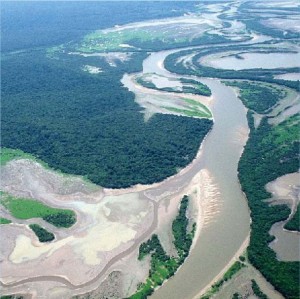 Synopsis in English: The United Nations Development Programme (UNDP) is financing a project by the Brazilian Environment Ministry (MMA) and environment agency (IBAMA) that will expand satellite monitoring to detect deforestation from just the Amazon region (which has been underway since 1988) to all its biomass.  Thus monitoring will be added for the Cerrado, Caatinga, Atlantic Forest, Pantanal and Pampa zones (see map below), together totaling 4.3 million square kilometers (km2), an area greater than India.  The first year of the expanded satellite monitoring will be paid for entirely by UNDP at an estimated cost of US$ 663.997.
The expansion will first focus on the Cerrado, where officials are concerned about possible deforestation caused by expanded agricultural production.
The monitoring of the Amazon will continue under the PRODES and DETER systems, whereas the new monitoring will be done contracting the services of the US Landsat, Japan's Advanced Land Observing Satellite (Alos) and the China-Brazil Earth Resources Satellite (Cbers).
________________________
Desde o Programa das Nações Unidas para o Desenvolvimento (PNUD) – Brasil:
Satélite monitorará todos biomas do Brasil

Projeto financiado pelo PNUD permitirá acompanhar o desmatamento de todas as regiões — hoje só a Amazônia conta com esse recurso

O Ministério do Meio Ambiente deve começar, ainda neste ano, a monitorar por satélite todos os biomas brasileiros, com objetivo de combater o desmatamento. À Amazônia, da qual o Brasil capta imagens de satélite desde 1988, serão somados Cerrado, Caatinga, Mata Atlântica, Pantanal e Pampa — num total de 4,3 milhões de quilômetros quadrados, uma área maior do que a Índia e sobre a qual não há dados confiáveis a respeito da degradação florestal.

A previsão do ministério é que as informações estejam disponíveis a partir do ano que vem. Com o monitoramento por satélite, será possível elaborar com mais precisão políticas públicas de conservação ambiental.

O projeto de monitoramento dos biomas brasileiros via satélite é uma parceria entre o PNUD, o Ministério do Meio Ambiente e o IBAMA (Instituto Brasileiro do Meio Ambiente e dos Recursos Naturais Renováveis). No primeiro ano — até 31 de dezembro de 2009 —, será financiado integralmente pelo PNUD, que também será responsável pelos editais para contratação de pessoal e compra de equipamentos. No total, serão disponibilizados US$ 663.997.

O monitoramento dos biomas será iniciado pela leitura das imagens do Cerrado. De acordo com Júlio Roma, técnico especializado do ministério, esse é o bioma sob maior pressão humana depois da Amazônia. "A expansão das commodities agrícolas está acontecendo atualmente no Cerrado. Este seria o bioma sob forte impacto hoje, além da Amazônia. Só que a Amazônia já tem esse sistema de monitoramento que está sendo bastante eficiente. Por isso priorizar o Cerrado."

A Amazônia é monitorada por dois sistemas de satélite, o PRODES (Programa de Cálculo de Deflorestamento da Amazônia) e o DETER (Detecção do Desmatamento em Tempo Real). O PRODES, implantado há 20 anos, mede a taxa anual de áreas totalmente desmatadas; como a observação é feita nos meses de seca, sem muitas nuvens, os dados são detalhados e precisos. Já o DETER, lançado em 2004, é um sistema de alertas mensais que não mede áreas desmatadas, mas lugares em que pode estar havendo desmatamento. Seus dados são menos precisos porque muitas vezes a observação é prejudicada pelas condições climáticas.

O monitoramento dos outros biomas será semelhante ao do PRODES, e terá seus dados divulgados anualmente. Serão usadas imagens do satélite chinês Cbers, do americano Langsat e do japonês Alos. A interpretação das informações ficará a cargo dos técnicos do Centro de Monitoramento Ambiental do IBAMA, que, segundo Roma, será responsável por toda a parte técnica do projeto.

Após o término do financiamento do PNUD, no final do ano que vem, o ministério vai buscar novas fontes de recurso, até ser possível incluir o gasto do monitoramento no orçamento do governo federal, afirma o técnico. "A gente não está falando de muitos recursos, então acreditamos que vamos conseguir sem grandes dificuldades. Este projeto com o PNUD é da ordem de R$ 1 milhão, só que depois que a estrutura estiver funcionando bem, os custos diminuem."

O coordenador da unidade de meio ambiente do PNUD, Carlos Castro, não descarta possibilidade de a instituição disponibilizar recursos adicionais para o projeto, caso ele tenha sucesso. Para o coordenador, o monitoramento dos biomas extra-amazônicos é de grande importância, pois somente com este acompanhamento será possível questionar o desmatamento nessas regiões.
Tags: agricultura, agriculture, ALOS, Amazonia, bioma, biomass, Brasil, Brazil, Caatinga, Cbers, Cerrado, China, deflorestamento, deforestación, deforestation, desmatamento, Deter, IBAMA, imágenes satelitales, Japan, Landsat, Mata Atlântica, MMA, PAMPA, Pantanal, PNUD, PRODES, satellite imagery, UNDP
Subscribe to My Comments Feed
Leave a Reply