« LAC the Most Aware Public About Climate Change? | Home | Brazil to Evaluate the Private Sector Role in Sanitation / Brasil avalia participação da iniciativa privada no setor de saneamento »
By Keith R | January 31, 2007
Topics: Air Quality, Environmental Protection, Motor Vehicles | No Comments »
Another one from the queue! This one I held off publishing until I could get ahold of the actual text of the law to double-check a few points, but since the City's official gazette is slow about publishing new laws, I decided to forge ahead...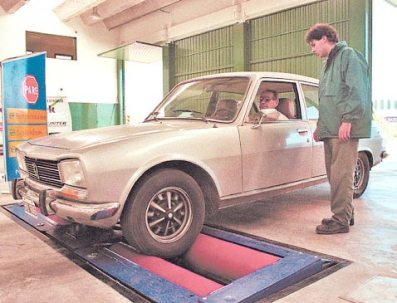 In December, during its last session of the year, the legislature of the Autonomous City of Buenos Aires (Cuidad Autonoma de Buenos Aires – CABA) adopted a law requiring all cars and motorcycles three years or older (or with 60,000 kilometers or more on the odometer, whichever comes first) to undergo annual Mandatory Technical Verification (Verificación Técnica Obligatoria – VTO). The check includes not only safety features (lights, brakes, turn signals, etc.), but also compliance with noise and emission standards.
Perhaps a few North American and European readers are scratching their heads, trying to figure out why this is considered newsworthy. In their countries annual or biennial vehicle safety and emissions checks are the norm; in much of Latin America and the Caribbean (LAC) safety checks are spotty and emission checks are more the exception than the rule.
In point of fact the VTO has been required for years under Argentina's Transit Law (Law 24,449), and is already practiced (with varying degrees of success) in nine Provinces: Buenos Aires (since 1997), Chaco, Chubut, La Rioja, Neuquén, Río Negro, San Luis, Santa Cruz and Tierra del Fuego. But the federal capital itself, with the nation's most serious air pollution problem stemming from mobile sources, had until now not met this obligation.
The new system is not expected to actually become operational for about a year, while inspection infrastructure, operational details (such as the design and placement of the verification sticker) and technical norms are developed. Key points already the subject of contentious debate:
who can bid for the 10-year, 200 million peso/yr (roughly US$69 million per year at current exchange rates) inspection concession, and on what basis will the contract be awarded;
how many inspection stations there will be. So far, the city executive only envisions five for the roughly 1.6 million vehicles estimated to need the new inspection, which conjures visions of probable enormous delays. Some observers, such as former Transit Secretary Andrés Borthagaray, suggest that it might be better to have a decentralized system using current car shops subject to regular certification and auditing, as many states do in the US.
which inspection stations will inspect whom — will residents and businesses be allowed to go to the inspection station nearest them, or only to one assigned to them?
Also envisioned is a system of random street checks covering the same issues as the VTO. If the vehicle is found to have a dangerous safety problem, it will be confiscated. If it has a non-dangerous violation (a category under which most emissions violations would fall), the owner will be given "x" number of days (not yet set) to fix it and get the vehicle re-inspected.
Non-compliance with the inspection law could bring a fine of 100-1,000 pesos (about US$35-346 under current rates of exchange) for cars, 50-500 pesos for motorcycles. Two key questions will be (1) how often and how thoroughly enforcers will conduct spot checks; (2) whether enforcers will tend toward the lower end of the fine scale — which may not be enough to compel a vehicle owner to fix a costly safety or emissions problem when the inspection itself costs 60 pesos — or toward the higher, which in Argentine terms could pose a substantial deterrant.
— Keith R
Tags: air pollution, Argentina, brakes, Buenos Aires, cars, Chaco, Chubut, contaminación atmosférica, frenos, La Rioja, motorcycles, Neuquen, Rio Negro, safety inspection, San Luis, Santa Cruz, Tierra del Fuego, Transit Law, turn signals, vehicle emissions, vehicle inspection, Verificación Técnica Obligatoria
Subscribe to My Comments Feed
Leave a Reply