« It Does Indeed Add Up… | Home | Fighting the Growing Menace of Counterfeit Drugs »
By Keith R | March 13, 2007
Topics: Environmental Protection, Extractive Sectors, Marine/Coastal Issues, Sanitation, Sustainable Agriculture, Water Issues | 1 Comment »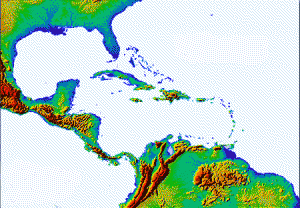 Been meaning to get this out for nearly three weeks! This is actually rare good international environment news from the Bush White House. Implementation of the 1983 Cartagena Convention's 1999 Protocol on Pollution from Land-based Sources and Activities (LBS) has been hampered by US hesitation to ratify the Protocol.
The LBS, in fact, has not yet come into effect in part because many Convention contracting parties held off ratifying or even signing in order to see whether or not the US would ratify. Currently only Panama and Trinidad and Tobago have ratified the LBS, while Colombia, Costa Rica, the Dominican Republic, France (because of Martinique and French Guiana) and The Netherlands (because of the Dutch Antilles) have signed but have yet to ratify.
The LBS requires contracting parties to take regulatory steps to stem the damage done to the marine environment by land-based sources of pollution such as wastewater discharges (particularly household sewage), agricultural non-point sources (pesticide and fertilizer runoff, etc.), oil refineries, pulp and paper factories, sugar refineries and distilleries, mining, chemical plant discharges and effluent from food and drink (particularly beer) processing plants. Two specific annexes to the Protocol set out regional limits for domestic wastewater discharges (total suspended solids, biochemical oxygen demand, pH, fats, oils and greases) and a timetable for implementing them, and a third calls for national action plans on agricultural non-point sources.
It should be pointed that just because the President asks the Senate to ratify does not mean that the Senate will do so. The Senate has been known to sit on Presidentially endorsed agreements for years or never to bring them to a ratification vote.
The LBS text is available online in English, Spanish or French.
From the White House Press Room:
US Support for Environmental Clean Up Efforts in the Carribbean Region – President Bush has asked the US Senate to ratify the "Protocol Concerning Pollution from Land-Based Sources and Activities to the Convention for the Protection and Development of the Marine Environment of the Wider Caribbean Region"

Summary: President Bush has transmitted to the US Senate for the advice and consent to ratification of the Protocol which is a regional framework agreement negotiated under the auspices of the Regional Seas Program of the United Nations Environment Program (UNEP).

It sets out general legal obligations to protect the marine environment of the Gulf of Mexico, Straits of Florida, Caribbean Sea, and immediately adjacent areas of the Atlantic Ocean — collectively known as the Wider Caribbean Region. The United States became a Party to the Cartagena Convention in 1984. The Cartagena Convention envisions the development of protocols to further elaborate certain of its general obligations and to facilitate its effective implementation.

Negotiated with the active participation and leadership of the United States, the Protocol addresses one of the most serious sources of marine pollution in the Wider Caribbean Region. It is estimated that 70 to 90 percent of pollution entering the marine environment emanates from land-based sources and activities. Among the principal land-based sources of marine pollution in the Caribbean are domestic wastewater and agricultural nonpoint source runoff. Such pollution contributes to the degradation of coral reefs and commercial fisheries, negatively affects regional economies, and endangers public health, recreation, and tourism throughout the region.

The Protocol and its Annexes list priority source categories, activities, and associated contaminants that affect the Wider Caribbean Region, and set forth factors that Parties will be required to apply in determining prevention, reduction, and control strategies to manage land-based sources of pollution. In particular, the Parties are required to ensure that domestic wastewater discharges meet specific effluent limitations, and to develop plans for the prevention and reduction of agricultural nonpoint source pollution. The Protocol is expected to raise standards for treating domestic wastewater throughout the region to levels close to those already in place in the United States.

The United States would be able to implement its obligations under the Protocol under existing statutory and regulatory authority.

The Protocol is the first regional agreement to establish effluent standards to protect one of our most valuable resources, the marine environment. It differs markedly from other, similar regional agreements in its conceptual approach and the specificity of its obligations. As such, the Protocol is expected to set a new standard for regional agreements on this subject. Early ratification will demonstrate our continued commitment to global leadership and to the protection of the marine environment of the Wider Caribbean Region.
Tags: Atlantic Ocean, beer, biochemical oxygen demand, BOD, breweries, Caribbean, Caribbean Sea, Caribe, Cartagena Convention, chemicals, Colombia, Convenio de Cartagena, Costa Rica, distilleries, Dominican Republic, Dutch Antilles, effluent, Extractive Sectors, fats, fertilizantes, fertilizers, food, France, French Guiana, greases, Gulf of Mexico, land-based sources, marine pollution, Martinique, mineração, minería, Netherlands, Netherlands Antilles, non-point sources, oil refineries, oils, Panama, pesticides, pH, plaguicidas, PNUMA, protocol, pulp and paper, químicos, República Dominicana, run-off, sewage, Straits of Florida, sugar refineries, total suspended solids, Trinidad and Tobago, UNEP, wastewater, Wider Caribbean Region
One Response to "Bush Asks Senate to Ratify Caribbean Pact on Marine Pollution"
Laura Says:
April 8th, 2007 at 19:51

Hi, this entry provides a really great overview. I am writing a paper for a comparative policy class at Brown University on LBS pollution (comparing the regulation of LBS between FL and Italy), and I was wondering if you had a list of sources that I could review. Any information would be great!
Leave a Reply