« Trash Photos XIII: Cool Purses | Home | Minas' New Focal Point for Waste Matters »
By Keith R | September 26, 2007
Topics: Environmental Protection, Sustainable Tourism | 2 Comments »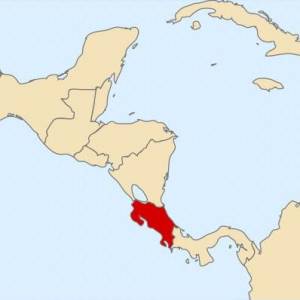 Can a 650-acre seaside luxury resort in Costa Rica be a full-fledged "sustainable tourism" destination?
Steve Case, the co-founder of America Online (AOL), says it can.
Case launched the company Revolution LLC in 2005 "to build companies based on disruptive business models that give people more choice, control and convenience in the important aspects of their lives." Revolution has three market foci: health, resorts, "balanced living."
Last month Case announced the creation of Revolution Places and its development of a $800 million luxury resort on 650 acres in Cacique, a small Costa Rican (just under 4,000) town on the northwestern coast in the province of Guanacaste, near the border with Nicaragua.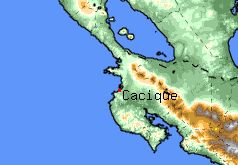 Revolution Places "will bring together premiere hospitality partners and innovative lifestyle brands to develop a new authentic vacation experience that retains the local environment and culture. With a full complement of sustainability principles and community involvement, Revolution Places will create high-end developments that provide consumers with treasured and limited for-sale vacation real estate."
Scratching your head yet? Wondering how Case will balance "retaining the local environment and culture" with developing the biggest luxury resort in Central America? How exactly he defines "sustainability principles"? If not, read the full press release, reproduced below. I'm betting you will be scratching your head by the end of it.
How does Revolution's repeated stress on "privacy" and "seclusion" in the release mesh with "community involvement"?
How can any resort with hundreds of villas, spas and a golf course, and 300 linked private estates, not have a major impact on the local environment? Is there really much chance that such a development will "retain the local environment"?
While Costa Rica claims that it seeks to become the first "carbon neutral" nation, not a word is mentioned by Revolution on offsetting the resort's carbon footprint. Or are we simply to assume that buying renewable-sourced electricity and donating seedlings will balance out the CO2e emissions of a huge luxury resort?
Revolution is silent about the transport issue. How will people arrive at this resort (planes and their associated greenhouse gas emissions?) and get around it (luxury SUVs or luxury electric golf carts?)? What will be the environmental impact?
Revolution stresses that Cacique will utilize "designs that reduce energy and water demand and take advantage of spatial, wind and solar patterns to maximize natural ventilation, shade and daylight." All of which I applaud, since I would advocate all of the above for any hotel or touristic development in any locale, for both environmental and economic reasons. But let's be frank here — this resort, and the associated estates, will be geared to pleasing the well-heeled and those seeking luxury. Such establishments, by the nature of the demands of their target clientèle ("services amenities and activities to suit their every desire"), tend to consume more energy and water than their economy counterparts. These water- and energy-saving measures will be necessary just to make Cacique's consumption footprint in both approximate that of an ordinary resort. I have serious doubts that Steve Case and Revolution will be forcing patrons to do without their hot tubs, long hot showers, towels changed daily (meaning more washing and drying) and air conditioning.
I have serious questions about the water demand management for this development, particularly since Revolution is not talking about utilizing rainwater catchment. It appears that Revolution plans to mainly draw from the Panama Aquifer, which some local environmental experts consider to be fragile because of its proximity to the coast.
Revolution says that it will purchase electricity "from renewable sources." Sounds like a big commitment, doesn't it? But truth is, 98.2% of electricity on the grid in Costa Rica these days comes from renewable sources, most of it hydro (78.3%). So unless Revolution is actually talking about utilizing solar water heaters, photovoltaics and wind turbines, this is actually a non-commitment trumpeted for pure PR.
Revolution says Cacique will have "a comprehensive recycling and solid waste management program." Admirable, and I wish it much success. But it raises alot of practical questions, especially given the difficulty Costa Rica has had in cleaning up its act on waste disposal and recycling for the last 20 years [parts of Guanacaste still do not have regular waste collection services, and most waste is taken to open-air dumps and/or burned]. For example, say Revolution successfully recovers some 70-80% of its waste (probably a wildly optimistic supposition), what is it going to do with the collected plastics, metals, glass, paper/board, and household hazardous wastes (batteries, paints, insecticides, etc.)? Ship them all to recyclers in San Juan (which implies significant transport costs)? What about the organics? Will Cacique compost or vermicompost? Will it develop end markets for the compost? Last, but far from least, what will Cacique do with the wastes it does not recycle or compost? [A development the size and economic level planned by Revolution can generate tremendous amounts of waste daily.] Will it operate its own landfill, and if so, where and at what level of environmental and sanitary protection (manual, controlled, sanitary)? Will they be capturing the related biogas? Collecting and treating the leachate?
Revolution says that Cacique will build "on-site treatment facilities to re-use wastewater," which again is a positive step, although they do not specify what wastewater will be utilized for (just for toilet bowls? or more?). They also do not mention a specific level of treatment — primary, secondary or tertiary? Will Cacique be piping any of its sewage into the sea?
While the press release stresses that the golf course will "protect and respect the natural terrain," it is silent about mitigating the negative environmental impacts often associated with golf courses, particularly those located in the tropics. What about the huge amounts of water, fertilizers and pesticides used to keep the course green? The watchdog group Tourism Concern says that the average golf course in the tropics alone can use as much as 1500 kg of chemical fertilizers, pesticides and herbicides per year and as much water as 60,000 rural villagers. How will Revolution control the water draw and the runoff from the course? What might the runoff do to the coastal ecosystem?
What about the environmental credentials of the team Case has to lead this development? Philippe Bourguignon was previously Chairman and CEO of Euro Disney and Chairman of Club Med. Sol Kerzner of One&Only is the guy responsible for Sun City in South Africa and Atlantis in Paradise Island in the Bahamas.
Let's discuss for a moment the environmental and community gifts Revolution is promising. First off, the hydro-geological studies of the Panama aquifer and watershed they say that they will "donate" likely were required by Costa Rican authorities in order for the development to get its environmental and well permits, so is this a donation in the true sense? The other gifts are nice on the face of it, but upon further reflection seem calculated to co-opt possible sources of opposition to the development — a million trees to the government, computers to nearby towns, and seed money to local environmentalists. Or am I being too cynical?
______________________________
From Revolution:
REVOLUTION LAUNCHES NEW LUXURY RESORT DEVELOPMENT COMPANY

Revolution Places to launch resorts combining natural and cultural surroundings with luxury hospitality brands and unique vacation experiences


Costa Rican President Óscar Arias Sánchez and Revolution Chairman Steve Case Announce Debut Development – Cacique, Costa Rica – to open in 2010

Resort community to feature One&Only Resort, Miraval Destination Spa, Exclusive Resorts, Tom Doak 18-hole golf course, and Agassi-Graf Tennis and Fitness Center

Revolution LLC, the company created by AOL co-founder Steve Case, today launched Revolution Places, an original approach to sustainable destination resort communities. In support of the launch, Costa Rican President Óscar Arias Sánchez and Revolution Chairman Steve Case jointly announced at a press conference today in Costa Rica the first development, Cacique, Costa Rica, a first-of-its-kind 650-acre luxury resort community scheduled to open in 2010.

Revolution Places will bring together premiere hospitality partners and innovative lifestyle brands to develop a new authentic vacation experience that retains the local environment and culture. With a full complement of sustainability principles and community involvement, Revolution Places will create high-end developments that provide consumers with treasured and limited for-sale vacation real estate. These developments will also feature personalized service and unique amenities for home owners.

"Revolution Places is an entirely new approach to destination resort development," said Steve Case, chairman & CEO of Revolution LLC. "We are bringing together the best of the best to deliver an ownership and guest experience like no other resort in the world. Importantly, we will preserve the local environment and culture when developing resorts like Cacique, Costa Rica to ensure our presence is a positive and welcome contribution."

"I am extremely pleased to welcome Steve Case and Revolution to Costa Rica. I am confident that Mr. Case, like other investors and visitors we have been fortunate to host, will find in our country a place where education and hard work are valued," said President Arias. "With this solid foundation, our economy is growing beyond traditional strengths such as agriculture and tourism to encompass an increasingly diverse array of industries and exports; our country is home to both peace and progress. Furthermore, I recently announced a new initiative, Peace with Nature, which seeks to make our country carbon-neutral by the year 2021. This will ensure that our proud tradition of environmental stewardship grows ever stronger."

Revolution Places is led by a world-class management team that has built exceptional, leading companies. Donn Davis has been named CEO of Revolution Places Group, in addition to his role as executive chairman of Exclusive Resorts, also a Revolution LLC company. Philippe Bourguignon has been named vice chairman of Revolution Places Group and CEO of its development group, Revolution Places Development.

Davis will continue to serve as executive chairman of Exclusive Resorts, a company he has built into the leading luxury destination club and, in doing so, defined an entirely new luxury industry. Bourguignon is a recognized international business leader, having served as co-CEO of the Davos-based World Economic Forum, chairman and CEO of Club Mediterranee, and chairman and CEO of Euro Disney.

Cacique–Costa Rica

The first major destination under development by Revolution Places is Cacique, Costa Rica. The new luxury resort community located on the northwest coast of Guanacaste, Costa Rica spans 650-acres owned by Revolution Places. The $800 million resort development will also feature multiple, synergistic luxury real estate products to open in successive phases beginning in 2010.

"After searching the hemisphere, we have selected Cacique, Costa Rica as the ideal location for our first Revolution Places resort community," said Bourguignon. "We are creating an environment that departs from the gated and manicured environment of conventional developments. Cacique, Costa Rica preserves the essence of the local culture and natural beauty, while offering luxury and wellness. This is a place where people are not only guests, but participants in a uniquely authentic experience."

The development of Cacique, Costa Rica will feature highest-end services and amenities with a focus on intelligent, environmentally friendly designs that reduce energy and water demand and take advantage of spatial, wind and solar patterns to maximize natural ventilation, shade and daylight. Cacique, Costa Rica will establish a comprehensive recycling and solid waste management program to neutralize the impact of this development on the surrounding environment. Additionally, Cacique will create on-site treatment facilities to re-use wastewater and will purchase its electrical power for the community from renewable sources. World-class architecture and design will be integrated with indigenous traditions, environment and materials, to create an experience that is second-to-none and authentically Costa Rican.

"Costa Rica reminds me of Hawaii when I was born there nearly 50 years ago," said Case. "We are aiming to take the things that make authentic Hawaii so special, such as the connections to the local people, restaurants, shops and the spirit of aloha, while bringing together the best brands and applying the best principles and practices of today. Our goal is to break new ground as we strive to make Cacique, Costa Rica the best resort in the world – and a model for a new kind of resort for the next generation."

Cacique, Costa Rica seamlessly brings together world-class brands to provide owners and guests with a broad range of experiences, services, amenities, and activities to suit their every desire. Cacique, Costa Rica will integrate the following prestigious brands:

One&Only Resorts – Recognized as leaders in luxury, One&Only Resorts are set in exotic locales around the world and offer guests an unsurpassed vacation experience. One&Only Cacique, Costa Rica will be a 120 all-villa property, with each room a large free-standing suite, situated on its own lush green compound for privacy and featuring unobstructed views of the Pacific Ocean. The award-winning resort group will provide guests with an unrivaled level of personalized services and luxurious amenities for the traveling connoisseur.
Miraval: Life in Balance – As the #1 ranked destination spa, Miraval Cacique is the first exotic location expansion of this acclaimed brand. The innovator in living and feeling better, Miraval Cacique will open to include a full family experience offering 100 adventurous programs while providing 120 luxurious rooms and 60 villas inspired by the local surroundings. Guests and owners will relax, reconnect and recharge at the 50-acre private grounds.
Exclusive Resorts – As the #1 luxury destination club, Exclusive Resorts has become the preferred way affluent families travel. Exclusive Resorts has committed to custom design and purchase 30 residences at Cacique, Costa Rica in a private enclave, ensuring its 3,000 and growing membership tremendous access to what looks to become one of the most demanded resort developments.
Tom Doak 18-hole golf course – Targeting the serious golf enthusiast, Tom Doak designs are unique and creative alternatives to ubiquitous signature golf courses. Doak's course designs look to protect and respect the natural terrain, and are ranked among the top 100 courses in the world by Golf Magazine, including the highly acclaimed Pacific Dunes course in Bandon, Oregon and Cape Kidnappers in New Zealand.
Agassi-Graf Tennis and Fitness Centers – Cacique, Costa Rica will be home to the world's first Agassi /Graf Tennis & Fitness Center, an entirely new approach that will make tennis and fitness relevant and fun for families on vacation. These centers designed and programmed personally by Andre Agassi and Stefi Graf, will be inviting to the novice and a treat for the expert.

In addition to the two hotel components of the One&Only Resort and the Miraval Destination Resort, Cacique, Costa Rica will offer very select for-sale real estate components. Ownership will be beyond compare, with the entire resort developed with the real estate owner and their guests in mind – a thoughtfully designed, seamlessly integrated resort living experience with the highest level of personalized services and complete access to resort amenities. There will only be 300 for-sale real estate products on the entire 650-acre peninsula, with each product hand crafted to be the most desired real estate offering imaginable.

The for-sale real estate product will include the purchasers' choice of: estate sites, custom and semi-custom whole ownership residences, resort-loft living, and Exclusive Resorts club memberships. All real estate components will be designed and developed under best-of-breed master architectural and resort community planning standards.

Doing Well While Doing Good

Revolution Places understands that the success of its developments is contingent on the well-being of the local community and the environment. To this end, Revolution Places today announced that it is investing in a series of local Costa Rican community initiatives that initially include:

The donation of 1 million trees to the government-chartered Foundation for the Balance between Conservation and Development
The donation of hydro-geological studies of the Panama aquifer and watershed
The donation of computer learning centers to the towns of Filadelfia, Hermosa, Panama and Sardinal
A $1 million investment to encourage and support the development of local non-profit efforts. Modeled after The Case Foundation's Make it Your Own Awards, Revolution Places will make grants of up to $35,000 to individuals and local organizations that develop initiatives to improve and protect the Costa Rican environment. A panel of judges from the region will be responsible for selecting those who receive the grants. Full details of this program will be revealed in the summer of 2008.

With Cacique, Costa Rica the development and operations of the community is expected to create more than 2,000 new local jobs. These jobs will range from construction and maintenance to guest services and managerial roles. In addition, the company expects to partner with local businesses as Cacique, Costa Rica is developed and will maximize purchasing of locally produced goods and services for construction and operations.
Tags: Agassi /Graf Tennis & Fitness Center, Andre Agassi, AOL, Cacique, carbon footprint, carbon nuetral, carbon offsets, Costa Rica, Filadelfia, golf courses, Golf Magazine, Guanacaste, Hermosa, hydro-geological studies, Panama Aquifer, reciclagem, recyclaje, recycling, resorts, Revolution, Sardinal, sewage, solid waste management, Stefi Graf, Steve Case, Sustainable Tourism, Tom Doak, Tourism Concern, turismo sostenible, turismo sustentável, wastewater, water reuse
2 Responses to "Can a Huge Luxury Resort = Sustainable Tourism?"
Ana Carolina Says:
March 21st, 2013 at 21:22

It's a great idea because besides conserving nature, you can be with your family in a  beautiful nice place.. But I want to know some things about this place, like where exactly it is and if there are already other places with these qualities in the world. And how much a night is, because it can be a perfect place but not accesible. Thank you. 

Spencer Says:
July 19th, 2013 at 7:29

If it is managed well I believe a huge luxury resort can relate to sustainable tourism but it does need to be managed well.
Leave a Reply